Online Signatures: 5 Reasons Why to Sign on the Digital Line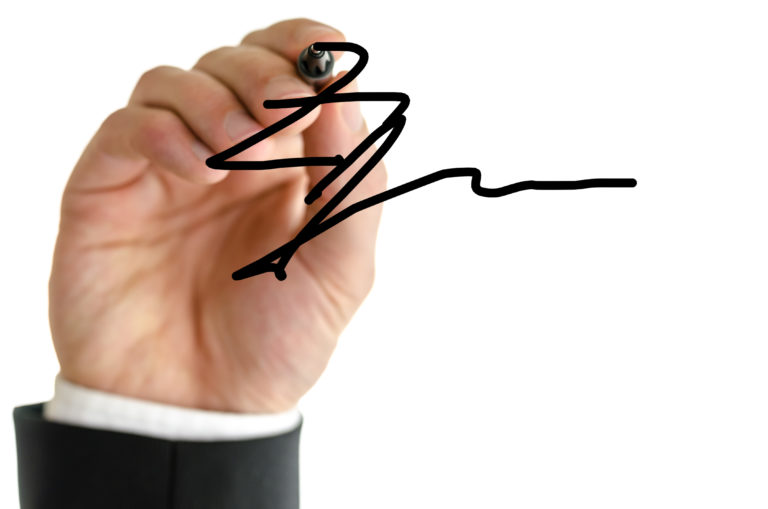 How to harness the power of online signatures in your contracts.
Granting approvals meant signing traditional paper contracts on a dotted line with a pen. These days, the line is most likely digital and the method to sign agreements is online. The online signature – also known as e-signature – has become so common that it has its own day of the year in its honor. June 30th was designated National E-SIGN Day by the U.S. Congress in 2010. So, why all the attention?
According to the Electronic Signatures and Records Association (
ESRA
), online signatures lead to an 83% improvement in getting approvals and an 86% savings in document costs.
Online signature software has become the key to business transactions, enabling contracts to be finalized anywhere. Local or global, signing documents online eliminates delays in gathering signatures across all parties. 
According to Aberdeen's E-Signatures & Sales Operations Report: "What makes e-signature so effective as a sales technology is that it enables and enhances superior people and process capabilities, while also maximizing the value of other integrated sales technology. It is the anchor point for a complete, end-to-end sales technology stack."
"The two biggest challenges that Concord solved were time and e-signature." — James Sporle, former
Just Eat
Group General Counsel and current General Counsel & Company Secretary at
Darktrace
.
An all-in-one contract lifecycle management (CLM) platform with a built-in online e-signature tool can form business partnerships and complete purchases far easier – by forgoing multiple programs, email attachments, and eliminating paperwork. Once all online redlinings and negotiations have been completed, the final signature can be obtained. You greatly reduce the risk of document loss or data leaks when there is no downloading of document drafts or version shuffling. 
 "Concord has created a more efficient electronic delivery of contracts for signatures which has shaved days off the previous process," says Jerry D'Alto, Trillium Health Resources Contracts Coordinator. "[It has freed] up administrative time due to no longer having to manually mail out, receive back, and track contracts.
An effective CLM Platform with a built-in online signature tool:
Supports Growth
Concord's built-in, unlimited online signature tool enables parties to sign a Word, PDF, or digital document from any location with a secure link. Notifications to all participants involved in an agreement are sent automatically, saving you time and follow-up. There's no need to balance between multiple platforms like AdobeSign, HelloSign, or DocuSign. You no longer need to pay for additional platforms to get your contracts to the finish line.
Meets Security Requirements
Bank-grade security for all connections and documents ensures identifiable, encrypted, and tamper-evident electronic signatures as well as full privacy of every transaction. Concord combines an extensive range of authentication methods on the market, including: verified email addresses, IP addresses, Mac addresses, technical information from the devices used for signature, sms/email signature confirmation codes, social IDs, SSO, and other third-party IDs, as well as Concord's account IDs.
Your documents are securely stored in redundant, geo-dispersed servers meaning your agreements are safe with data replication and automated backups to prevent any data loss. If your organization is needing additional security customizations, Concord offers complex password, double authentication and regional specific data hosting services.
Is Legally Binding
The e-signature technology is designed to meet key legality requirements of all major regulations across the world, from the U.S. Uniform Electronic Transactions Act (UETA), U.S. Electronic Signature in Global National Commerce Act of 2000, to the European Union EC/1999/93 Directive. Our e-signatures are identifiable, encrypted, and tamper-evident. Even if standards change in the future, contracts previously signed on Concord will remain valid and legally binding, allowing you to still prove your agreement's authenticity.
Maintains Audit Trail Proof
Concord time-stamps each document during and after the electronic signature process and seals it utilizing the U.S. Federal Information Processing Standard Sha-1 Secure Hash Algorithm. This measure allows you to authenticate the integrity of your agreement's signature at any time with confidence that the document has not been compromised. Document audit trails can easily be viewed within your agreement. 
Lets You Retain Data Ownership
You can have access to download any signed agreements as a PDF at any time. Each PDF has signature tokens validating the authenticity of each of your documents. If you need to save your documents on your servers, you can still guarantee the validity and integrity – even if you stop using Concord.
Concord's mission is to help companies achieve scalability and efficiency by automating their most central process, contracts. The cloud-based solution enables over 300,000 users around the globe to create, collaborate, sign, store, and manage their agreements all in one place. Founded in 2014 and headquartered in San Francisco, Concord is built by business, for business.