To those who don't work in HR, the process of making a job offer to a candidate may appear simple at first glance — you create the offer letter, ask management to approve it, and send it to the candidate. But HR professionals likely know there are many more steps, and each step requires time, effort, and a good deal of coordination.
Anyone who has ever been involved in — or even gone through the hiring process — knows it can be time-consuming and paper-intensive, often using up way more resources than necessary. Time is money and the longer it takes you to hire, the more expensive it is for your business  When your job offer process is slow, you run the risk of losing talent to the more efficient competition. To run an efficient job offer process, the right contract management solution can accelerate and streamline the experience. 
Here are 6 steps you can take using contract management tools that create a better job offer experience for HR, candidates, and your organization as a whole.
Step 1: Create a Database of Legally Approved Employment Agreement Templates
An employment agreement represents the final gate in your hiring process and is the legal document that defines the employment relationship between your company and the candidate. For those reasons, it's critical to get employment agreements right. 
Benefit:
A contract management solution allows you to create fully customizable, legally-approved employment agreement templates that:
Present all of the legally required details of the job offer.

Reinforce your company's culture, values, and the opportunity being offered to the candidate.

Are generated and delivered quickly in the recruiting process.
Having multiple contract templates will reduce the number of choices that you need to make when you create the letter, and will help ensure each candidate gets the right information for their situation and offer.
Step 2: Set a Contract Approval Process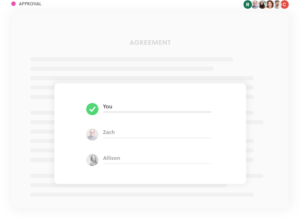 The steps in the offer letter approval process may vary depending on the position, candidate, and location.
Benefit:
Setting a customized, automatic contract approval process allows you to avoid lengthy waiting times. Oftentimes, you need approval for compensation, start date, benefits, and job titles. Creating various approval flows for each template automates the process to allow for a seamless work stream and no more back-and-forth emails that often get lost. In addition, a contract management solution tracks all approvals including date and time, so there is no question about how a candidate got hired. 
Step 3: Negotiating the Job Offer 
Negotiating the offer is an important part of the hiring process, and you should be prepared for any candidate to submit a counteroffer.  
Benefit: 
A contract management solution allows for recruiters, HR, Hiring Managers, and Candidates to discuss the job offer in one place, documenting all conversations and allowing for clear communication. You can comment, redline and edit the employment agreement in one place, so no changes get lost and everyone is agreeing to the same document. No more disagreements over verbal conversations or different versions. 
Step 4: Sign the Employment Agreement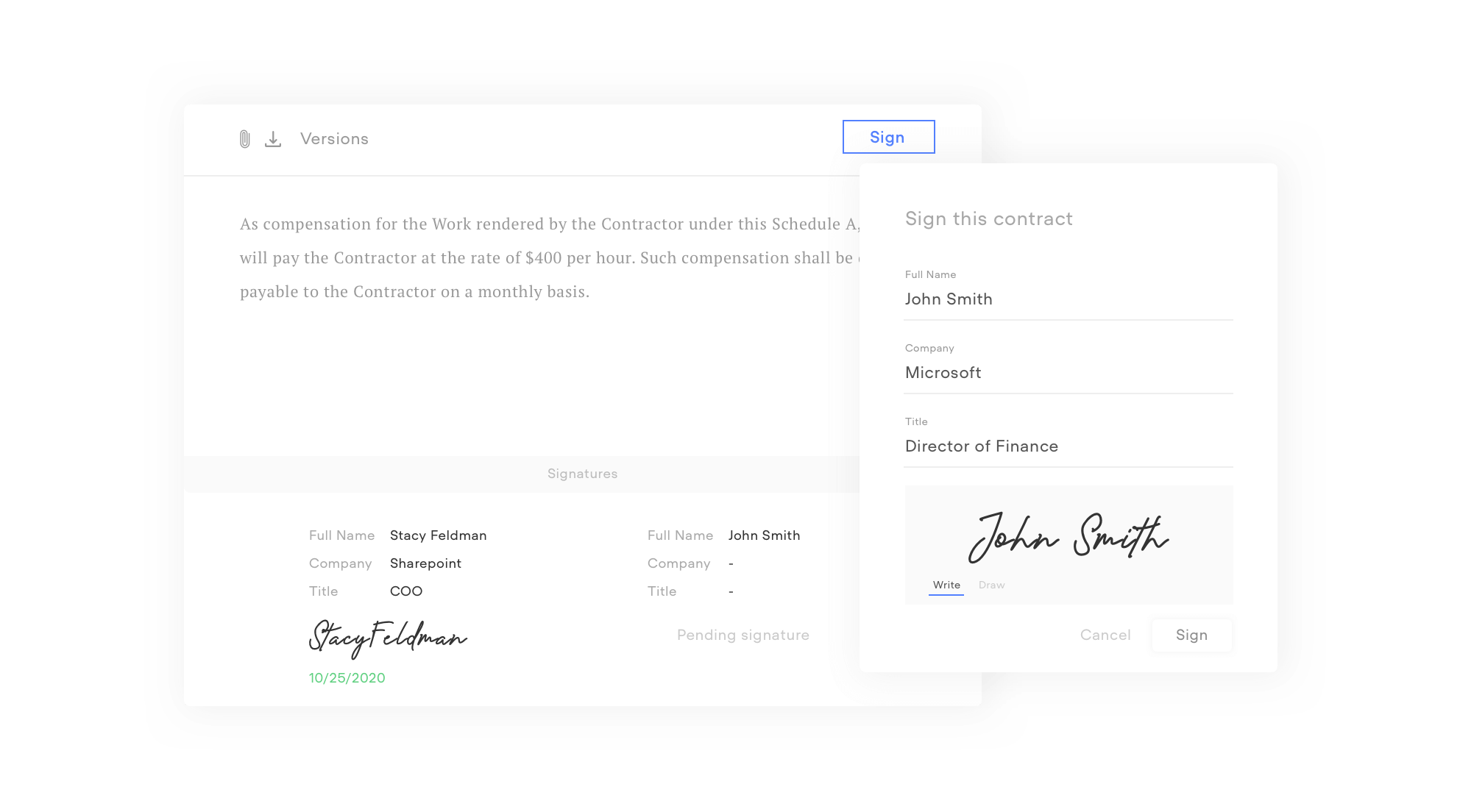 Congratulations! Negotiations are complete and the candidate has agreed to all terms. Now you want to finalize the employment agreement with legal signatures from the candidate and a company representative.  
Benefit: 
A contract management solution easily allows you to have multiple e-signatures and sequences to complete this process fast and effectively. You can set up in which order the signatures should be gathered and who is allowed to sign the agreement. It also time and date stamps all signatures in the document.
Step 5: Store Documents Safely and Easily 
Once the document has been signed by all parties, a copy is automatically sent to the candidate and stored in the contract management solution.  
Benefit:
Now the company has a legal record of the employment agreement including all negotiations, edits, and redlines. This eliminates any confusion of terms or lost documents that are stored on individual computers.
Step 6: Create Reports to Track Key Info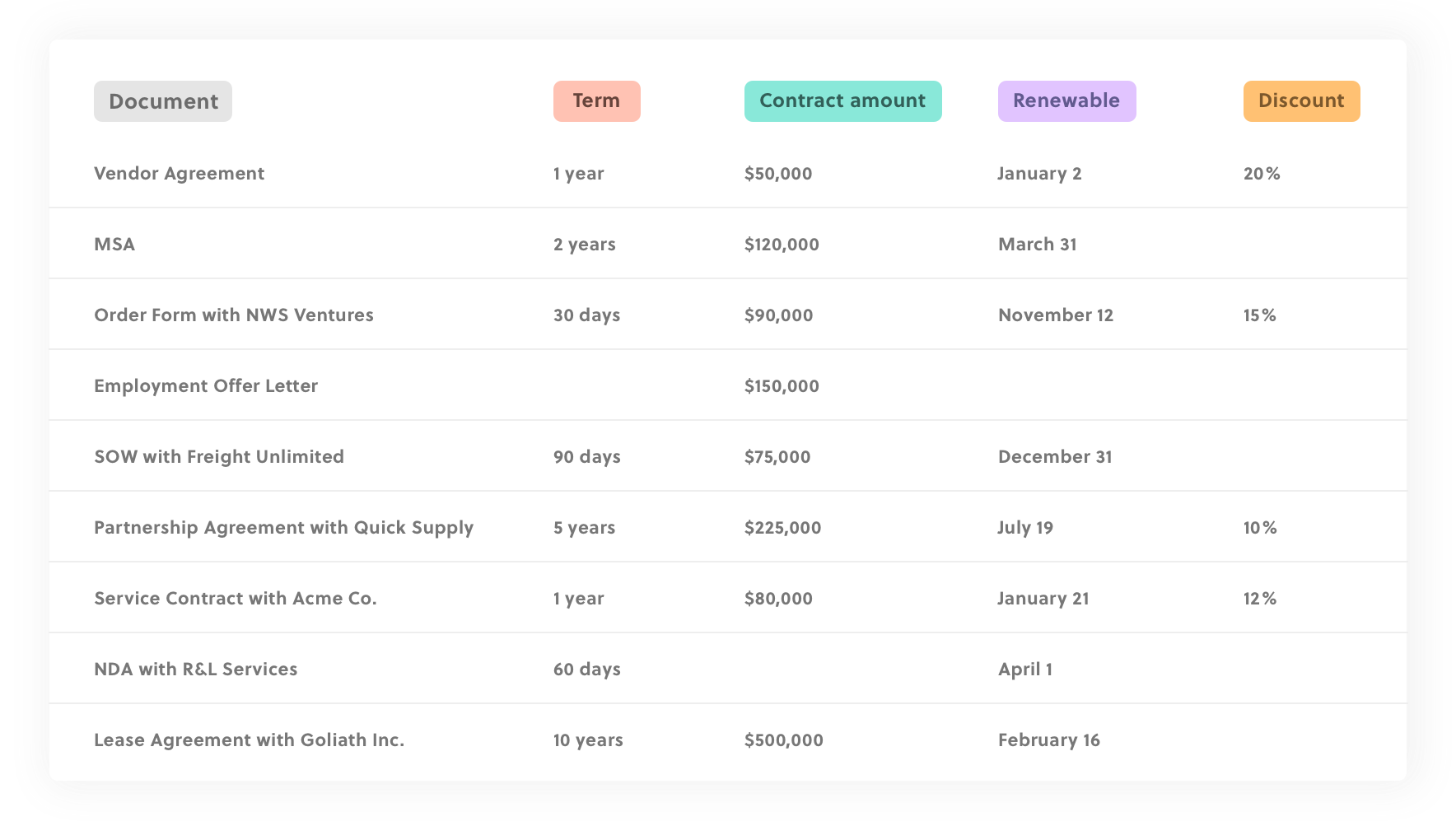 Not only will you be able to track and report on how many candidates signed employment agreements, but you can run reports on:
Start dates to track anniversaries

Managers who have hired

Employment Agreement end dates

Commissions/Bonuses
Benefit: 
Data is key in recruitment. Being able to report across all employment agreements in all departments and locations will allow management to make better hiring decisions going forward.
The simple fact is a slow hiring process hurts both recruitment and business results. Cut the unnecessary cost of delays in hiring and improve your company's performance and image. It's time to create a more effective job offer process for your business by implementing an effective contract management solution. Good hiring doesn't end with finding the right person. It ends when the right person starts working for you!
Improve your hiring process with Concord CLM!