8 Ways Your Team Can Benefit From Moving Your Contracts to the Cloud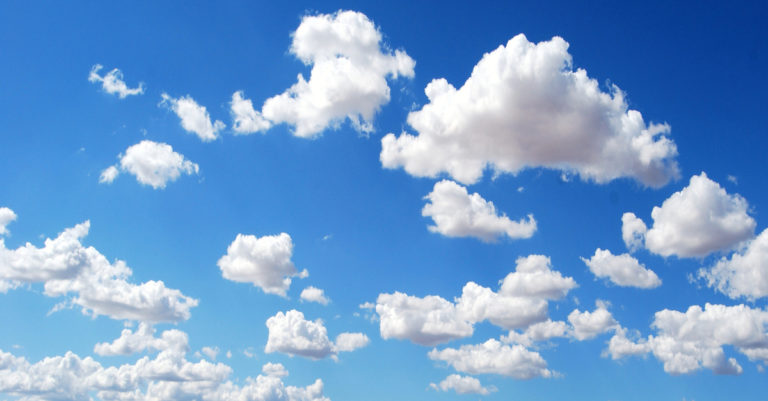 This is the second in a series of three posts about moving your contracts to the cloud.
Read Part One and Part Three.
Cloud computing and Contract Management
Cloud computing is the new normal and next-generation contract management platforms are cloud-based. 
With one simple setup, requiring only a connection to the Internet, Legal, Procurement, Finance, HR, and other teams can have a user-friendly, customizable solution for contract management that will make accelerated growth and flawless compliance a reality. 
Legally Binding E-Signatures
The Electronic Signatures in Global and National Commerce Act (ESIGN) of 2000 provides for privacy protection, legal certainty, fraud shields, easy document access, and record retention. The ESIGN Act means that cloud-based contracts are more than just convenient; they are enforceable. Furthermore, the Cloud provides for user authentication based on email, IP address, passwords, social network credentials, and more. The Cloud is therefore a virtual Fort Knox, and traditional signatures can't begin to compete with that level of security.
Increased Efficiency
When businesses eliminate the lengthy paper trail of traditional contract management, they make significant gains in time, resources, and convenience. Cloud contract management applications shrink contract completion from weeks or days, to hours or minutes through the use of templates and online negotiation. They help save time by housing all documents on one platform, making them easily searchable. Benefits like these not only accelerates the sales cycle, delivering more revenue faster, it enables teams to free up more resources for more strategic tasks.
Increased Collaboration
When teams can access, edit, and share documents anytime, from anywhere, they're able to do more together, do it better, and do it faster. Cloud-based contract management solutions can help build stronger, more strategic business relationships through online negotiation and discussion capabilities. 
Document Control
The more employees and partners collaborate on documents, the greater the need for watertight document control. Before the Cloud, files sent back-and-forth as email attachments ended up, sooner or later (usually sooner), as a mess of conflicting file content, formats, and titles. This means version control issues abound, resulting in compliance issues, poor relationships, and increased risk. With global companies, working across time zones, the scope for complications only rises. 
When you make the move to cloud computing, all files are stored centrally and everyone sees one version of truth. Greater visibility means improved collaboration, which ultimately means better work and a healthier bottom line. 
Integrations
Integrations are key, particularly within the realm of contract management, due to the vast departments touched by it. Integrations enable diverse teams to work together in one cohesive system, increasing visibility, reducing risk, and ensuring compliance, as well as providing a substantial return on the initial investment quickly.
Security
Companies using a contract management service with stringent security standards, such as two-factor authentication and permissions-based roles, can rest assured confidential information contained within contracts will be stored securely.
Competitiveness
Today competitive advantage is often determined by how quickly a business can move, adapt, or react. That is nearly impossible if processes can't keep up. If there is one thing that can deliver a competitive edge, it's the Cloud. With enterprise-class technology, businesses– regardless of size–can act fast, and remain lean and nimble. David now packs a Goliath-sized punch, and Goliath can be agile enough to duck.
Reduced Costs
The Cloud is one big money-saving, profit-increasing opportunity. Only paying for what you use reduces the need for IT to maintain infrastructure due to the lack of hardware and automatic updates, decreases Total Cost of Ownership (TCO), and increases savings. The company can then reinvest those savings back into the business to increase headcount, boost wages, and drive product innovation. 
The bottom line: Cloud CLM platforms deliver a rapid, real ROI capable of transforming Legal and all the departments it supports, including Sales, Finance, HR, Procurement, Professional Services, and more. 
The direct impact and benefits of Cloud CLM solutions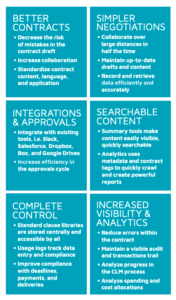 In part three of our series, we'll discuss how to select the right solution for your business.
Interested in moving your contracts to the cloud?
Concord's mission is to help companies achieve scalability and efficiency by automating their most central process, contracts. The cloud-based solution enables over 300,000 users around the globe to create, collaborate, sign, store, and manage their agreements all in one place. Founded in 2014 and headquartered in San Francisco, Concord is built by business for business.