2023 Best E-signature Tools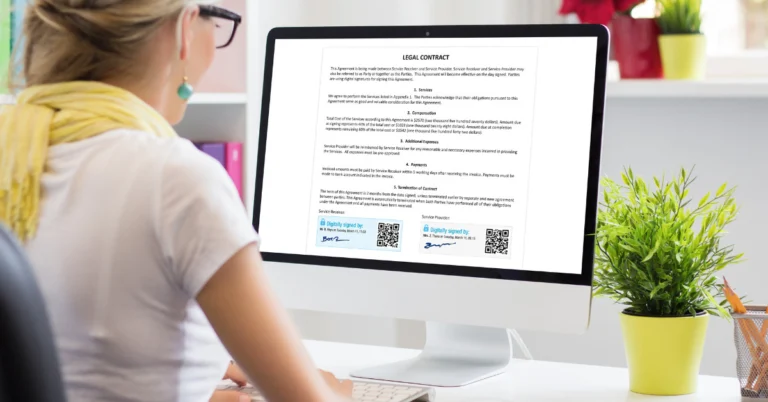 As the world becomes increasingly digital, the need for efficient and secure e-signature tools has never been greater. In 2023, businesses of all sizes are turning to e-signature solutions to streamline their document signing process and improve overall productivity. In this article, we will take a look at some of the top e-signature tools for 2023, highlighting their key features and benefits to help you choose the best option for your company. However, let's start with what e-signature tool features you should look out for. 
Most Requested E-Signature Tools Features
We've spent years developing our native e-signature tool, and, based on many conversations with our customers, we've learned that the most desired e-signature tools features are as follows:
Secure e-signatures

Legally binding and compliant e-signatures

High monthly e-signature limits 

Easy access for all signers

Flexibility in user amounts and limits
E-signature Tools Features for efficient collaboration
However, when you factor in the need for an efficient and well-organized signing process, the following features can move businesses forward: 
Signature tracking and notifications

Unlimited e-signatures  

Unlimited viewers – to allow any team member to track a contract and e-signatures

E-signature workflows – to set up how and when you want each party to sign
Top e-signature tools for 2023
After analyzing the current market, the following e-signature tools made our 2023 top 5 list:
DocuSign

Dropbox Sign

PandaDoc

AdobeSign

Concord
Is every option legally binding and secure? 
Yes. 
Each one of these e-signature tools provides secure and legally binding e-signatures. But if you need more information on the difference between an electronic signature vs. a digital signature, and what to consider for legal compliance, you can read more in our article "E-signature Frequently Asked Questions".
DocuSign – Free Trial – $15 to $65 per user 
Why It Made the List:  
DocuSign is a popular e-signature tool. It offers a user-friendly interface to get a document signed and track its progress from the sending to the signing stage. The drag-and-drop feature allows any type of document to be uploaded, signature lines can be easily added, and the e-signature request can be sent via email. The tool also provides notifications to track the progress.
DocuSign's simplicity and basic contract management capabilities make it a good starting point for contract collaboration, especially for small and medium businesses.
What it Does Best: 
DocuSign offers its own secure cloud storage for signed documents, allowing for easy organization. Additionally, it can be integrated with various other apps, making it a seamless addition to your existing workflow. The DocuSign brand name is widely recognized in the e-signature space, providing credibility to the e-signature request process.
Pricing:
DocuSign is structured as a monthly or annual payment. 
Pricing with payments on a monthly basis starts at $15 for personal accounts, however, as a business you need to expect to pay at least $45 per user per month. 
Best for These Business Types:  
DocuSign doesn't offer unlimited e-signatures in their tiered packages. They offer 100 envelopes annually per user. For sales, procurement, or legal, the volume of e-signature needs may be higher. Therefore, Docusign is best for: 
Real Estate (DocuSign offers tailored packages)

Skilled-labor small business 

Retail

HR

Finance sectors

Gain unlimited legally-binding e-signatures with Concord
Even with the standard plan, Concord offers free unlimited e-signatures. There are no conditions to unlimited e-signatures for any plan, so you never have to track — or hit — an unruly limit on signatures, for any person signing.
Dropbox Sign – Free trial – $20 to $30 per user
Why It Made the List:  
With the rise of remote and hybrid work, as well as international business, having unlimited e-signatures is an efficiency booster. Dropbox Sign (previously named HelloSign) provides unlimited e-signatures beginning at the individual plan, and offers a template creation feature, allowing you to generate frequently used templates such as a Non-Disclosure Agreement (NDA) or Service Agreement (SA). Dropbox Sign also integrates with other tools such as Google Drive. 
What it Does Best: 
Dropbox Sign's unlimited e-signature feature, coupled with its simple e-signature creation and tracking possibilities, makes it a compelling option for individuals or small teams who simply need basic functionalities without extra features. 
Pricing
Dropbox Sign offers monthly or annual options, and the price point is quite competitive, at 30$ per user per month with the Standard Plan. However, to utilize Dropbox Sign's full capabilities, you need to contact the company for a custom quote. 
Best for These Business Types: 
For an office with more than 5 employees, you may work with sales for a plan that meets your needs. Templates are not as robust as other options, which is a consideration for legal, procurement, or big manufacturing. Best for:
Sales

HR

Retail

Start-Ups

Small Manufacturing

Create an unlimited number of templates with Concord
The Concord Contract Management Platform allows you flexibility in generating and customizing any kind of template to streamline your operations.
PandaDoc – Free to $59 per user
Why It Made the List: 
PandaDoc is a rapidly rising e-signature and contract management solution. It offers e-signature creation, tracking, and analytics capabilities. It can be easily integrated with other tools like Google and Salesforce. PandaDoc also has a wide range of features for creating templates and a content library.
What it Does Best: 
The contract management platform particularly focuses on sales. It also provides a free option for its platform, with no trial or conditions. Like Concord, PandaDoc is a full end-to-end contract management solution, so that you can create and send an unlimited number of e-signatures, but also move your business to contract automation for the long term. 
Pricing
The best pricing starts with the $29 Essentials Plan, then jumps to $59 for the Business Plan. The free plan can work if your business has a sole contract owner, such as a contract manager, or for a start-up.
Best for These Business Types: 
PandaDoc is a top consideration for obtaining both unlimited e-signatures and a contract management system for businesses wanting flexibility and wishing to scale. Best for:
Legal

Sales

Real Estate

Procurement

Healthcare

Gain more with Concord – top functionality and value-for-money CLM
Capterra's 2022 Report places Concord at the top of its best value-for-money and functionality contract management software. Try for free and see for yourself why it made the list. No credit card required!
Adobe Sign – Free Trial – $9.99 to $29.99 
Why It Made the List: 
If you're needing a go-to e-signature plan for your business, the company that brought the PDF keeps it simple and quick to get a signature. You can create signatures on PDFs and documents, track progress and receive notifications. All plans also integrate with Google Drive, Microsoft 365, Box, and Dropbox. 
What it Does Best: 
Adobe Sign is a simple e-signature tool that enables adding a signature block to a PDF or other document type. Because of its name recognition, and the market's general desire for a PDF e-signature tool, it may foster a sense of easier engagement for your team and 3rd parties. 
Pricing 
The pricing depends on whether you need an individual or team account. For the individual account, you can choose whether you prefer to pay monthly or annually. Unfortunately, for the team accounts you have to commit to an annual plan, not leaving you much flexibility. 
Best for These Business Types: 
HR

Small-size Sales

Retail

Small Manufacturing

Customer-facing Healthcare 

Concord provides unlimited e-signatures with every plan — and unlimited viewers
Not only can you gain unlimited secure and legally-binding e-signatures starting at the standard plan, but you can also invite an unlimited number of viewers, to take the difficulty out of remote collaboration with complete transparency.
Concord – Free Trial – $17 to $59 per user
Concord is an end-to-end contract management software designed to look like Gmail for ease of use. It offers unlimited e-signatures, unlimited contracts, and flexible user plans. It also integrates with 5000+ applications, including Salesforce, Google Drive, and DropbBox, and provides secure cloud-based document storage. It has been ranked as the top contract management software based on value for money and functionality.
What Concord Does Best: 
This contract management software takes the pressure off small and medium business collaboration: 
Unlimited e-signatures

Unlimited contracts

Unlimited free viewers and guests

Easy integration with 5000+ applications, including Salesforce, Google Drive, and DropBox

Secure document storage in its platform
Concord focuses on user-centric needs, so you can add or re-assign users, create approval workflows, and have an unlimited number of viewers, making collaboration more agile and flexible.
Pricing 
Concord offers a free trial with no credit card needed. 
Concord's pricing begins at $17 per user and includes a range of end-to-end contract management features, such as the ability to create unlimited templates and a clause library, redlining, and e-signatures. This allows for remote work to be done smoothly. Additionally, there are no limits on bulk uploads or e-signatures, and no additional charges for organizing workflows by team or department.
Best for These Business Types: 
Concord has an easy-to-use interface but at the same time incorporates end-to-end contract management features, helping teams work through the whole contract lifecycle process. Therefore, it is a great fit for many types of businesses, for example:
Legal

Sales

Procurement

Healthcare and Pharma

HR 

Logistics

Start-ups 
What's the best way to choose e-signature tools? 
The e-signature market is vast and diverse, and the pricing options vary depending on the features, integrations, and the number of users. It's essential to evaluate your needs and budget to choose the best e-signature tool for your business.
A good idea is to take a moment to sign up for the free trials or demos available for each of the mentioned e-signature tools. Also, consider that an e-signature solution might be right for the short term, but long term, a contract management platform may be a better option. Contract management software not only offers online signing but also allows you to efficiently manage your whole contract management process. With many affordable contract management tool options out there, it is definitely worth a try. 
Disclaimer:
All the information on this website is published in good faith and for general information purposes only. In addition, this website may contain links to other websites or content belonging to or originating from third parties. Such external links are not investigated, monitored, or checked for accuracy, adequacy, validity, reliability, availability, or completeness by us. All product names, logos, and brands not representing Concord are the property of their respective owners, and the use of these names, logos, and brands does not imply endorsement. Concord does not make any warranties about the completeness, reliability, and accuracy of this information, and will not be liable for any losses and/or damages in connection with the use of our website.