Close More Deals in Less Time, 4 Takeaways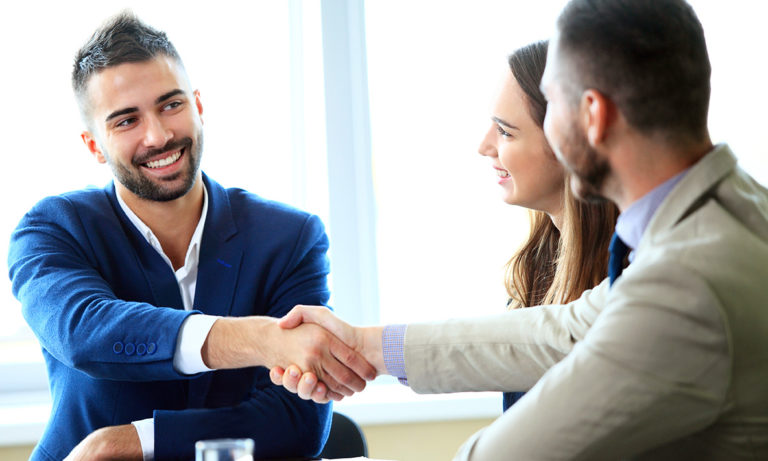 If you're in sales, you may have heard some disheartening statistics lately about how many more contacts you need to make with a prospect before you can close a sale. For instance, according to TeleNet and the Ovation Sales Group, it takes 8 attempts to reach a cold call prospect today, but in 2007, it only took 3.68 attempts. That's bad news when you consider the fact that most salespeople give up after contacting a prospect just 2 times. If statistics like this worry you, take heart. The sales landscape is rapidly changing due to social media and the way businesses gather information to make buying decisions. But savvy salespeople know how to take advantage of these changes in order to reap more sales.
And that's the goal, right? To make as many sales as you can in the least amount of time. If you're looking to improve your selling skills in today's challenging sales environment, here are 4 techniques to consider.
Stop Cold Calling
Word on the street is that cold calling died in 2013. That's great news for those of you who dreaded picking up the phone and calling someone out of the blue to try to sell them something, but not so good news for those who have made a good living with the technique for years. The truth is that buyers are savvier these days and prefer to gather their own information before committing to a purchase. Demand Gen Report says that 94% of B2B buyers conduct research on the web before purchasing a business product.
These days, when a buyer receives a cold call from a salesperson, they are more likely to ask them to send an email with the information, or agree to visit the company's website and check things out for themselves. Even tech giant IBM got wise to the fruitlessness of cold calling. They conducted a pilot program that switched from cold calling to social selling, and in the first quarter saw a 400% increase in sales.
The Takeaway: If you're still using cold calling as your main form of leads, it's time to change tactics and begin approaching potential customers in a way that's more comfortable and convenient for them. Read on to learn about some of the best options.
Use Social Media
The use of social media is one of the main reasons the sales landscape has changed so drastically. It has changed the way buyers and sellers interact with each other, and makes the process better for everyone by making it more personal. And there are some impressive statistics that show that using social selling is likely here to stay. For example, TeleSmart Communications predicts that by the year 2020—a little more than 4 years from now—85% of buyer and seller transactions will occur via social media and video. In addition, Forbes says that 78% of salespeople who use social media outsell their peers.
LinkedIn is perhaps the best place for B2B buyers to begin networking. In contrast to cold calling, networking on LinkedIn leads to "warm introductions," which makes for entirely different interactions. With options like TeamLink, sellers can see how a potential buyer is connected to other members of their organization. And when sellers optimize their profile page and utilize channels like InMail or options like the Sales Navigator, buyers will begin to come to them.
Another way to get in touch with prospects is through Twitter. Contributing content that is relevant to your industry and retweeting your prospects' Tweets will open the door for interactions. Once you gain followers, ask questions and build relationships. Have at least a few exchanges with each prospect before making your sales pitch.
The Takeaway: For faster and more efficient sales, it's time to get social. Remember the old adage that tells you to go where your buyers are? They're on social media.
Stop Selling Products
Impact Communications says that 70% of buyers make purchasing decisions to solve a problem. That makes it important to determine which problem your buyers are trying to solve before telling them about the benefits of your product. For example, if you're trying to sell a contracts management program that doesn't support digital signatures to a buyer who develops contracts with overseas clients, it won't matter how good your presentation is because the product won't solve his problem.
Instead, today's clients expect salespeople to engage with them and try to understand their needs before launching into a sales pitch. And this doesn't just include business value. CEB says 71% of B2B buyers will purchase a product if they also see a personal value in it.
Sales tactics like this require good listening skills and a true desire to help buyers solve their problems. Buyers don't want to be "sold to," but rather want a salesperson to help them see how the product will help them reach their goals. Do this by connecting the dots for them and guiding them into the buying decision that will best benefit them.
The Takeaway: Determine what problem your buyer is trying to solve, then design your presentation in a way that shows how to solve the problem with your product.
Tell Stories
Authors Chip and Dan Heath, who write books for marketing and sales professionals, say that 63% of event attendees remember stories, but only 5% of them remember statistics. While it's important to give the details and facts to buyers, if you want to increase your sales, it's also important to personalize things. And the best way to do that is with stories.
For example, Scott R. Maier conducted a study looking at how Nicholas Kristof, a New York Times columnist, uses stories mixed with statistics to engage readers in issues that are otherwise considered "tough" social issues. His column is one of the most popular in the publication.
Your stories can be personal experiences that relate to the sale, examples of how your products have helped their competitors, how other businesses experienced problems by not using your products, or stories that explain the history of your industry or reflect a major turning point in it. Your stories should make buyers care about your business and products, and also make them see their need for it.
The Takeaway: Stories will make you and your products more memorable for buyers. And that will benefit you when they're ready to make a buying decision.
While it's true that sales have entered a new era and the old tactics don't work anymore, smart salespeople are quickly getting up to speed by putting the above techniques into practice. If you want to close more deals in a shorter amount of time, why not begin using the techniques listed above?