Here you will find the latest release notes outlining what's new to Concord:
Fields can be assigned to a signer
A new option "A signer" is added to the fillable by dropdown, allowing configuration to be more specific on who needs to fill what fields and where. 
This is particularly useful when signer information is collected via form fields, and multiple people from the same company need to fill and sign in various places. 
For more information, please see our support article: How to configure fields.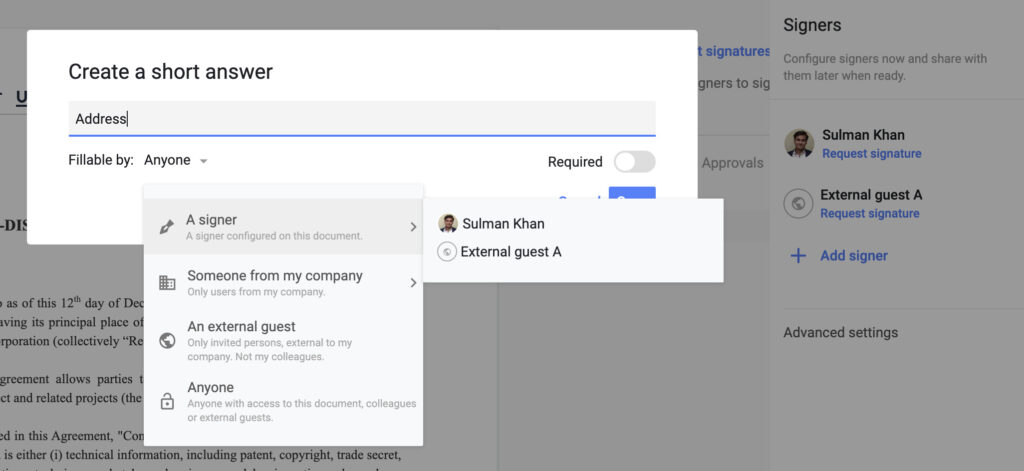 Assign Anyone as Signer
We've added 'Anyone' to the list of available signers, offering more flexibility and extending supported use cases.
The "Anyone" option is particularly useful when you need to bulk send Read & Understand type of documents to your colleagues, regardless if they have an account with Concord or not.
For more information, please see our support articles: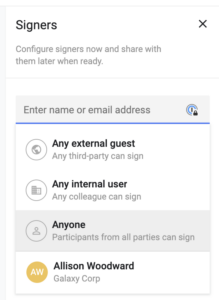 Date Filters for Reports
We've added a number of date filters to support various reporting needs. To generate reports that answer key business questions, first select the date and parameters you want, then apply additional filters such as Stage, Created By, etc.
For example:
Use

Signature date Is blank + Stage = Signing

to find documents waiting on signatures

Apply

Last Modified date is more than 7 days + Stage = Review

to identity outstanding documents that require follow ups

Leverage

End Date is in the next 90 days

to plan out contract renewal activities
For more information on how to create a report, please see our support article.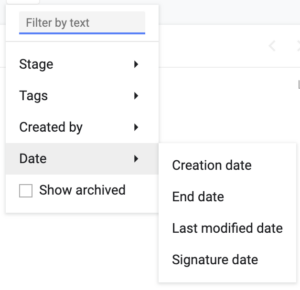 Document Builder and Word Mode Feature Releases
Make starting a new document even easier with Document Builder and Word Mode!
Discover two new features: Word Mode makes working with a highly formatted Word document in Concord simple and clean. Document Builder helps you create new documents faster with a step-by-step wizard. Try them today!
Easily work with Word Docs

Simple and Clean format
Create new documents with just a few clicks

Step-by-step wizard
Update Template to Start Draft
We are making a small language clarification to our templates. Now when you are ready to use the template you've chosen you'll click on "Start Draft" (instead of "use"). This will create your individual document based on the template that you can edit, collaborate on, and sign.

Auto-Request Next Signer
System automatically sends out signature request to the next signer. This removes manual efforts (users no longer need to manually request signatures) and speed up the signing process.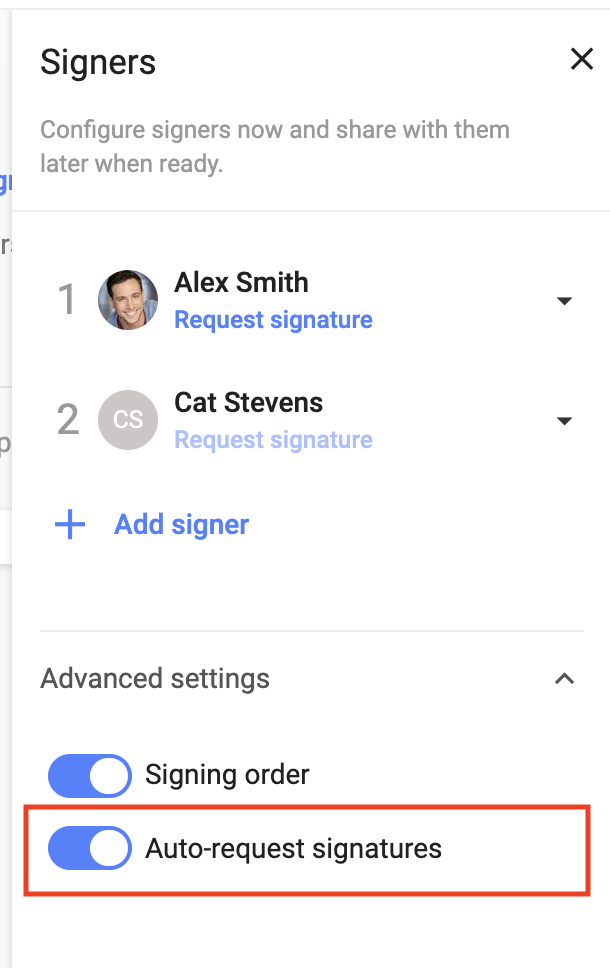 Updated Signature Experience
Concord has always offered free, unlimited e-signatures. With this new release, we've updated the e-signature experience to make the process look and feel like other applications. Our goal is to make it easy for every team across your organization to use and sign documents on Concord. 
Plus, we've also added a new way to handle documents you sign outside of Concord. With one click of a button, you can now finalize all signatures on your document. 
For more information on the updated signature experience, check out this blog post.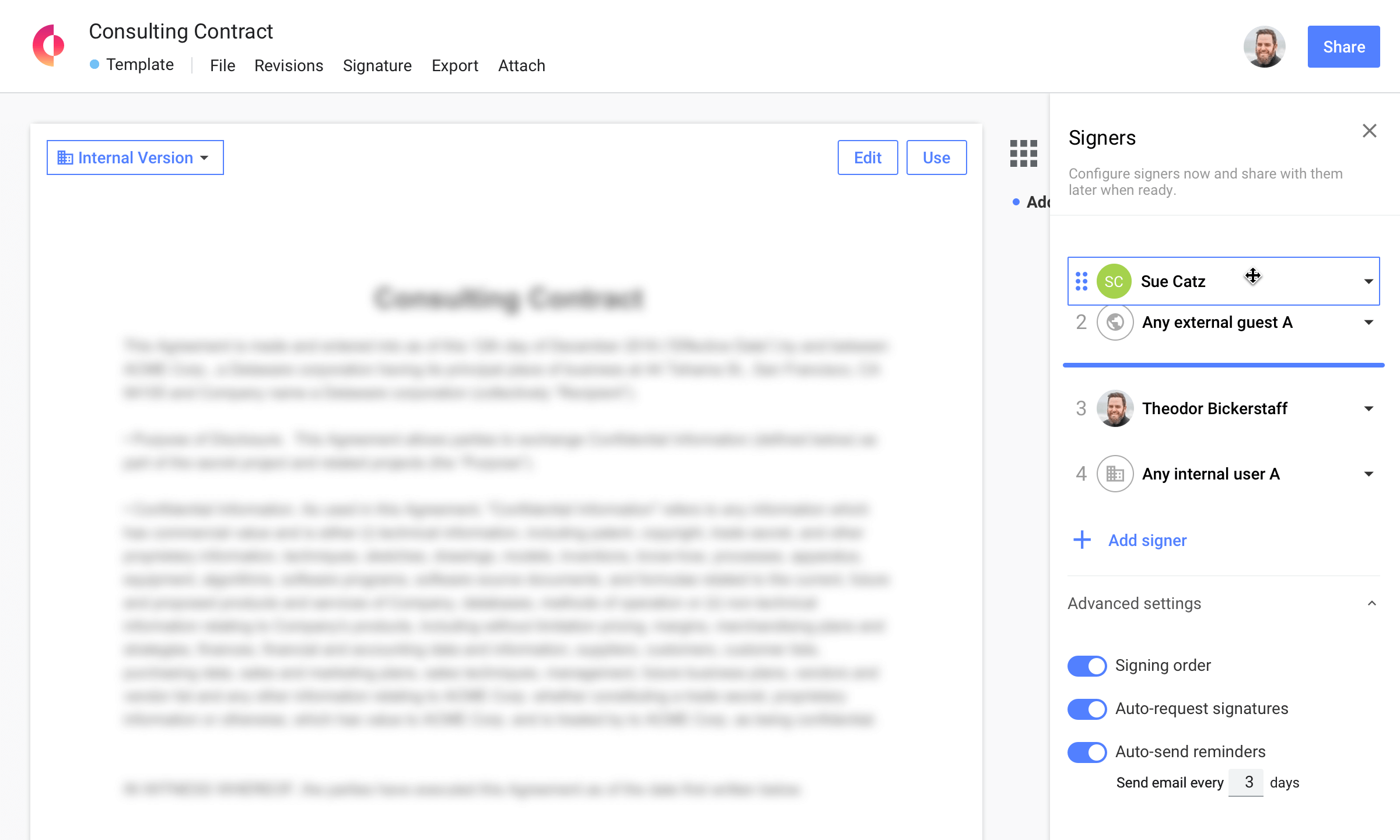 New Help & Training Panel
A new Help & Training panel is now on the homepage, and Help is now available right on the document menu. These new help options ensure you and your team can easily find answers to the most commonly asked questions right when you need it, and without the need to contact Support.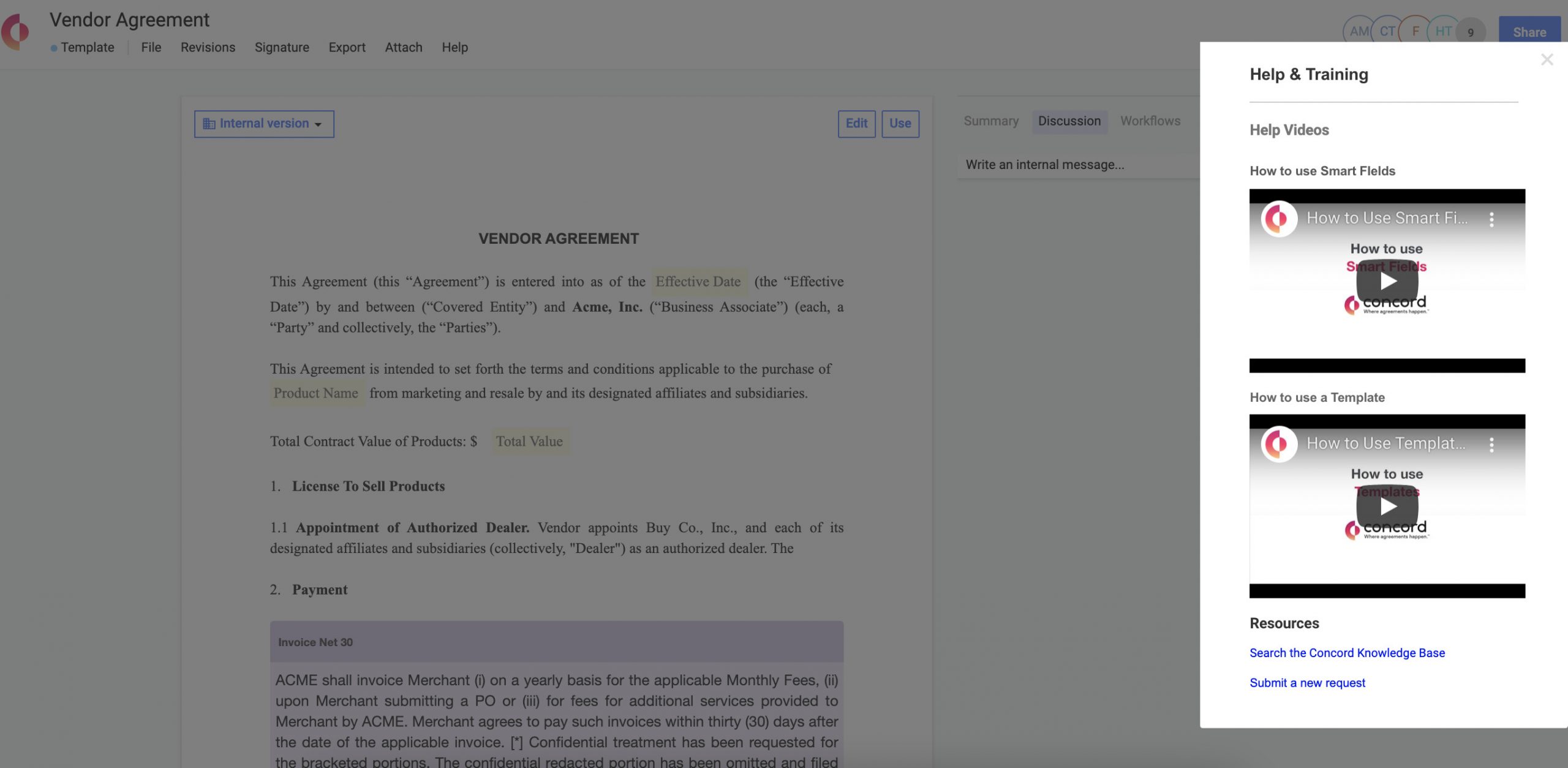 Copy Contract Summary
Concord's "copy contract summary" brings data management to contracts signed outside of Concord. With a click of a button, Concord's copy contract summary creates a new blank signed document with the Summary Sheet already set up and pre-filled. 
Now, when it's time to upload a new signed document, you and your team will know exactly what fields to fill out. This ensures that standardization and consistency across all contracts — whether they were signed on Concord or not. 
For more information on copy contract summary, please see our support article.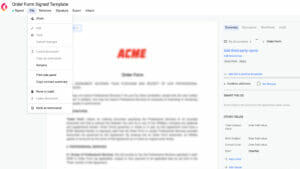 Updated Google Drive Integration
With Concord's updated and improved Google Drive integration, you can now import Google Docs and Google Slides directly into Concord from Google Drive.  No more downloading from your Drive and reuploading into Concord. 
When imported, a Google Doc becomes a live document, meaning it is completely editable on Concord — redline and edit just as you would as a Google Doc.
Google Slides imports as a PDF and you can add text fields and signature fields to the document. 
All documents searchable using Concord's full-text OCR search.  
For more information on the updated Google Drive integration, please see our support article.

Updated Salesforce integration
We've added new functionality to Concord's Salesforce integration to give you and your Sales team an easier way to generate quotes, order forms, and invoices. Now, you can automatically send Opportunity Product details from Salesforce to Concord the same way as you do for Account, Opportunity, and Primary Contact fields.
For more information on using the Opportunity Product, check out this blog post.
Interested in learning more about these new features?
Try for free

Concord's mission is to help companies achieve scalability and efficiency by automating their most central process, contracts. The cloud-based solution enables over 500,000 users around the globe to create, collaborate, sign, store, and manage their agreements all in one place. Founded in 2014 and headquartered in San Francisco, Concord is built by business for business.