Spring 2021 Preview: new signer experience, Salesforce update, and more!
Over the next few months we will have some important and exciting updates coming to Concord. Check out what's coming this Spring!
1. New signature experience
Over the next few months, you'll see a continuously improving signature experience. Our goal is to bring all the signing features together in one place, to give you an experience you're familiar and comfortable with from other apps. This familiar experience will make it easier for every team across your organization to use Concord.
Here is what you can expect:
A new dedicated signer panel where you can configure signers for your document
Ability to add signers in a specific order and easily rearrange them
Auto-request signatures from the next signers, so you don't need to manually track signatures
Auto-send reminders to sign via email, and designate how frequently to send those reminders
Ability to see who needs to sign from within the share modal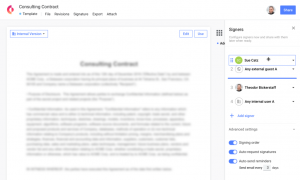 2. Easily focus on what matters with new side panels
With the new side panel design, we're giving you more space to work on your document. When you need to access the discussion panel, the new signing panel, or any other feature that you're used to seeing on the side, just click the button at the top for easy access.
The new side panel will give you access to all of the following features in one place:
Discussion panel
New signer panel
Summary sheet
Approval workflows, and
Audit trail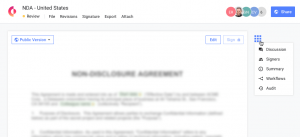 3. Improved and expanded Salesforce integration
We've added new functionality to Concord's Salesforce integration to give you and your Sales team an easier way to generate quotes, order forms, and invoices. Now, you can automatically send Opportunity Product details from Salesforce to Concord the same way as you do for Account, Opportunity, and Primary Contact fields.
For more information on using the Opportunity Product, check out this blog post.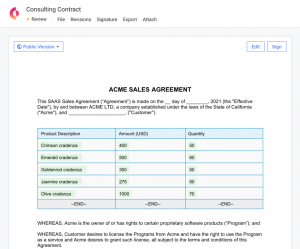 4. Updated editor
We're updating Concord's editor, which will provide you with better management of tables, images, a new mobile experience, and so much more. This new editor offers hundreds of fixes to improve stability, plus design changes to provide you with a more modern experience. Additionally, this new editor allows us to update and add more advanced features on the back end, to continually improve the Concord experience for you and your teams.
Here's what new:
New table sorting capabilities
More control over image sizes and descriptions
Dozens of stability fixes
Improved compatibility with browsers
Improved experience on mobile
5. Additional updates include:
Updated custom message menu when sharing a document (live as of 1/5)
Redesign Concord's home (live as of 1/12)
Redesign the appearance of comments and tracked changes on your document view (live as of 1/25)
Simpler, cleaner panel that more clearly shows what steps you need to take when viewing your document
*Note: release schedule for these features are subject to change
Interested in learning more about these new features?
Get a personalized demo Try it, free
Concord's mission is to help companies achieve scalability and efficiency by automating their most central process, contracts. The cloud-based solution enables over 500,000 users around the globe to create, collaborate, sign, store, and manage their agreements all in one place. Founded in 2014 and headquartered in San Francisco, Concord is built by business for business.