Summer 2021 Preview: New Word Mode, streamlined guest experience, and more!
Over the next few months, we will have some important and exciting updates coming to Concord. Check out what's coming this Summer!
1. New Word Mode
For those times where working with Word is a requirement we're launching a new mode that lets you do just that with Concord. With our new Word mode, you can retain the existing formatting of your Word files, use Word to edit and redline documents, and then import them into Concord for approvals, eSignature, and reporting. Concord's live editor is not going away, but this option gives you the flexibility to choose what works best for you.
Here's what you can expect when working with Word mode:
Retains all original file formatting upon import into Concord, no matter how complex

Download and edit in Word only

Comment and track changes in Word only

Approve, eSign, and report in Concord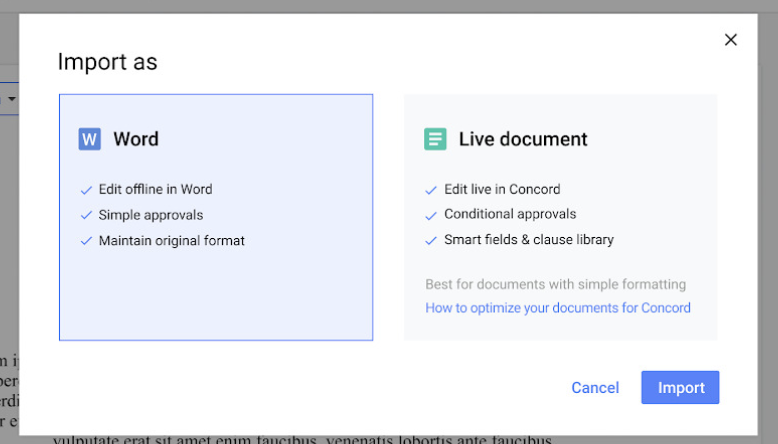 2. Action Shortcuts Added to Homepage
We've made it easier than ever for our users to find the three most critical functions of Concord; creating a new document, a new template, or uploading agreements to sign and track.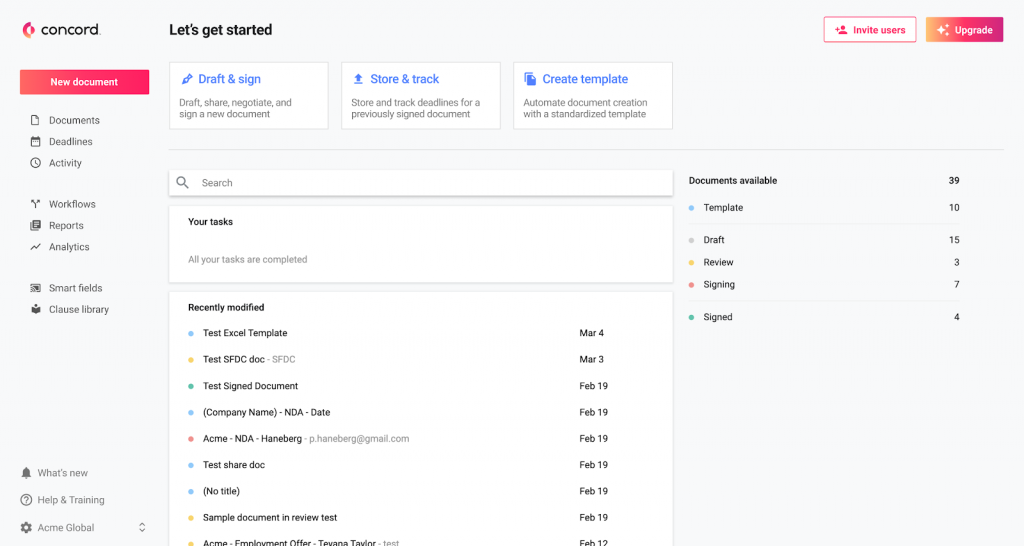 Everything else you're used to seeing on the homepage is still there, right below these new action boxes.
3. New Document Builder
We're simplifying document creation by launching a guided process that ensures every document is consistently implemented. This simple to follow walkthrough will make it easier for you and everyone in your company to quickly use Concord.
Here's what you can expect:
Guided walkthroughs to draft & sign a document, store & track a document, or create a template

Quick access to recently used templates

Prompts to fill in the document title and tag during document creation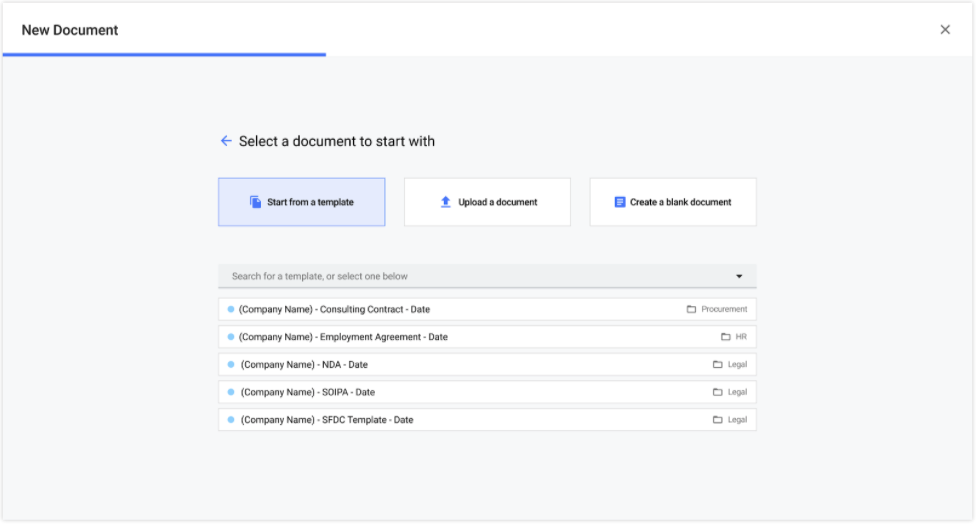 4. Reporting Filter by Date
Over the next few months, you'll see an improving reporting experience. Our goal is to make it even easier for you to find and unlock your contract data, and for you to have an experience you've come to expect from other applications. This will make it easier for you and your team to use Concord. Starting with reporting filters by date.
Here is what you can expect:
Ability to filter based on contract creation date, end date, last modified date, and signed date

Ability to filter based on different date relationships; before a date, after a date, and in between dates.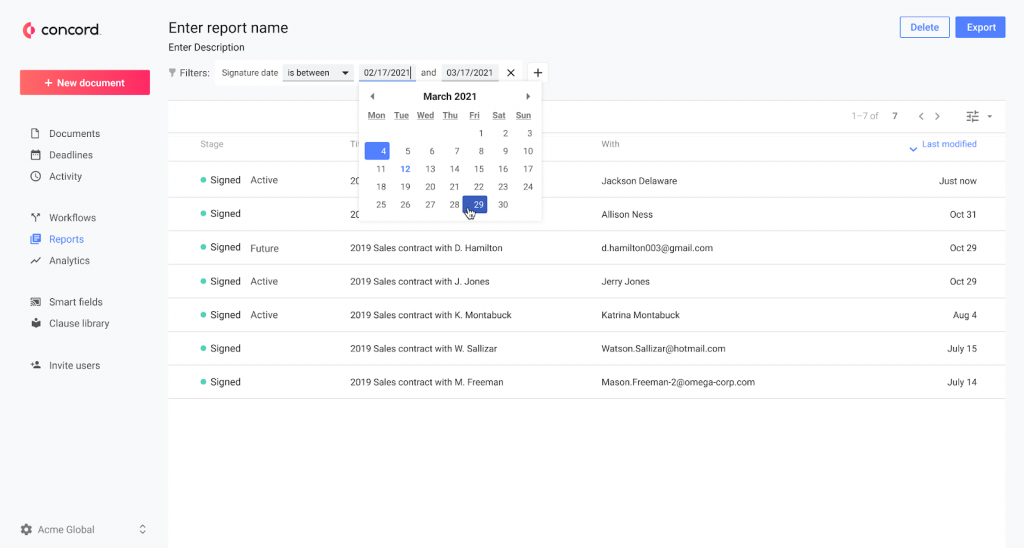 5. Streamlined Guest Experience
Over the coming months, your guests will see a simpler interface when they use Concord to sign documents. With fewer options available, they will know exactly what steps they need to take when they open your document.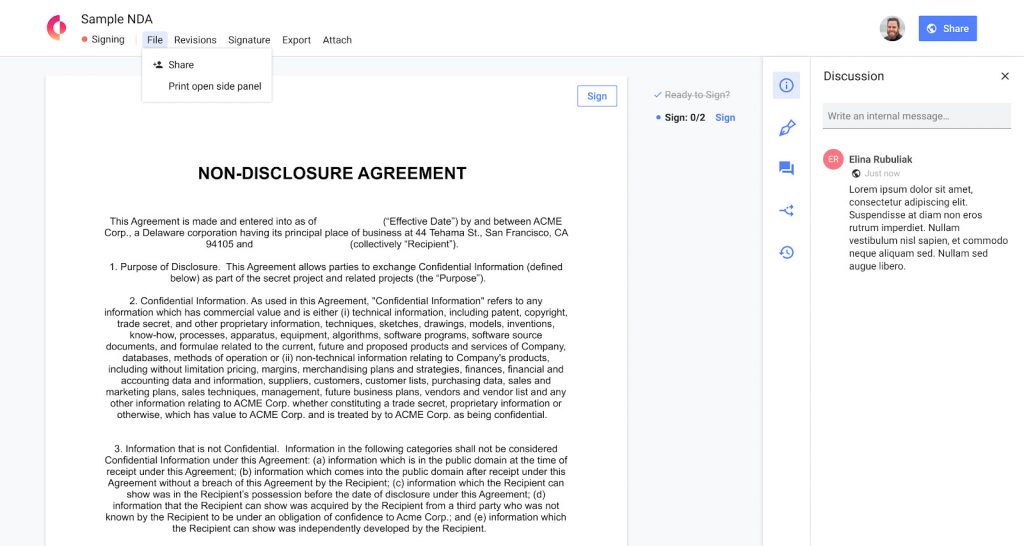 6. Improved Email and Invitations Deliverability
We are ensuring less of your invites and communications within Concord end up in your invitees spam folder. We have selected and are implementing a new under-the-hood email engine. Our new email system will increase the delivery rate of all emails, invitations, and communications from Concord.
*Note: release schedule for these features are subject to change
Interested in learning more about these new features?
Get a personalized demo Try it, free
Concord's mission is to help companies achieve scalability and efficiency by automating their most central process, contracts. The cloud-based solution enables over 500,000 users around the globe to create, collaborate, sign, store, and manage their agreements all in one place. Founded in 2014 and headquartered in San Francisco, Concord is built by business for business.