Concord – April '22 Update: Drag and drop, Zapier integration, new signer blocks, and more.
On April 26th, Concord's Update will go live. Announced 6 months ago, dozens of new features and improvements will empower you to do even more with your contracts. This update is automatic, free, and 100% compatible with your existing documents, data, and flows.
How to get the update – Concord takes care of everything!
No action needed – it's automatic
No download or manual update needed
No action needed from admins or users
No change on your documents, data, or flows
100% compatible with any existing document or data
No change in your workflows
Use new features – or work like before!
Choose to use – or not – some new features (signer fields, pre-signing…)
Feature Updates – Document Interface
New Side Panels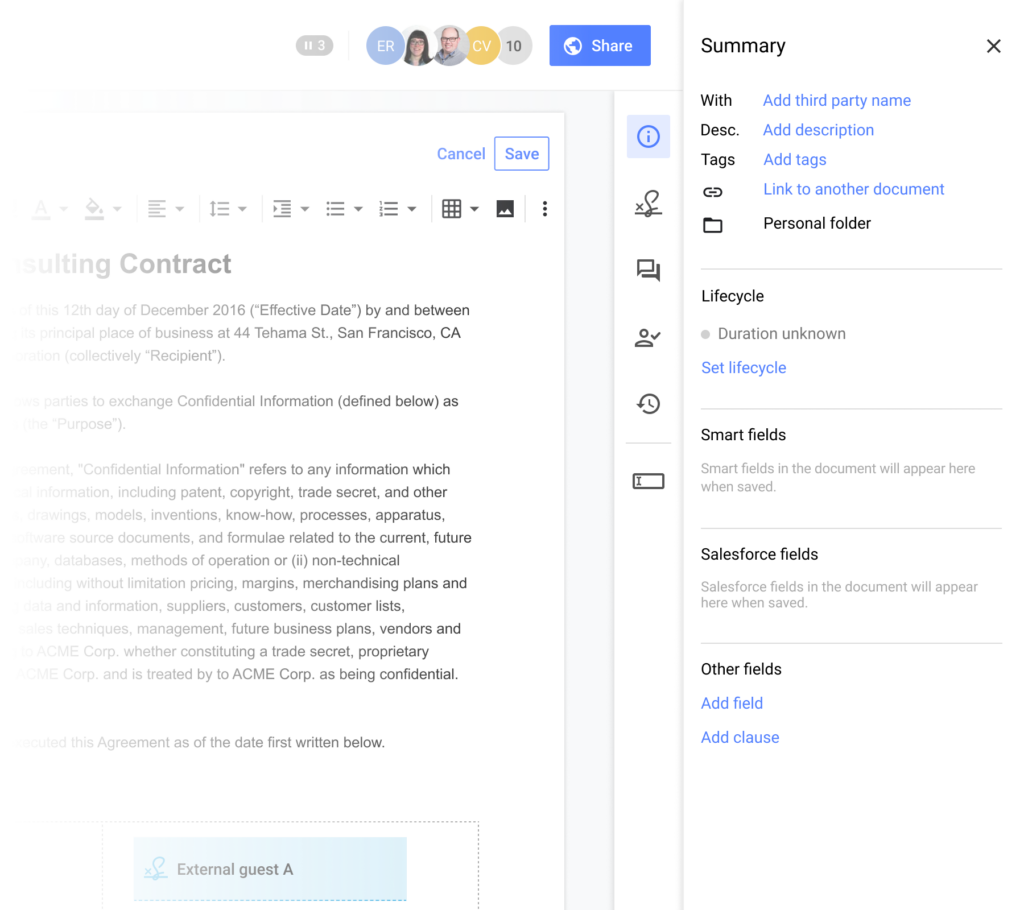 Organize your own view
Dedicated panels for Summary sheet, Signers, Discussion, Approvals, Audit trail & Fields
Open, close or switch between panels seamlessly
Increased clarity and space
Redesigned tabs to improve readability
Increased vertical space to see more instantly
All panels work exactly like before
---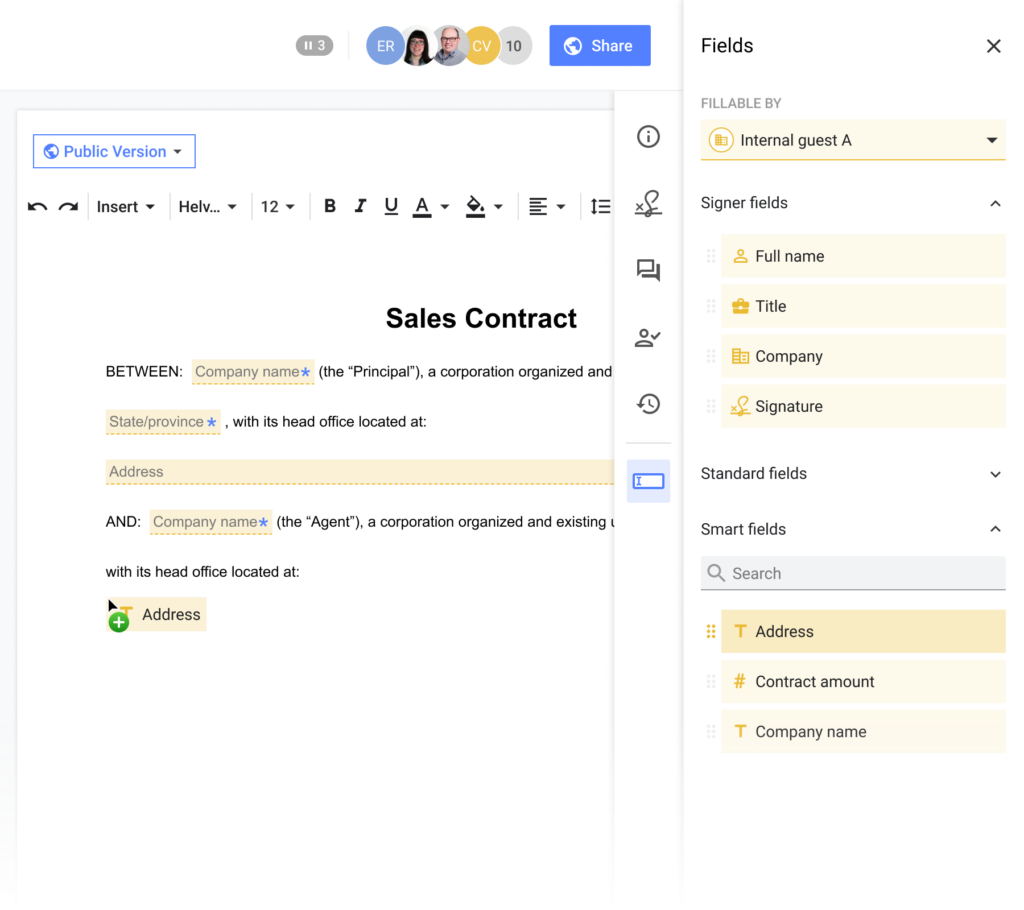 Field Drag & Drop
Drag fields anywhere in your document
Available for Live mode: Signer, Standard & Smart fields
Available for Word/PDF mode: Signer & Text fields
Coming Soon: Clause library, Salesforce, Excel fields…
Easily see who is assigned to a field
Select an assignee, then drag-in all their fields
In Edit more, each assignee has a different color
In View mode, see your available fields in yellow
Configure each field the way you want
Describe a field's purpose using placeholder text
Choose whether a field is required (default) or optional
Reassign fields to other users
---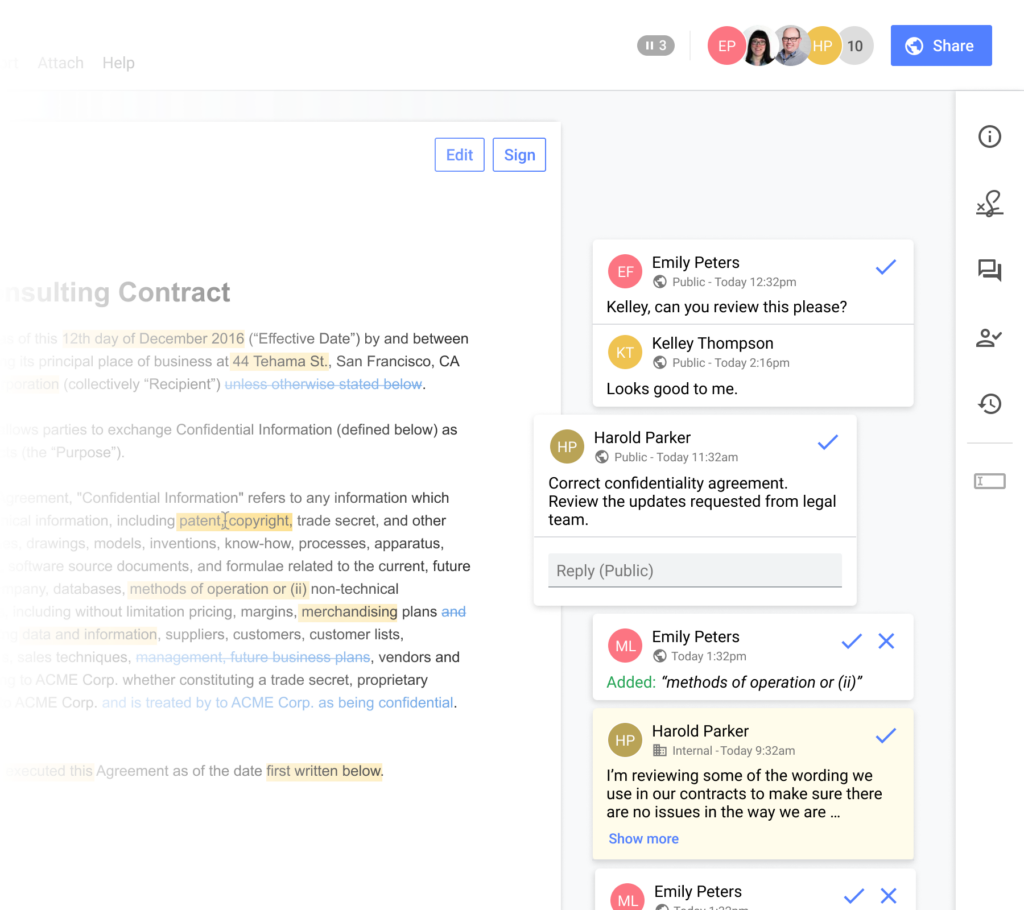 Improved commenting
Always see all comments & track changes
Comments & track changes are now always visible on the right, like Word or Google Docs
Choose to focus on and expand specific comments
Increased discoverability & clarity
New, more prominent "Add a comment" button
Clearer comment visibility (internal only or public)
Improved contrast between added and deleted text
These improvements will be applied to existing comments and track changes
Like now, switch Track changes on or off and approve/reject all changes at once
---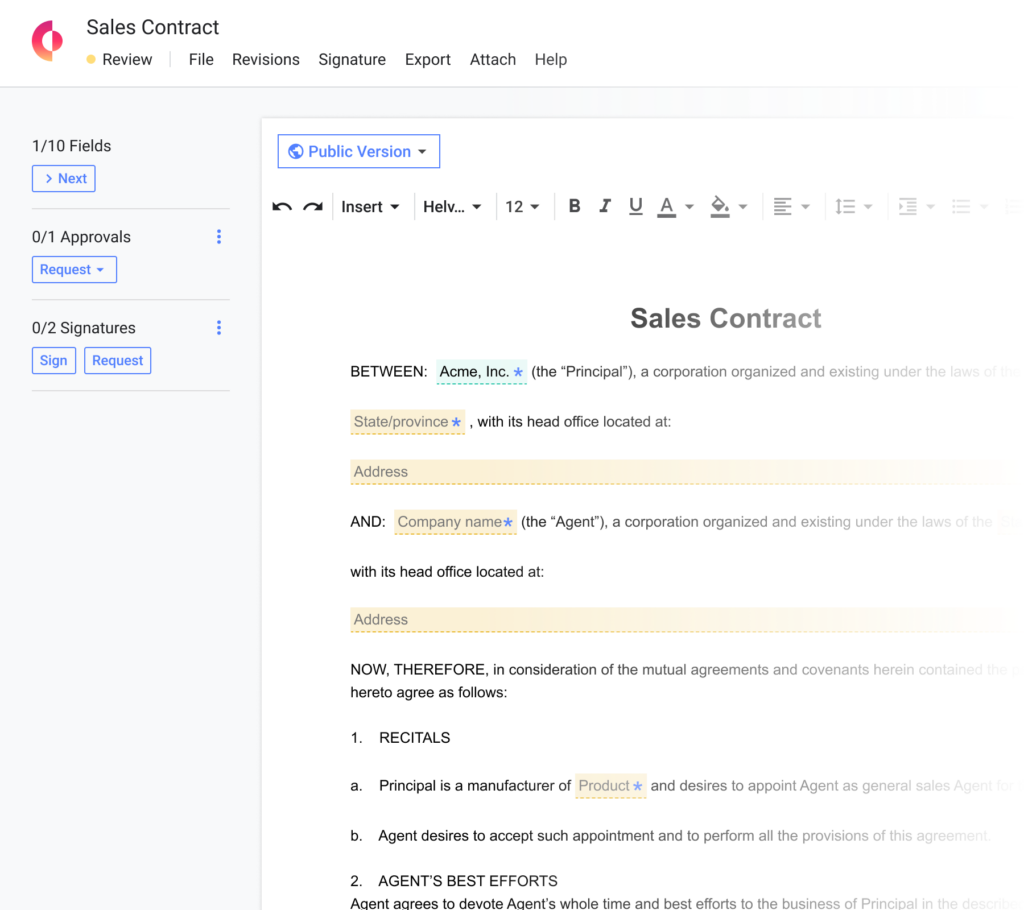 Improved Guidance
Improved "to do list" on the left
See what actions still need to be completed (fields, approval, signature…)
Quick access to many actions (Request signature, see approval…)
New suggested actions
Guidance on newly created documents to add signers and optionally add fields and approvals
---
Feature Updates – Signing
New Signer Fields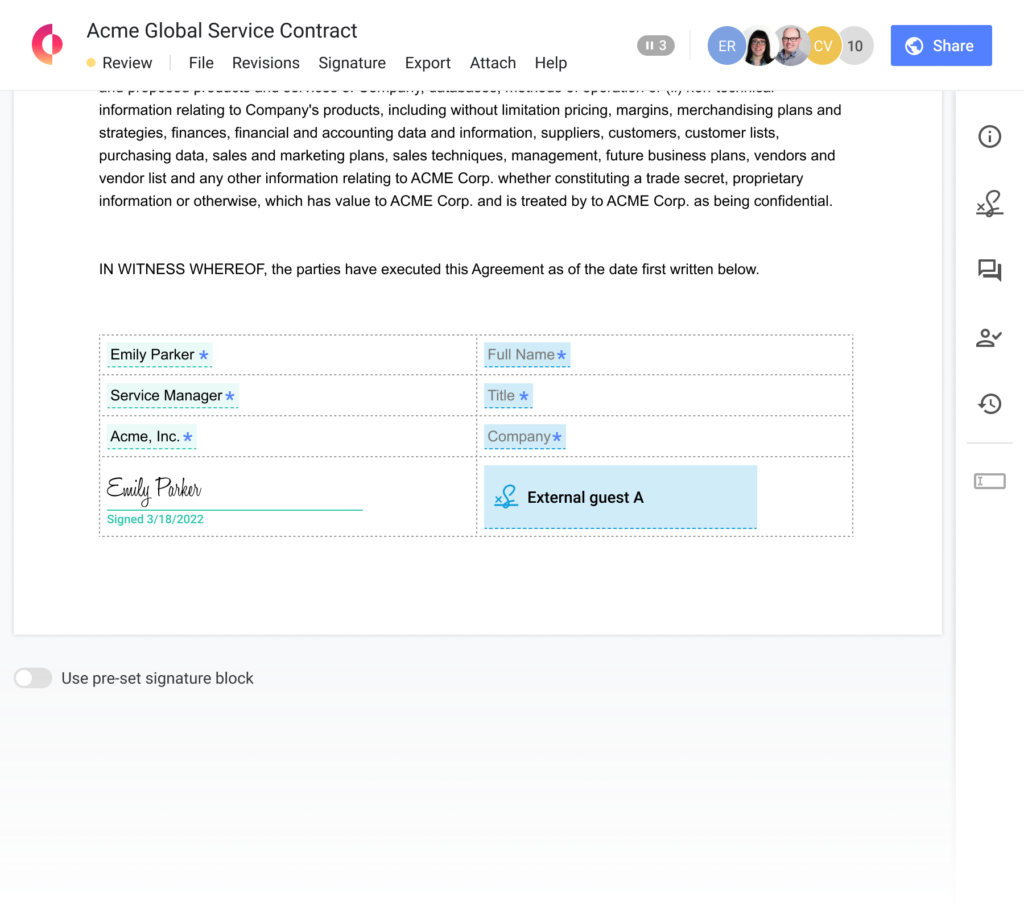 New Name, Company, Title & Signature fields
Add fields as needed – only a signature field is required for each signer
Fields are auto-filled for users when possible
Signed date is auto-added for each signature field
Build your signature blocks, or let Concord do it
Use tables to arrange signer fields perfectly…
or use Concord's pre-set blocks to avoid adding fields,
… or do both! You can use both in the same document.
No need to reconfigure existing documents
Existing documents will keep using pre-set blocks, so you don't have to add any fields. Deactivate blocks in one click.
New documents: pre-set blocks are deactivated by default. Activate them in one click.
---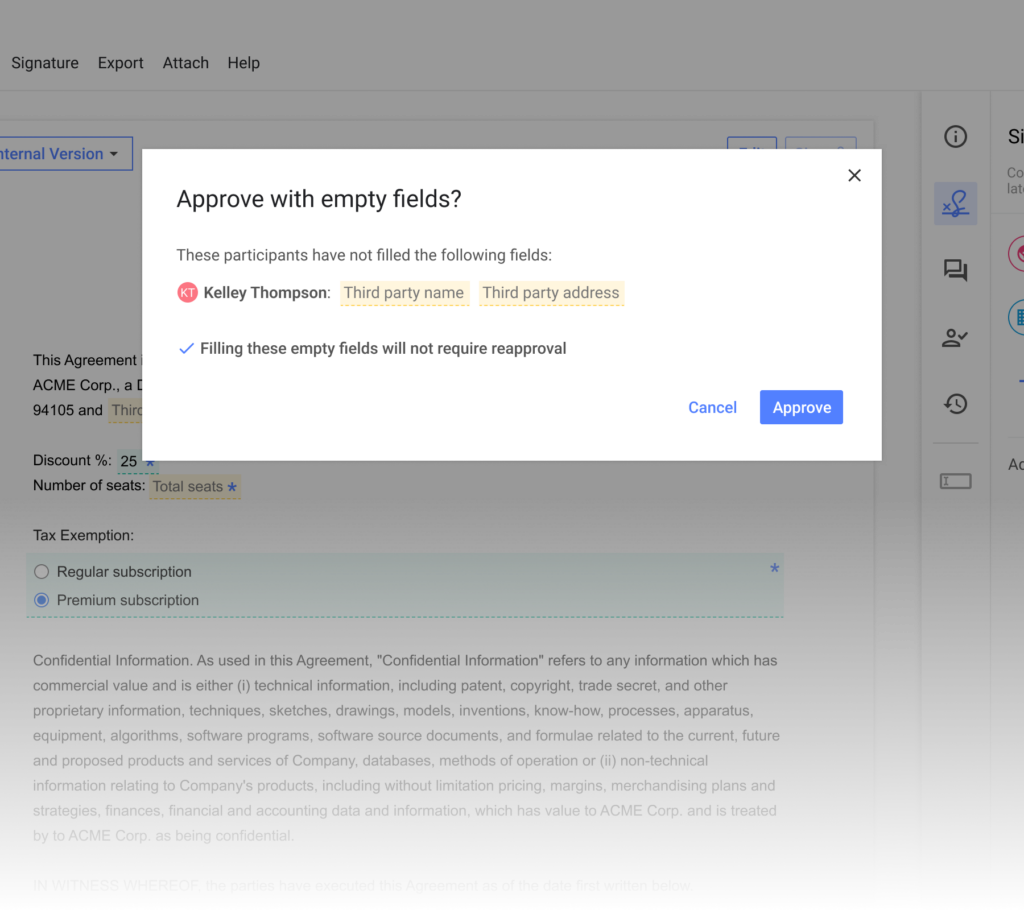 Approve or sign now, even with empty fields
Act now, and let others fill out fields later
You choose: start approving or signing now to expedite your signature process, or wait for all fields to be filled
To avoid oversights, Concord shows which fields are still empty and who is assigned to them
Your previous edits are safe
Once you approve or sign, the document content and all completed fields are locked and cannot be modified
Subsequent participants can only fill empty fields – that's it
A document can't be finalized with a missing field
The final signature cannot be collected if a required field remains unfilled. Concord warns you automatically when fields are empty
---
New Signature Certificate
Simplify your compliance requirements
Available on Export > Download Signature Certificate
Includes audit trail, events, document ID, and other technical information in a single PDF
Available for all documents signed on Concord, even those signed before the release
Like before, the signed PDF itself is sufficient as legal proof. This certificate just facilitates additional compliance requirements
---
Improved Email Deliverability
Reduced chance of spam
Rebuilt email flow and brand new email service
Reduce rate of Concord emails being marked as spam, including the invitation to join email
Increased email security
Many behind-the-scene improvements were made to increase the security of sent emails
No visual or content changes to any email
The direct link to share a document is still available
---
Feature Updates – Integrations
New Integration Options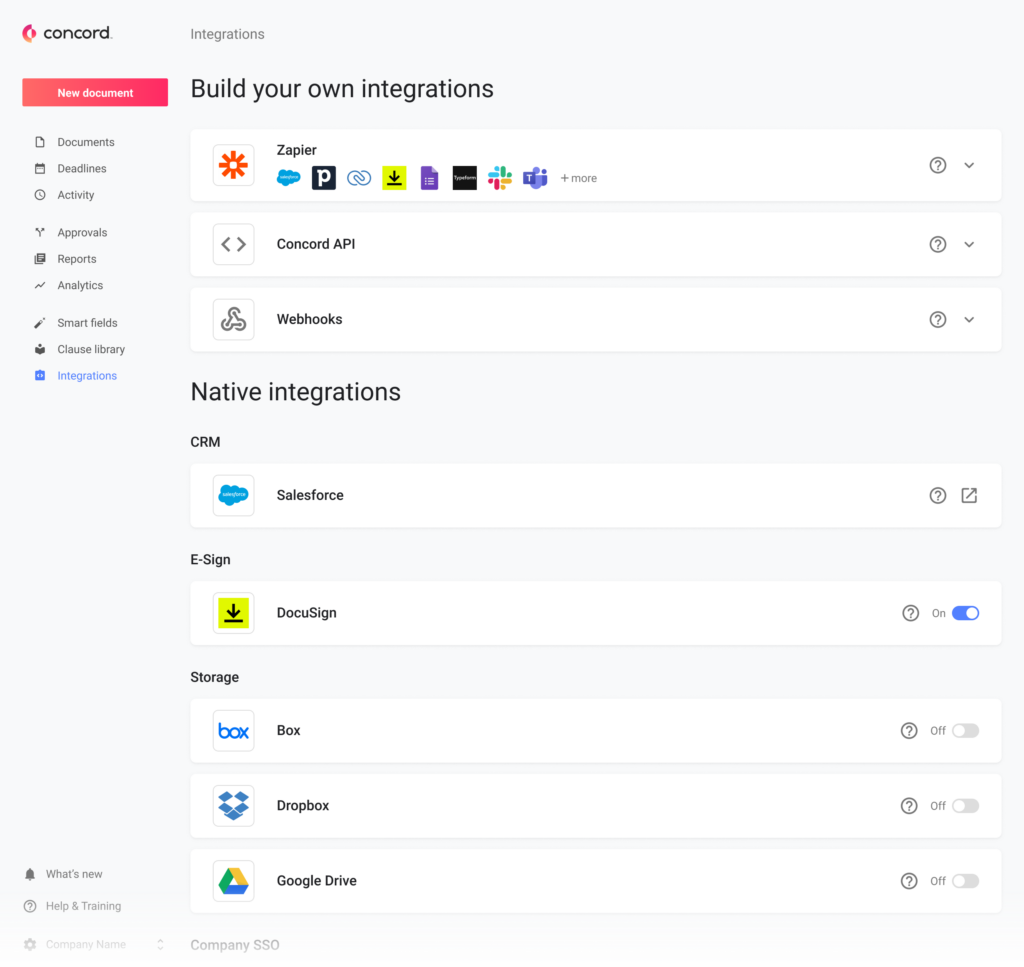 Revamped page, accessible from the home
Find all available integrations and documentation in one place: API, Salesforce, Zapier, etc.
Turn on/off integrations in one click
New SSO options – Enterprise Plan
Visualize and access documentation for all SSO options
Contact your CSM or Support to activate SSO
New Webhooks – Enterprise Plan
Set up your own callbacks to reduce the use of the API
Triggered every time documents have been signed or changed state
No change to your existing integrations
---
New Zapier Integration
Connect Concord to 4000+ apps – Professional Plan
Build integrations yourself using Zapier's simple "if this, then that" interface
Choose from dozens of triggers and metadata (new signature, document completed, fields, summary sheet…)
Connect automatically and securely using OAuth
Zapier is free to use for up to 100 tasks/month, then starts at $19/month
No additional cost with Concord regardless of the number of tasks
---