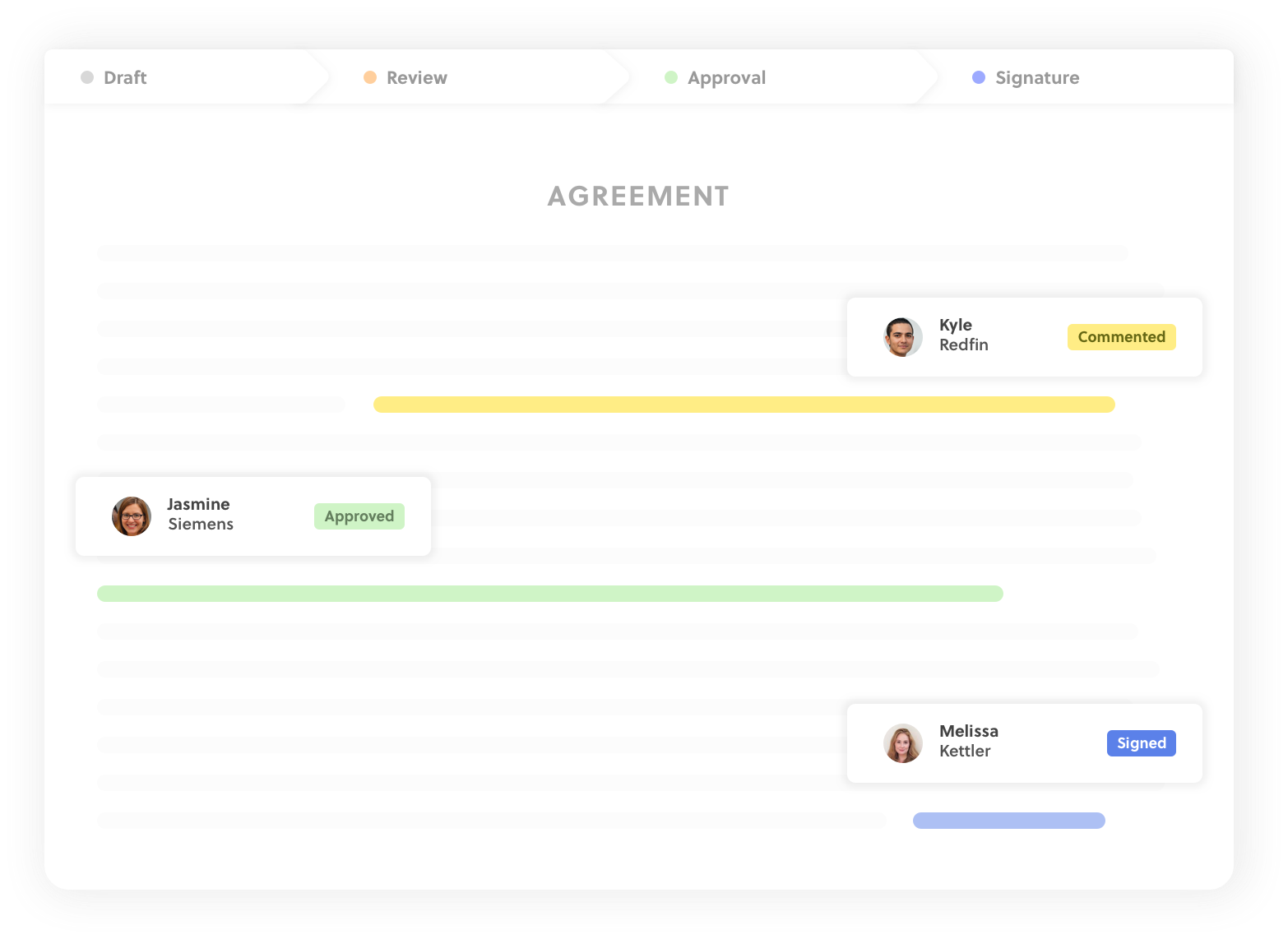 Deliver savings, efficiently
With powerful negotiation and reporting tools, Concord delivers efficiencies for the entire procurement process.
Learn how procurement teams use Concord for:
Automating approvals
Quickly generating contracts
Powerful negotiation
Secure e-signatures
Single-source-of-truth
Increased visibility into deadlines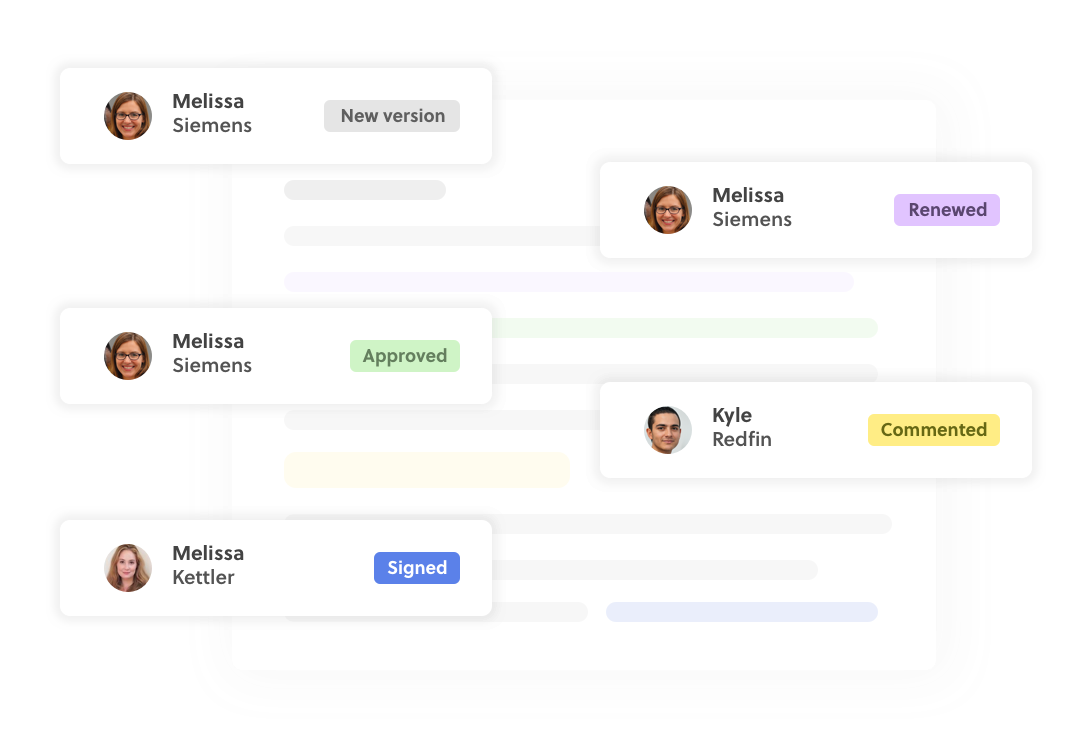 Approvals the easy way
Set conditions to automatically request the right approval

Take the guesswork out of workflows and automatically route a document to the right person based on the value or content of any Smart Field in the contract.

Pre-defined workflows

Use pre-defined workflows for your procurement agreements, so your team feels confident in the process.

Custom workflows

Individual documents can also have their own ad-hoc approval workflow. Ensure all documents follow the right approval workflow, in the right order.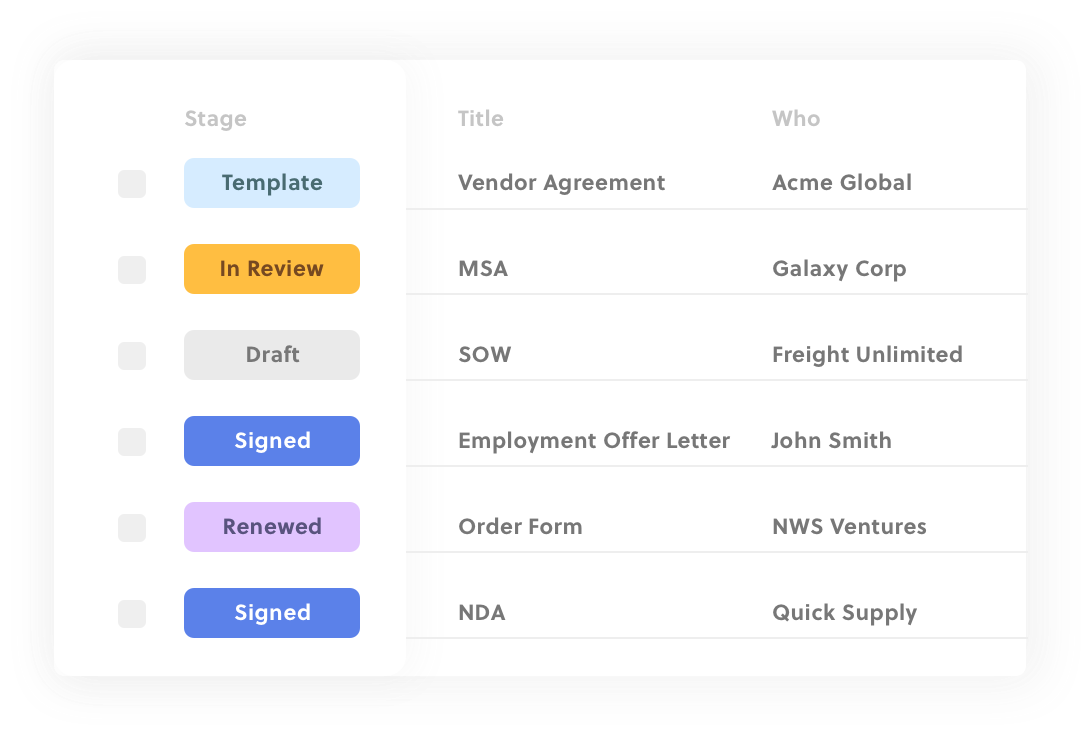 Instantly generate contracts
Use the right template

Use pre-approved templates created by your Legal team so you don't spend time searching for the right contract and requesting approval. Never worry about using an outdated version.

Generate multiple contracts at once

Concord lets you create thousands of customized documents instantly, using a wide array of tools to adapt to your business.

Connect all your tools

Use Concord's open API and integrate Concord with your procurement software. Generate and then send contracts that are auto-populated with information from your software — all without going into Concord!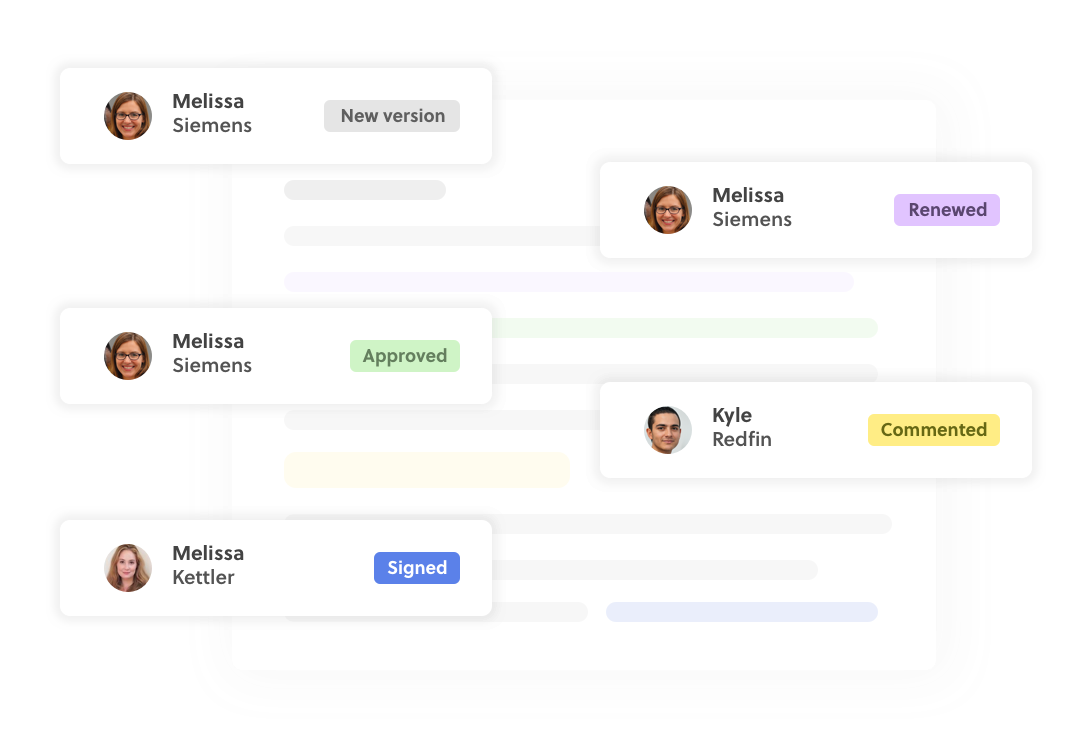 Secure goods & services faster with powerful online negotiations
Real-Time Negotiation

Save time and negotiate contracts online, instead of emailing back and forth. Approve or reject any suggestions made right on Concord.

Private/Public Chat & Commenting

Choose whether your comments and discussions are limited to your internal teams, or should be seen by your external guests.

Automated Versioning

Every change made to a document is automatically saved, so you'll never lose track of a prior version.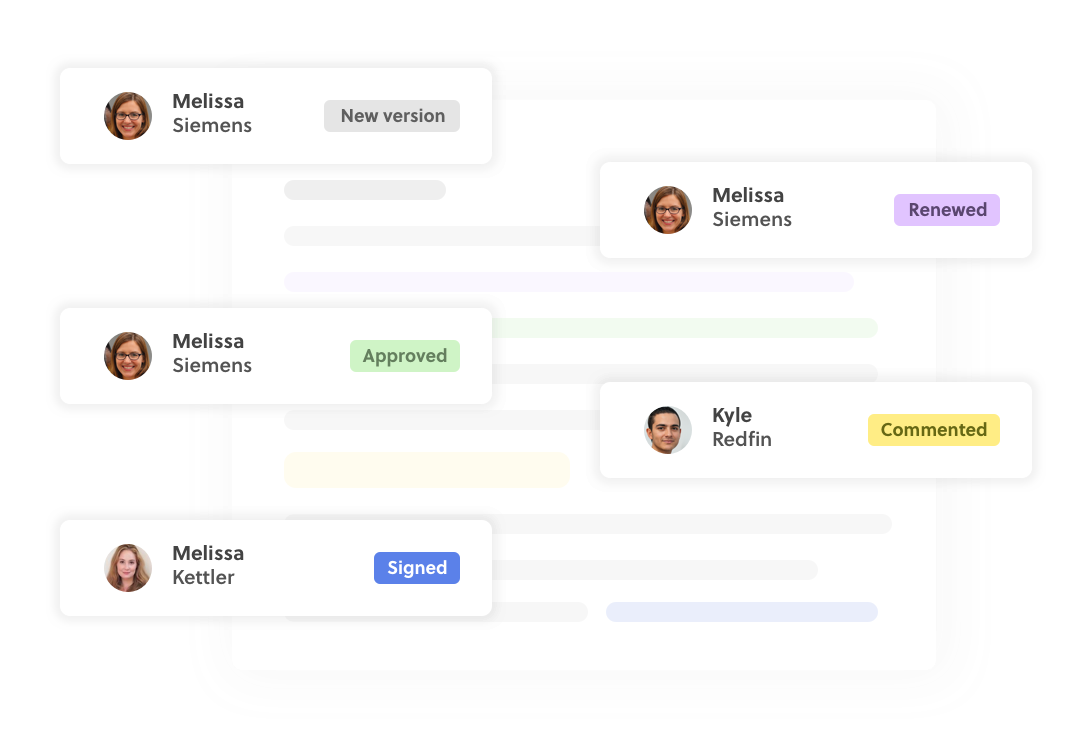 Secure, legally‑binding e‑signatures
User permissions

Control who has access to sign documents, create templates, or invite third parties to negotiate by setting up distinct user permissions.

E-signature

Concord's native e-signature reduces the signature process to just one click — all within Concord.

Legally-binding worldwide

Enable fully executed contracts with legally admissible e-signatures — at no additional cost. You'll never have to pay extra to sign your contracts and you can download fully-executed documents at any time.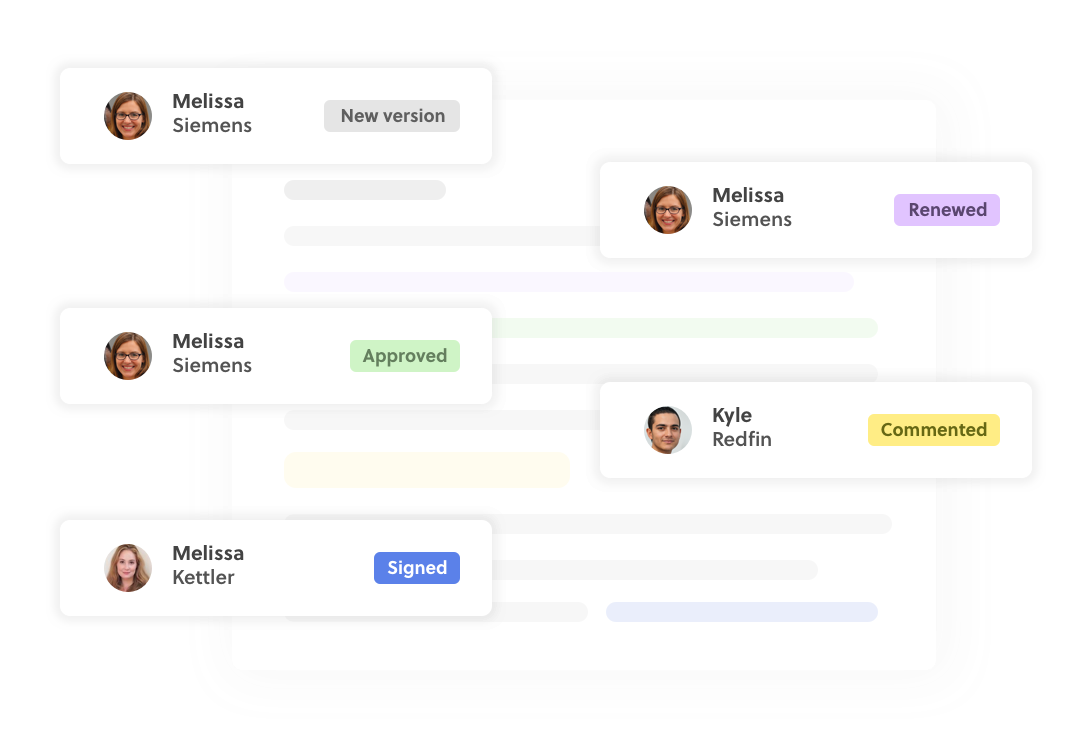 Your single‑source‑of‑truth for all contracts & comments
Automated Versioning

Every change made to a document is automatically saved. Compare previous versions at any point and ensure that you will never lose track of what's changed.

Full Audit Trail

Concord automatically keeps track of all versions, comments, edits, and actions in a comprehensive audit trail, so your business remains compliant years after a contract has been signed.

Discussion Panel

See all remarks made on the document as a whole or on a specific clause/paragraph at a glance, right on Concord. No need to email back and forth.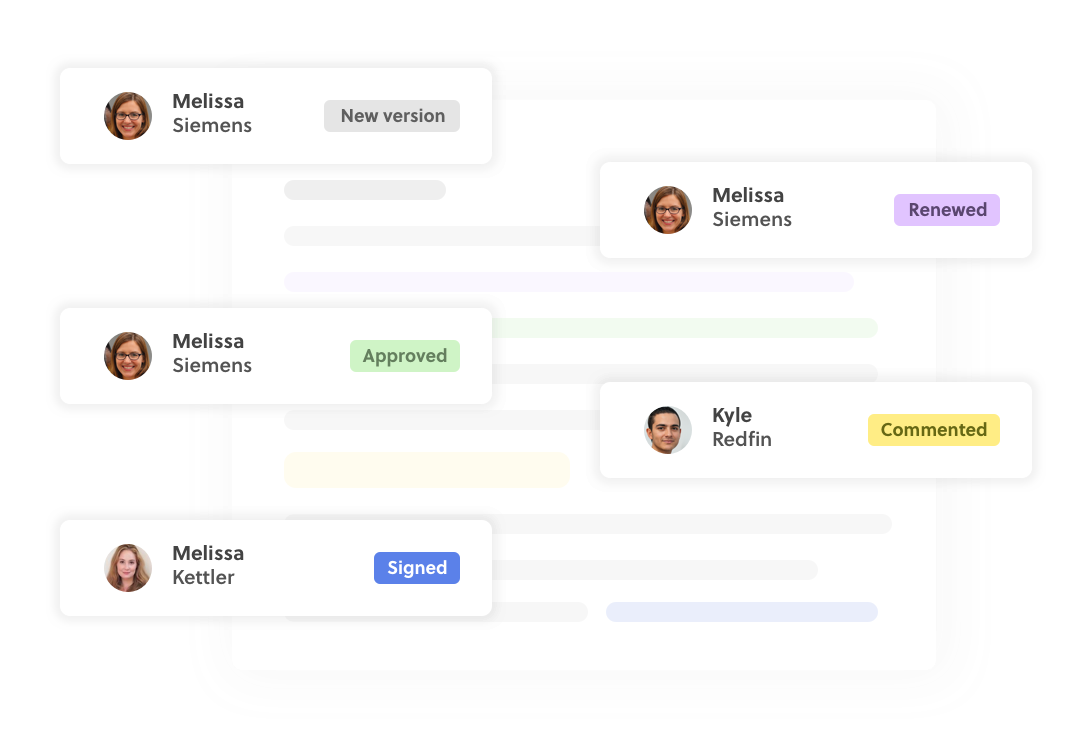 Gain deeper insights into your contract terms
Contract intelligence

Instantly see the amounts, terms, or conditions of all your supplier contracts, so you can quickly identify opportunities for cost savings.

Automated deadline and early notice notifications

Automated, customizable email alerts help you proactively manage upcoming terminations and renewals, including early notices, so nothing falls through the cracks.

Smart Fields

Standardize your reports by using Smart Fields in your contracts. See aggregated data on all Smart Fields on Concord, or download as an Excel file for further analysis.
Join the thousands of companies using Concord
to make their businesses more efficient.