E-signature Platform
Take control of your process with end-to-end contract management software.
END-TO-END PLATFORM
Simplify and streamline your contract management process with Concord's end-to-end contract management software.
Our e-signature software is designed to help businesses efficiently handle contracts from start to finish, enabling greater control and productivity.
Try Concord for free!
No credit card required.
Unlimited e-signatures
Unlimited storage and viewer seats in one space where you can find all your documents.
Legally-binding
All your contracts with tracked changes and audit trails in one secure space.
Bank-level security
Share document control between teams and receive live updates on changes.
Sign more, faster
Control user permissions and document access to guarantee compliance.
Choose signer order
Choose the order of requested signatures and let Concord remind everyone when it's their time to sign.
Bulk sign
Group documents together and use the bulk sign feature to sign several contracts in a few seconds.
Flexible integrations
Integrate Concord with systems like Salesforce or Google Drive to simplify your processes.
Delegate your signature
Too many contracts to review and sign? Easily delegate to your teammates so they can take over.
Legality
Legally binding across the world
Concord's secure e-signatures are legal in most countries through compliance with most of the required regulations worldwide. Sign your document and download the e‑signature certificate with ease knowing it will be valid forever.
United States
Compliant under both the U.S. Electronic Signature in Global and National Commerce Act of 2000 (ESIGN), and the U.S. Uniform Electronic Transactions Act (UETA).
European Union
Concord meets the key requirements of Electronic Identification Regulation (EU) 910/2014 (referred to as "eIDAS").
Worldwide
Concord's legally binding e‑signatures are compliant with all the major regulations and are used worldwide.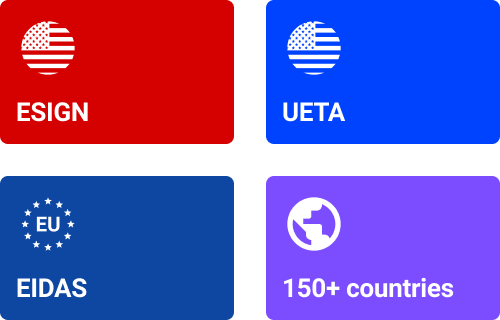 "The results we've seen from Concord are more time and more happiness in my Legal team."
, Group General Counsel

"I would recommend Concord for the main reason that it is so simple to use."
, Information System Manager

"Having a solution that helps you organize all of your contracts and know when they're expiring, when they're renewing, is a best practice I would hope that every business could have."
, General Counsel

Trusted by