Effortless Contract Management Platform
Take control of your process with end-to-end contract management software.
CREATE , COLLABORATE, SIGN AND MANAGE ALL YOUR CONTRACTS IN ONE PLATFORM.
Get set-up in minutes
Quickly set-up all your teams and start enjoying Concord's familiar inbox-like interface.
Enjoy full autonomy
Business can't wait. Configure Concord from A-to-Z when you want it, with total autonomy.
Free onboarding support
Concord's award-winning Onboarding teams are here to help you get started on the right foot, wherever you are in the world.
Try Concord for free!
No credit card required.
Captera


G2


Software Advice


Send as many documents as you need
to an unrestricted number of signers.
Unlimited e-signatures and signers
Send as many documents as you need to an unrestricted number of signers. Collect unlimited e‑signatures on all of Concord's pricing plans.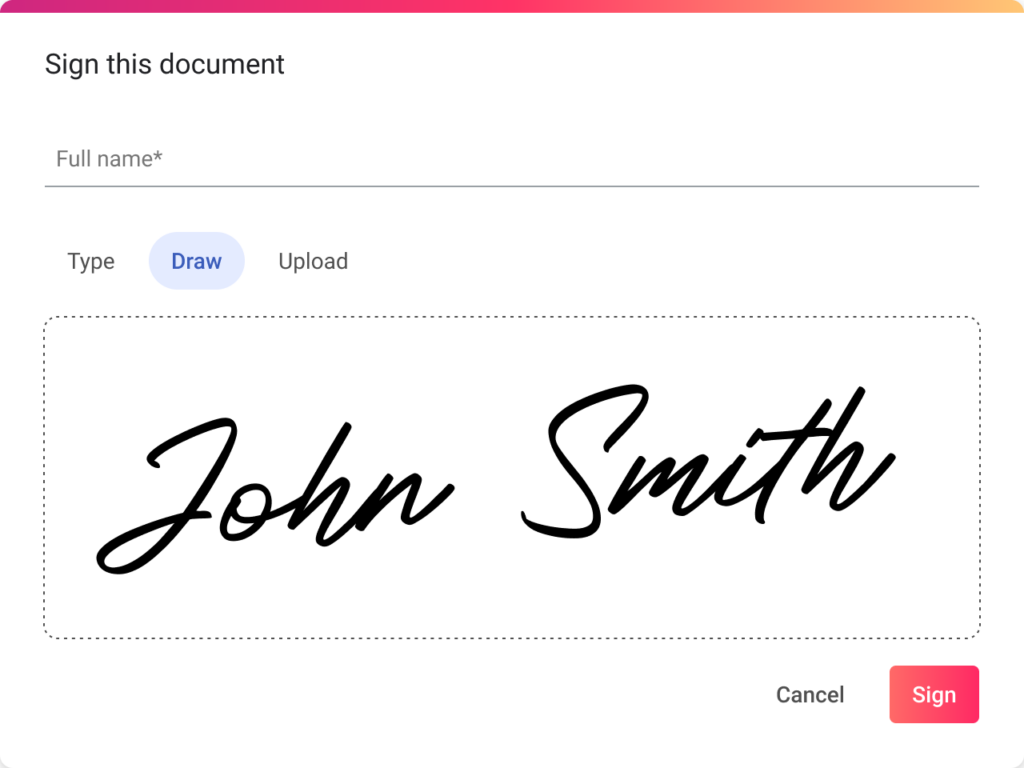 Sign Word, PDF, or live documents
Work collaboratively online on Concord's platform to avoid sending versions back and forth. Or import any Word or PDF that you have.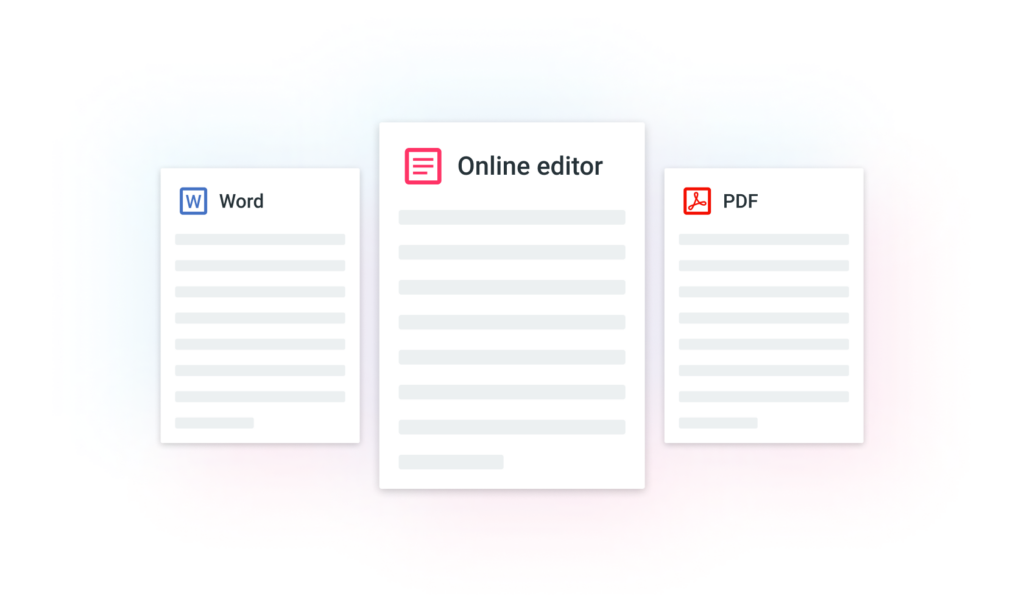 Stay in control and save time with
contract approval workflows.
Unlimited contract approval workflows
With Concord, create an unlimited number of approval workflows with as many mandatory or conditional steps as you need.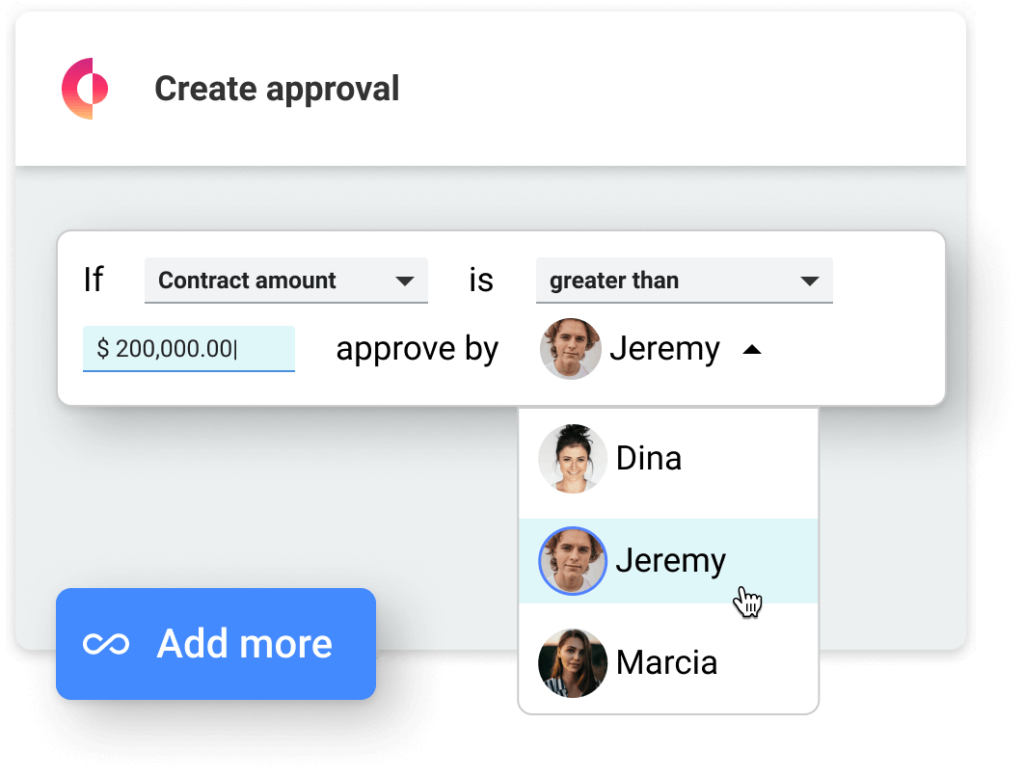 Approval workflows library
Create a library of pre-defined contract approval workflows that will be shared with your team and can be quickly added to templates, drafts, and contracts.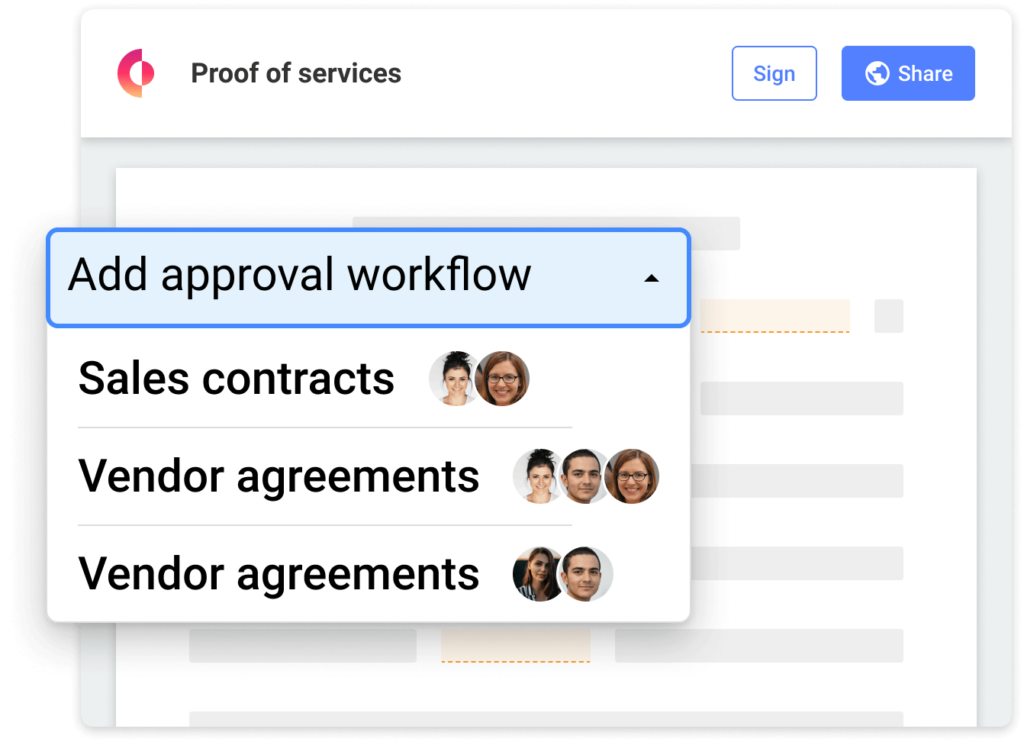 Conditional contract approvals
Create approval workflows with conditional steps based on smart fields, for example contract duration or amount.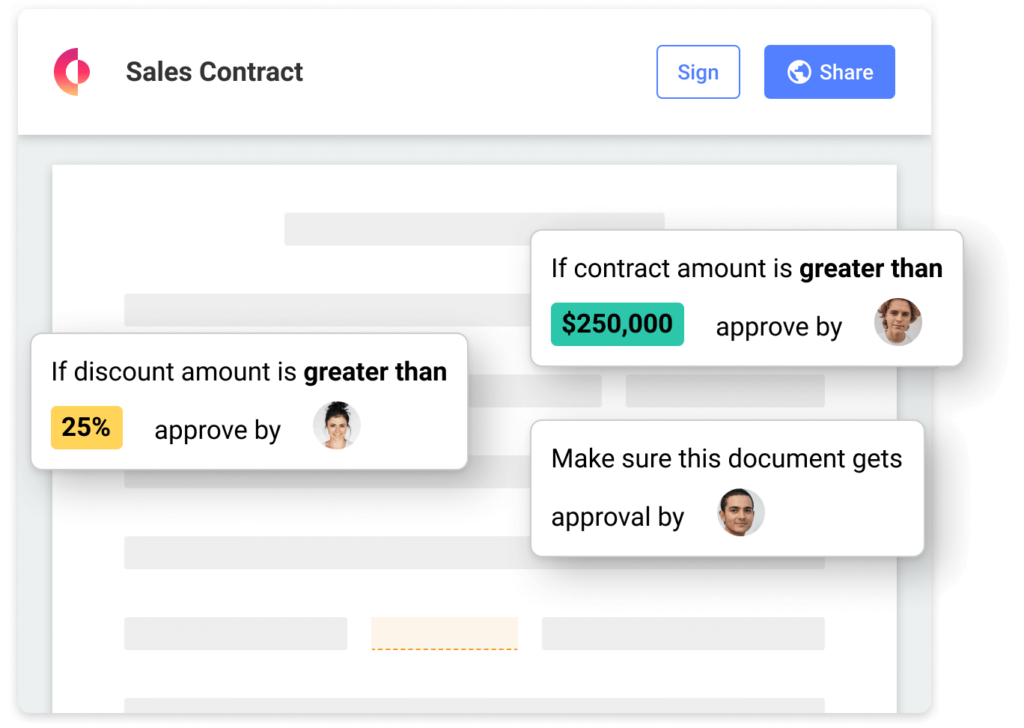 Notifications and reminders
Automatically notify the next approver when a step is completed. The notification will be sent via email and also appear in the "Your Tasks" section on Concord's home page.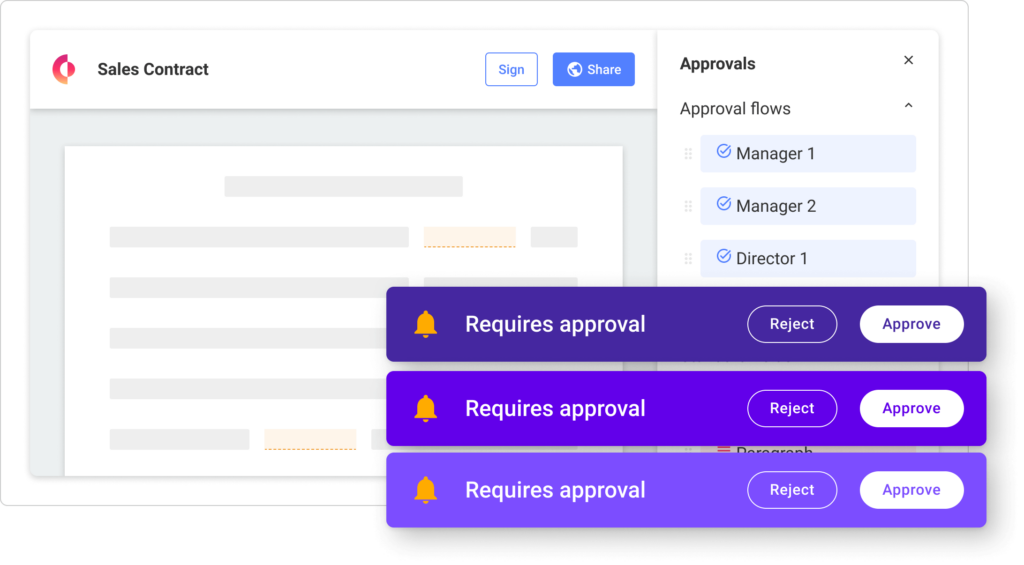 "The results we've seen from Concord are more time and more happiness in my Legal team."
, Group General Counsel

"I would recommend Concord for the main reason that it is so simple to use."
, Information System Manager

"Having a solution that helps you organize all of your contracts and know when they're expiring, when they're renewing, is a best practice I would hope that every business could have."
, General Counsel

Transparent pricing. Fast adoption.
Faster impact.
Standard
Control access across your organization. Bulk send documents for E-signature.
---
$17
Per user per month
Pro
Connect Salesforce and other applications. Automate approvals and reporting.
---
$49
Per user per month
Enterprise
Boost efficiency with a clause library, subsidiary management, and SSO.
---
$89
Per user per month
Integrations to keep your workflow simple and effective.
Salesforce Integration
Generate documents that are automatically populated with data from Salesforce, and work on them in Concord to edit, share, negotiate and sign.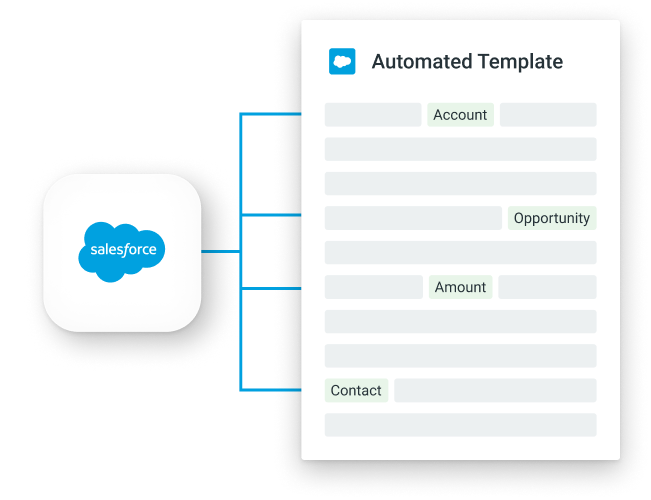 Connect to 5000+ apps with Zapier
Use Zapier to connect Concord with the apps you already use such as Hubspot, Slack, Microsoft Teams, Google sheets and many more. Automate your workflow without writing any code.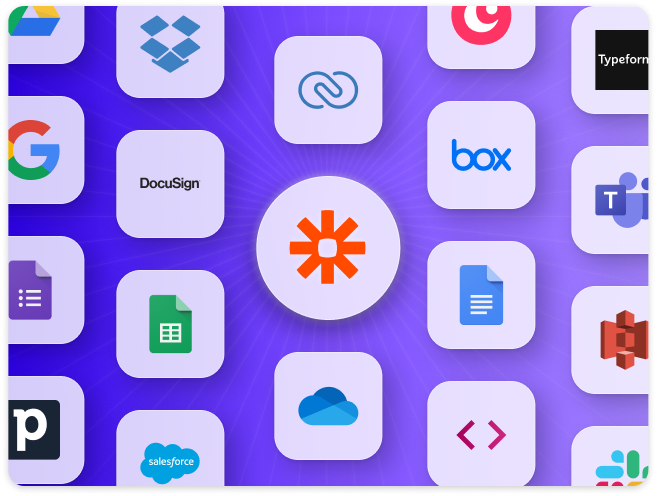 SSO
Stay secure by easily setting up single sign on on your company account level. Concord is compatible with SAML 2.0, LDAP, and Azure Active Directory.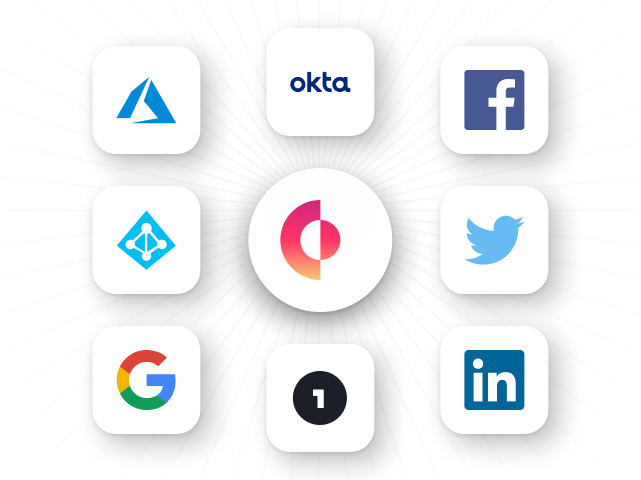 Cloud storage
Automatically export a copy of your documents signed in Concord to Dropbox, Box, or Google Drive so you can easily create a backup of all your signed contracts.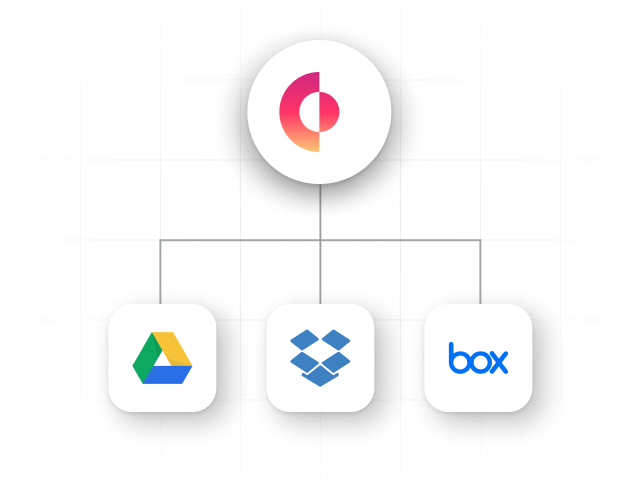 More questions?
Frequently asked questions
Who needs to be involved when I integrate systems with Concord?
This depends on the tool you want to integrate and its complexity. Some tool integrations are as easy as switching a toggle, others require application admins to set them up.
Can I set up my own integrations with systems that concord does not support?
Yes, you can set up other tool integrations with Concord using Zapier, webhooks, or API. Zapier alone allows integrating Concord with over 5000 applications.
What is Zapier?
Zapier is an online tool that allows you to connect the applications you use without relying on coding or developers. With Zapier, you can easily automate your processes in just a few clicks.
How do I set up and configure the SSO solution?
You need to provide the SSO certificate and SSO metadata to your Concord Customer Success Manager. Then, you will work together to activate the SSO.
What plans include SSO?
Concord's Enterprise plan includes the SSO feature.
What plans include integrations?
Concord's Pro and Enterprise plans include integrations.