New to Concord: Document Builder for Faster Document Generation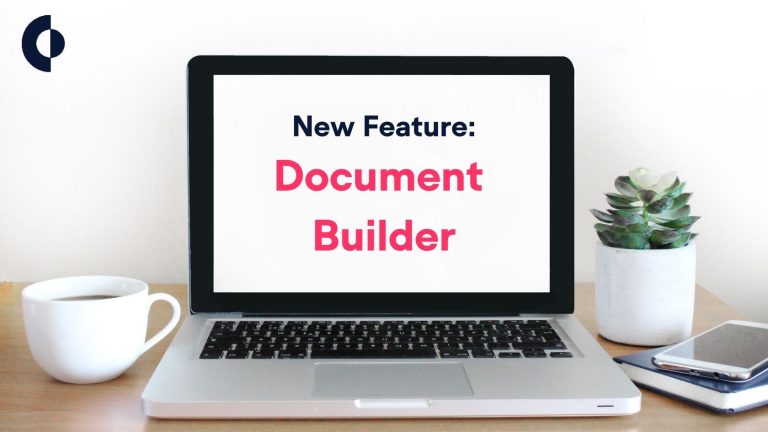 Do you ever find contracts in the wrong folder? Does your team forget to tag documents with the right labels? Do you sometimes have to click around to find where to create a template?
If you answered "yes" to any of these questions, Document Builder is going to make your work in Concord much simpler and more consistent.
What is Document Builder?
Document Builder is essentially a new document wizard, walking you through all the steps of initiating an agreement or template in Concord.
In just a few clicks, you will choose what kind of document you're creating, what folder it should go in, which tags it needs, and the title.
Watch a Video about Document Builder
Now with Document Builder, you can:
Start the process by clicking on what you want to do: create a new template, upload a signed document for storage and tracking, or edit a live contract

When working with a live contract, select whether you want to start with uploading an existing document, using a template in Concord, or starting a new blank document

Designate what folder (and therefore access permissions) your new document will be in

Assign tags for easy sorting later

Add third parties

Title your document at the same time you upload it
Here's How Document Builder Works
The purpose of Document Builder is to walk you through document initiation in just a few clicks. Instead of clicking through the menu to find what you want to create, Document Builder will ask you a series of questions to guide the process.
NOTE: For existing users, Document Builder is under the "New Document" dropdown menu.
What document do you need to create?
First, you will see a window that has three options. If your users do not have permission to do all of the actions, don't worry. Options for actions outside of role permissions will be grayed out and not selectable.
The actions you can choose from are:
Draft & Sign:

This is for when you have an unfinished agreement that you want to edit in Concord

Store & Track:

Perfect for when you want to store a contract that was completed outside of Concord, and / or track your deadlines and be able to search the document contents later

Create Template:

Choose this option when you want to create a new template for your team to use later

How do you want to start your document?
Depending on what option you choose, your Document Builder wizard will guide you through the next set of choices.
Generally, you will have the following options.
Draft & Sign
This is the best selection to draft a new document or to add fields to a contract that is in process and sign it. After clicking "Draft & Sign" you will have these options.
Start from a template:

Start a new contract using

a previously added template

Upload a document:

Upload an existing contract that you want to add custom fields or signatures to

Create a blank document:

Draft a document from scratch within Concord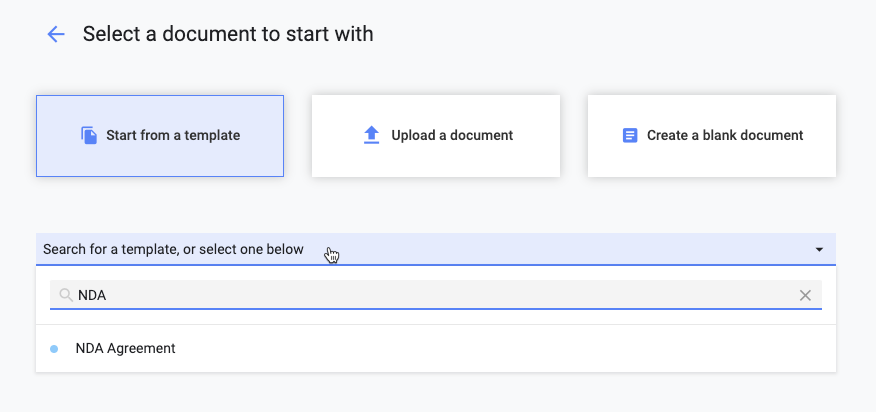 If you choose to upload a document, you will have the choice of uploading a document to edit live in Concord or uploading a Word Doc or PDF. With Word Mode or a PDF, you can add eSignatures without changing the format of the document. Any document you upload can also be stored, tracked, and shared from Concord.
After this step, you will be invited to designate the title, tags, and folder location.
Store & Track
If you have contracts that were completed outside of Concord, you can use this action to store them securely and track them. After a simple drag and drop (or click to find the document on your device) upload, you will be invited to designate the title, tags, and folder location.
Later, you will be able to search for this document by tag, title, date, author, stage, or content. Our advanced OCR (Optical Character Recognition) search capability allows you to search even PDFs for key phrases and clauses.
Create Template
Templates are an incredible tool to make your contract creation more consistent, compliant, and quick. Adding a new template is easy with Document Builder. These are the different template options.
Standard Template:

Create custom templates for your most frequent agreements

Bulk send with Excel:

Need to send a similar contract to lots of people? Use this option for a template that integrates with Excel fields

Salesforce Template:

Use this option to auto-fill fields of your contract with Salesforce data
Title, Tags, Folders, and Third Parties in Document Builder
Once you have made the first few selections about the type of document you are initiating, you will need to name this document.
If you are uploading an existing document, the title of that file will automatically populate. You can always edit this name, or create a new one for fresh documents.
For maximum searchability later, we recommend establishing a standard document naming convention. Many customers use something like, "(Third Party)-(Type of Contract)."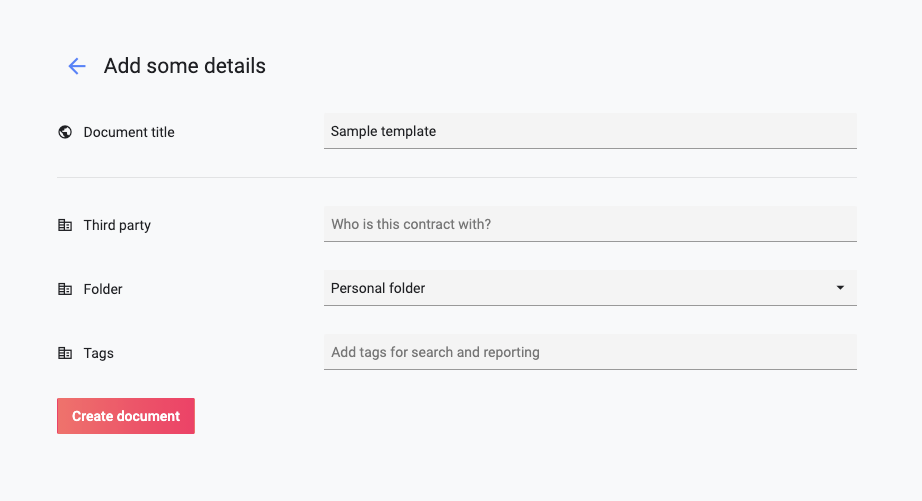 As a reminder, tags are used to sort and find documents later. Some Concord users choose to use tags for document type, department, vendor, etc.
Folder structure is the best way to manage role permissions. Access can be granted by folder and sub-folder. It's a good idea to think through your folder structure before building it, though you can edit it later.
More Resources to Learn About Document Builder
We know that new features can take some getting used to. As you and your team learn to use Document Builder, we have provided the following resources.
Learn more about Document Builder here:
Email Support for specific issues
Another New Feature: Word Mode
Many users have difficulty moving documents from Microsoft Word to other platforms, like Concord. Heavy formatting often doesn't upload correctly, and you waste precious minutes redoing your work.
That's why we are launching Word Mode. Now, you can work offline on a Word doc, upload it to Concord for eSignature, storage, and tracking, without losing any formatting.
Learn more about Word Mode in this post.
Still not using Concord to manage your contracts?
Concord's mission is to help companies achieve scalability and efficiency by automating their most central process, contracts. The cloud-based solution enables over 500,000 users around the globe to create, collaborate, sign, store, and manage their agreements all in one place. Founded in 2014 and headquartered in San Francisco, Concord is built by business for business. 
---
Transcript of Document Builder Video
[00:00:05.750]
Concord's document builder is going to help you get started faster and with more confidence while ensuring that every new document and template has the complete identifying information, your organization needs to get started. Select new document. You can draft and sign store storm track or create a new template from the new document page. We're going to select, draft and sign to start creating a new document from here. We can start a document by using one of our pre built templates, uploading a document or creating a blank document.
[00:00:42.020]
Let's upload a document from here. We can select, browse and bring in word documents or PDF files. Once the document is open, you're going to want to select if you'd like to bring it in as a word document or as a live document for this, we're going to select a live document. From here, we're going to add some details prior to building out our document or contract, the first thing that we're going to want to do is give the document a title as a best practice.
[00:01:19.780]
We suggest creating a standardized naming convention among your organization and making sure that the uses of Concord within your company are familiar and comfortable with using that standard. A naming convention might include the type of agreement, the user that the agreement is with, as well as the date and time that the agreement took place. The third party field allows us to detail who this contract is going to be executed with, you can type in the name of individuals or companies to add more than one company.
[00:01:54.480]
You can hit the mickey or select enter many organizations, leverage folders to manage compliance and sharing permissions with multiple users. From here, you're going to choose if you want this contract to be added to your personal folder or a shared folder that will immediately provide access to users who have access to the folder. Lastly, you can add tags tags are a great way to find documents based on commonality by using the search bar as well as creating reports. When you've entered in the appropriate detailed information, you're going to select create document from here, we'll see.
[00:02:40.140]
Our title has been added in all of our third party information exists in the sheet summary, as well as any tags that we may have included. We can continue to edit the information in the sheet summary, edit the document, or begin sharing it out with internal and external users for more information on Concord's functionality. Be sure to check out our help center.