14 Types of Healthcare Contracts and their Management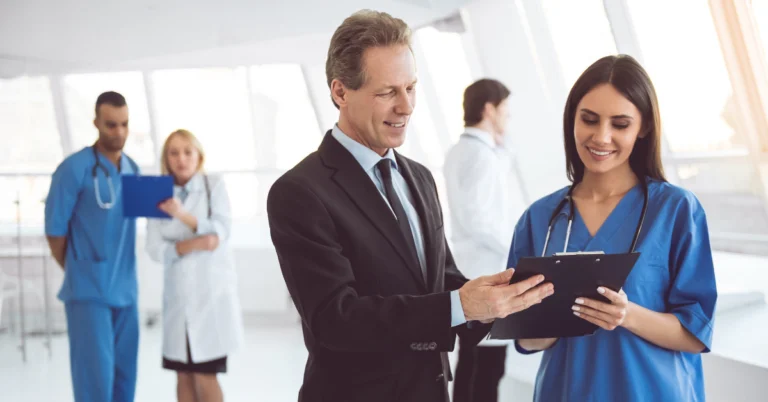 The healthcare industry has one of the largest and most tedious paperwork loads of any industry. A substantial portion of that paperwork doesn't have anything to do with medical information. Instead, it has to do with contract management of healthcare contracts and other types of legal documents.
Types of Healthcare Contracts
Hospitals, clinics, and other health providers deal with a wide range of important legal documents. The common types of contracts and agreements in healthcare are:
Physician Employment Contract
Physician Recruitment Contract
Management Services Arrangement
Medical Directorship Arrangement
Transfer Agreements
Technology Licensing
Executive Compensation and Employee Benefits Arrangements
 Joint Ventures
Purchased Services Agreements
Under-Arrangement Agreements
Real Estate
Equipment Sales and Leases
Ancillary Services Agreements
Supervision Agreements
In the following sections, we'll discuss all the above types of healthcare agreements in more detail.
1. Physician Employment Contract
A physician employment contract is an agreement between a physician and a hospital, with the physician agreeing to work as an employee of the hospital.
Things included (and negotiated) in a physician employment contract are:
Compensation
Benefits
Schedule (such as on-call obligations)
Terms of termination
Restrictive covenants
A restrictive covenant addresses issues such as, in the event of termination, will the physician be able to continue practicing in the area.
2. Physician Recruitment Contract
A physician recruitment contract is related to, but distinct from a physician employment agreement. In recruitment agreements, a hospital or other healthcare provider lays out the terms of recruiting a physician to work for them.
Typically, physician recruitment contracts will specifically stay in compliance with federal Stark laws, which deal with the handling of referrals. If hired, the just-recruited physician will be in a position to accrue federal inpatient and outpatient referrals (designated as health services or "DHS" in Stark).
The proposed financial relationship must stay in compliance with Stark, coming under very strict requirements for both parties.
3. Management Services Arrangement
Management services agreements are used to outsource the management of basically any non-medical personnel to a third-party management company.
Additionally, in most cases, this management company is also in charge of the upkeep of the physical offices and equipment.
Workers such as these are placed under the management company:
Medical practice administrators (who manage various business functions)
Clerical/secretarial staff
Bookkeeping professionals
Collections personnel
Anyone who does not perform a direct medical function
For the physical offices, the management company will lease or sublease the practice's medical offices. As part of the lease, the management company keeps the offices in good repair (office furniture, facilities, and medical equipment). Included with this are also janitorial and custodial services.
4. Medical Directorship Arrangement
A medical directorship arrangement is a role that a physician may enter into. It is more closely related to the larger policies and administration of the healthcare provider they work for than a normal physician is.
Though there is some variance in the specific types of tasks the director may fulfill, there are some common features. A medical director may be involved with policy development, promoting best practices, and providing training.
With a medical directorship, though, comes the need for compliance with Stark Law and Anti-Kickback Statutes. The office of Inspector General (OIG) along with the Department of Justice are taking initiatives to investigate any possible non-compliant arrangements.
At its core, the Anti-Kickback Statute forbids medical directors from making payments in the form of remuneration in exchange for referrals or to attract business that is paid for by federally sponsored healthcare programs.
5. Transfer Agreements
The next common type of healthcare contracts is a transfer agreement. In the medical field, a transfer agreement is a written agreement between two separate healthcare providers for transferring a patient from one to the other. A fairly straightforward document, a medical transfer agreement is nonetheless a legal document requiring witnesses and signatures and needs to be compliant with specific laws.
In a typical medical transfer agreement, terms (length of care), terms of termination, duties, and insurance information are included. Also, liability issues, billing, governing laws, access to records, and free choice and medical judgment sections are usually included.
6. Technology Licensing
Hospitals are the home of some of the world's most advanced technologies. However, the process of acquiring these technologies usually means entering into a licensing agreement of some kind. To understand how best to manage licensing agreements, it is important to understand the legal implications that accompany licensing agreements.
The leading authority on intellectual property and licensing agreements is the World Intellectual Property Organization (WIPO). In their manual "Negotiating Technology Licensing Agreements", they describe a licensing agreement as a relationship, usually spanning only a specified amount of time, and moving toward the mutual benefit of both parties:
"It pre-supposes a continuing interaction where the licensor and licensee work towards realizing their common goal, which is to effectively use the technology for their mutual benefit. Assuming that the relationship is successful, and therefore profitable, it would mean that both the licensor and licensee would be financially compensated, usually and primarily in the form of an ongoing incremental income stream on the basis of the success of the product in the marketplace. Licensing, therefore, entails very different legal and practical consequences to those of a sale or assignment."
7. Executive Compensation and Employee Benefits Arrangements
Executive compensation plans and arrangements most generally include a wide variety of legal, financial, and tax information. An increasingly complex maze of government regulation and market pressures means we need to talk about tax issues, bankruptcy, securities, and corporate governance issues.
There are various types of executive compensation and employee benefits types: salary, benefits, insurance plans, stock options, and bonuses. Several regulatory methods keep executive compensation as fair as possible including extending the vesting period and disclosing salaries.
Along with all these facets, security is critical. Keeping the executive compensation and employee benefits in a highly secure location will help greatly with avoiding possible liability issues. In these days, the best and safest option is to store documents in a safe, cloud-based contract repository.
8. Joint Ventures
Joint venture agreements take place between two or more companies, corporations, or individuals. Usually, they are short-term partnerships that share profits, risks, and assets as the two entities seek mutual profit.
When companies are seeking new technologies or to enter new markets they usually form a joint venture. Partnership contracts and commercial transactions law govern joint ventures in the United States. Also, they are subject to income tax and in some cases, international trade laws. Hospitals may utilize joint-venture agreements as they seek to expand technologically or strategically.
9. Purchased Services Agreements
Purchased services agreements are given to any outsourced 3rd party that, instead of working directly for the hospital, works as a non-employee contractor to the hospital or healthcare provider. Many healthcare providers look to purchased service agreements as a way to reduce costs.
For hospitals, these types of agreements generally go into four categories of contractors: clinical, environmental, support services, and financial. According to beckerhospitalreview.com, purchased services "can account for up to 35 percent of a typical U.S. hospital's operating expenses."
When managed correctly and efficiently, utilizing purchased service agreements can help hospitals save substantially. Conversely, when poorly managed, they can present a serious risk. Great care needs to be taken by the contract manager to insure that the best pricing is secured and all the necessary legal and regulatory requirements are met. 
Read a case study about how a healthcare provider is using contract management software to better manage healthcare contracts, including purchased services agreements.
10. Under-Arrangement Agreements
An under-arrangement agreement is similar to a purchased services agreement. Both contract with a third party to provide a service to the hospital, but there are some key differences. There are several criteria for under-arrangement healthcare contracts, firstly, the service provided by the third party under the "under arrangement agreement" is treated and billed like a hospital service.
Then, the contracted entity seeks reimbursement, often on a "per-service" basis. The hospital's agreement with the contracted entity must require the entity to look solely to the hospital for payment. With under-arrangement agreements, compliance with Stark Law is also a crucial factor.
11. Real Estate
The reality of providing healthcare services means that legal, medical, and real estate issues are not as distinct as they may seem at first. Rather, they are separated by only fine lines.
There can be substantial fines for healthcare providers who do not properly manage the real estate of their practice. Berkshirehospitalreview.com shares a story on the nuanced necessity of managing hospital real estate in compliance with federal rules and regulations.
"Detroit Medical Center was fined and agreed to pay $30 million to the federal government to settle allegations of potentially improper relationships between the health system and roughly 250 physicians, which again included leases below fair market value."
Real estate transactions for hospitals bring up two important pieces of legislation: the Stark Law and the federal Anti-Kickback Statute.
"Both forbid providers from offering referrals in exchange for some type of business arrangement."
In this case, a potential exchange of referrals for real estate space causes a great deal of liability.
12. Equipment Sales and Leases
For the specialized equipment that hospitals require, there are many benefits of arranging to lease instead of buying brand-new equipment which can be very expensive.
Some leases of equipment are tax-deductible transactions to the IRS, more flexible, speedy, and easier to manage than loans. See healthlthleadersmedia.com for a more detailed report on leasing medical equipment.
13. Ancillary Services Agreements
Ancillary agreements can vary in terms of content.
They generally encompass some of the following categories of healthcare contracts:
Escrow agreements
Documents of transfer
Post-closing commercial arrangements
14. Supervision Agreements
Interns and individuals involved in a residency program require a supervisor as they gain the necessary experience.
Having a supervision agreement is critical because it provides some key functions:
Solidifies roles and responsibilities
Establishes collaborative relationships and boundaries
Creates a review process
A supervisor agreement is a formal document that provides a backdrop from which to conduct performance reviews.
The importance of data privacy and compliance for healthcare contracting
Data privacy and compliance are important in any sector, but, as healthcare providers manage sensitive patient data, they need to be especially careful about these aspects.
An important healthcare law that deals with privacy and data protection is the Health Insurance Portability and Accountability Act (HIPAA). It is a federal law enacted in the United States in 1996. It sets national standards for the protection of sensitive patient health information and regulates its disclosure. This law is crucial in maintaining the privacy and security of patient data, and it has significant implications for healthcare providers and businesses.
The HIPAA Privacy Rule is a key component of HIPAA that directly addresses the protection of patient data. This rule safeguards the privacy of protected health information (PHI), setting limits and conditions on its use and disclosure. PHI includes all "individually identifiable health information" held or transmitted by a covered entity or its business associate.
Generally, the Privacy Rule prohibits covered entities from disclosing PHI to anyone other than the patient without written permission. This means that healthcare providers and businesses must have appropriate safeguards in place to ensure the security and privacy of such information. One of these possible safeguards is modern contract management software.
Contract Management Software for Managing Healthcare Contracts
There are many different types of healthcare contracts. Furthermore, all of them need to meet regulatory requirements and maintain a high degree of compliance. Obviously, all this creates a difficult and tedious process to navigate and manage.
To make handling all types of healthcare contracts easier, more secure, more simplified, and more intuitive than ever before, healthcare providers can turn to contract management software. Such tools help with handling the whole contract management process, as well as with upkeeping with data privacy and compliance standards.
A contract management tool for healthcare contracting should include:
High data security, based on factors such as data encryption (at rest and in transit), SSO and two-factor authentication of users, and external compliance audits of the provider.
Audit trails, which track each interaction with a document, even after it is signed.
HIPAA-compliant e-signatures, to facilitate the signing process while staying compliant.
Features supporting compliance, such as templates, clause library, and contract approval workflows.
These features will help increase the efficiency of healthcare contract management, while helping ensure data privacy and compliance with regulations.
See how Concord CLM can help you manage your healthcare contracts and agreements.