This is the final post in our series for Legal teams on how to assure compliance; manage risk now and in the future; and enable growth. 
Read Part One, Part Two, and Part Three.
The platform approach
A platform approach to contract management allows legal to integrate processes across the tools legal teams and other departments are already using, creating a self-service model that enables business functions, while guaranteeing better adoption and more intrinsic risk management and compliance. More than a suite of tools, i.e. Microsoft Office, a platform is more like Legos, providing opportunities to connect multiple products at a single point of access, driving greater value and a greater ease and ability to scale.
A platform approach does something else. By integrating with all your processes and systems, it creates a funnel, where all documents, from every department are connected in one central place, giving legal teams visibility into and across all departments and every contract. This is true across the entire organization, even for multinational businesses. Using the Cloud, platforms can synthesize information into one place. What legal teams ultimately get is control. 
Connecting all your people, processes, and contracts in one place, a CLM platform gives In-house Counsel everything they need to manage contracts at every stage—from origination, to negotiation, close, and beyond.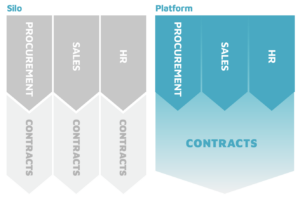 Conclusion 
As an organization hurtles towards success and objectives, it can be difficult to stay within mandated laws and regulations. Without the proper initiatives and tools in place to deliver flawless compliance, the ability of departments to move fast will be restricted, ultimately hindering growth. In-house Counsel is in the position to help businesses address and manage risk, now and in the future, making the Chief Legal Officer and GC the newest strategic players to the table.
To meet expectations legal departments are investing in technology, and at an exponential rate. While implementing a robust contract management process will require time, cost, and effort (even though much less than you might think), the risks of getting a contract wrong, as are the penalties for failure to comply. All things considered, who wouldn't like to buy or do business with companies that have an efficient contract management process, regardless of which department they're dealing with, where agreements are straightforward, their needs are addressed, deadlines met and costs are managed; and, most importantly, there are no surprises. 
CEO Tim Cummins said in a keynote speech at an IACCM Americas Conference:
"The journey for recognition of the contracting function has taken 15 years – most of it wandering through a desert."
Legal is still fighting, and with contract management platforms, victory is finally in sight.
Interested in learning more?
Concord's mission is to help companies achieve scalability and efficiency by automating their most central process, contracts. The cloud-based solution enables over 400,000 users around the globe to create, collaborate, sign, store, and manage their agreements all in one place. Founded in 2014 and headquartered in San Francisco, Concord is built by business for business.