How to Create an Electronic Signature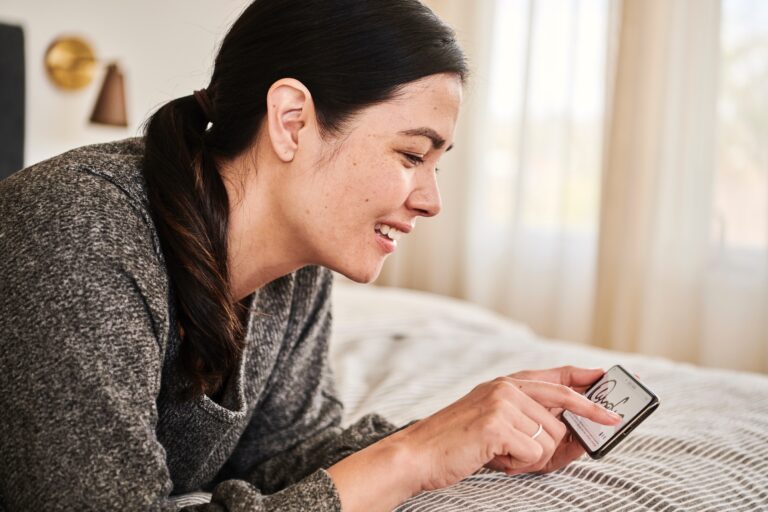 Want to know how to electronically sign a contract you've just received via email? Need to collect an electronic signature on a document you're sharing? We've got you covered with this handy step-by-step guide.
E-signatures in various formats are easy to create with a scanner, with Microsoft Word, or with a contract lifecycle management (CLM) tool. And depending on which type of electronic signature you use, it can be just as legally binding as a handwritten "wet" signature.
Here, we'll walk you through three of the most common ways to sign electronically, along with the pros and cons of each approach. Let's take a look!
Common methods of creating an electronic signature
Scan a handwritten signature
Your first option is to do this the old-fashioned way: sign your name on a piece of paper, scan it or snap a photo with your phone, and insert the resulting image into the document you want to sign.
Although this may be the most familiar way to sign, it's actually more time-consuming than signing with software, because it involves more steps. What's more, a photo or scan of a signature doesn't include any proof of your signature's authenticity. Plus, another person can just grab the image and paste it into any document they want, easily forging your signature.
Pros
Looks like your actual signature
Familiar if you're used to signing on paper
Cons
Not secure
Includes no proof of your identity
Involves a lot of steps
Here's how to e-sign with a handwritten signature:
Step 1: Sign your name on a piece of paper, in black or blue ink.
Step 2: Scan your signature in a scanner, or take a photo with your smartphone.
Step 3: Using a photo editing app, crop the photo to show just your signature.
Step 4: Drop the photo into the document you're signing, and position it on the signature line.
Use Microsoft Word
If you often use Microsoft Word in your day-to-day work, you may want to create an e-signature in this program. E-signing functionality is included in Word, and it only takes a few clicks to set up.
While the process of signing in Word is fairly simple, the process of collecting signatures in Word gets clunky. That's because you'll have to send out copies of every contract as separate email attachments, collecting one signature at a time. Plus, digital certificates aren't free in Word, unless you use the free web-based option – which is simpler, but includes no proof of the signer's identity.
Pros
Works natively in Word
Familiar if you're used to Word
Cons
Complicated workflow
Authentication isn't free
Free option offers no security
Here's how to e-sign in Word:
Step 1: Put your cursor where you'd like to sign in a Word document, and go to "Insert → Text → Signature list → Microsoft Office Signature Line."
Step 2: Fill in your info in the dialog window that pops up.
Step 3: Right-click on the signature box, click "Select Image," and draw or upload your signature.
Use electronic signature software
The most popular way to electronically sign a document is to use an online signature tool. This process is quick, easy and often free – with no installation, scanning or photos required.
You'll start by uploading your document to the tool's website, usually in the form of a PDF or Word file. Then you'll be able to type or draw your signature, and download the resulting document as a PDF; usually in other file formats, too. This file will be reusable, but it won't be editable, and it won't come with any guarantee of your identity.
Pros
Fast, easy and (usually) free
No software installation
Cons
No identity verification
Can't go back and edit
May need to create an account
Here's how to e-sign with an electronic signature tool:
Step 1: Go to the website of the tool you want to use, and upload your document.
Step 2: Click on the signature button, and draw or type your signature.
Step 3: Arrange your signature on the line where you need to sign.
Step 4: Download your document and share the file as needed.
How to make an electronic signature in Concord
Concord's contract lifecycle management (CLM) platform provides unlimited free electronic signatures. They're easy to create with just a few clicks, and include built-in security features like authentication, which many online tools don't offer for free.
E-signatures in Concord are fully compliant with the U.S. Electronic Signature in Global and National Commerce Act of 2000 (ESIGN), the U.S. Uniform Electronic Transactions Act (UETA), and the Electronic Identification Regulation (EU) 910/2014 (eIDAS).
Here's how to create your electronic signature in Concord:
Step 1: Open a document you've been invited to sign in Concord. Click the signature field.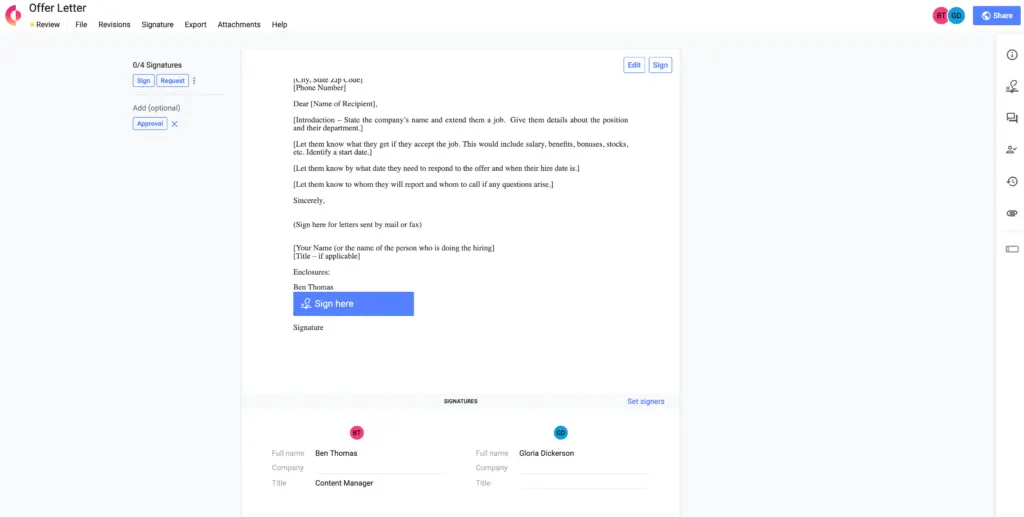 Step 2: Type or draw your signature in the dialog window that appears.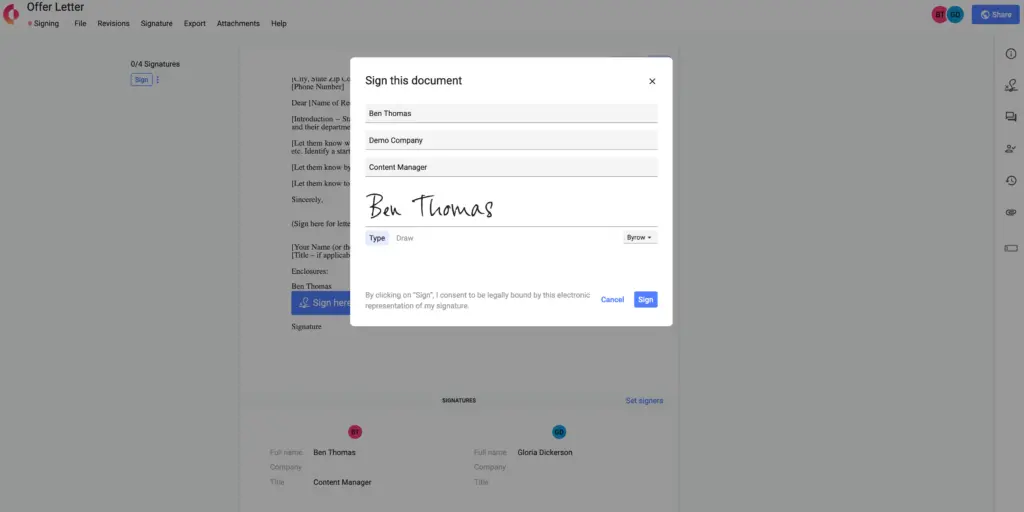 Step 3: Click "Sign," and your signature will appear on the contract.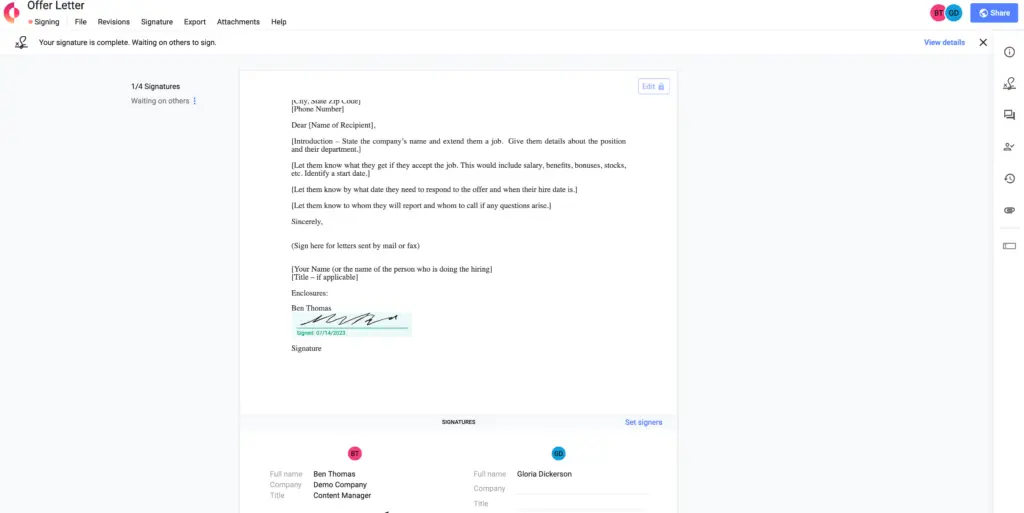 That's all there is to it! You can then share the document within Concord, enabling other people to sign without having down download or email any attachments.
Ready to start signing documents? Concord offers a free trial, and all our plans provide unlimited e-signatures for as many users as you need.