Stay in control of your contract deadlines
Always be on top of upcoming contract deadlines with automated alerts and reports.
Start now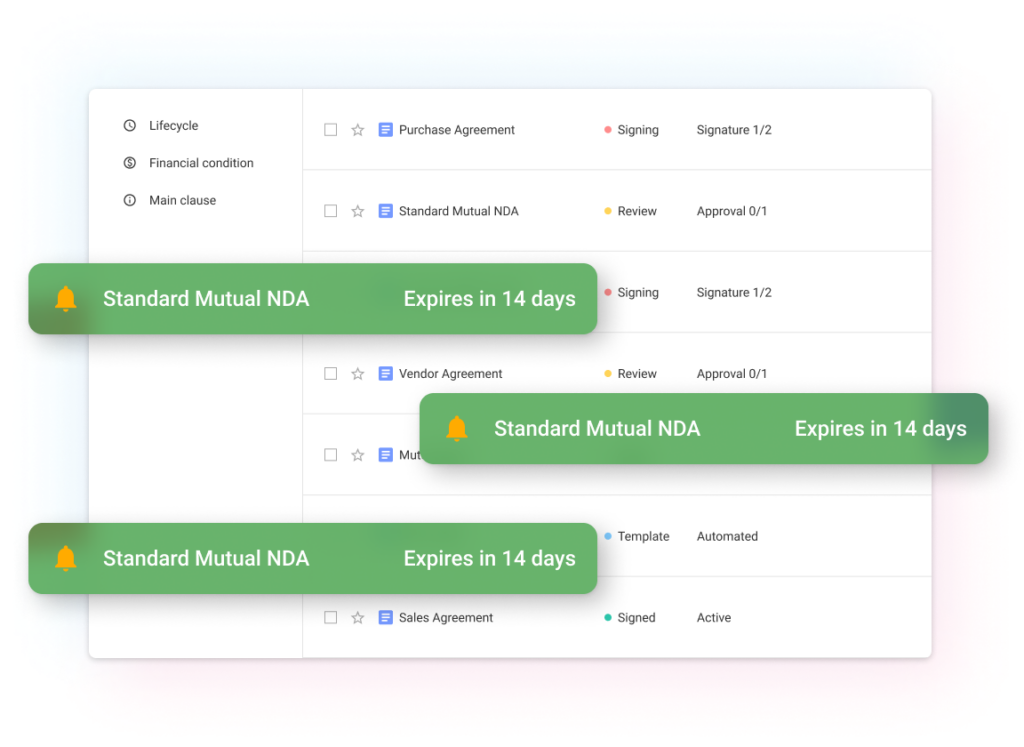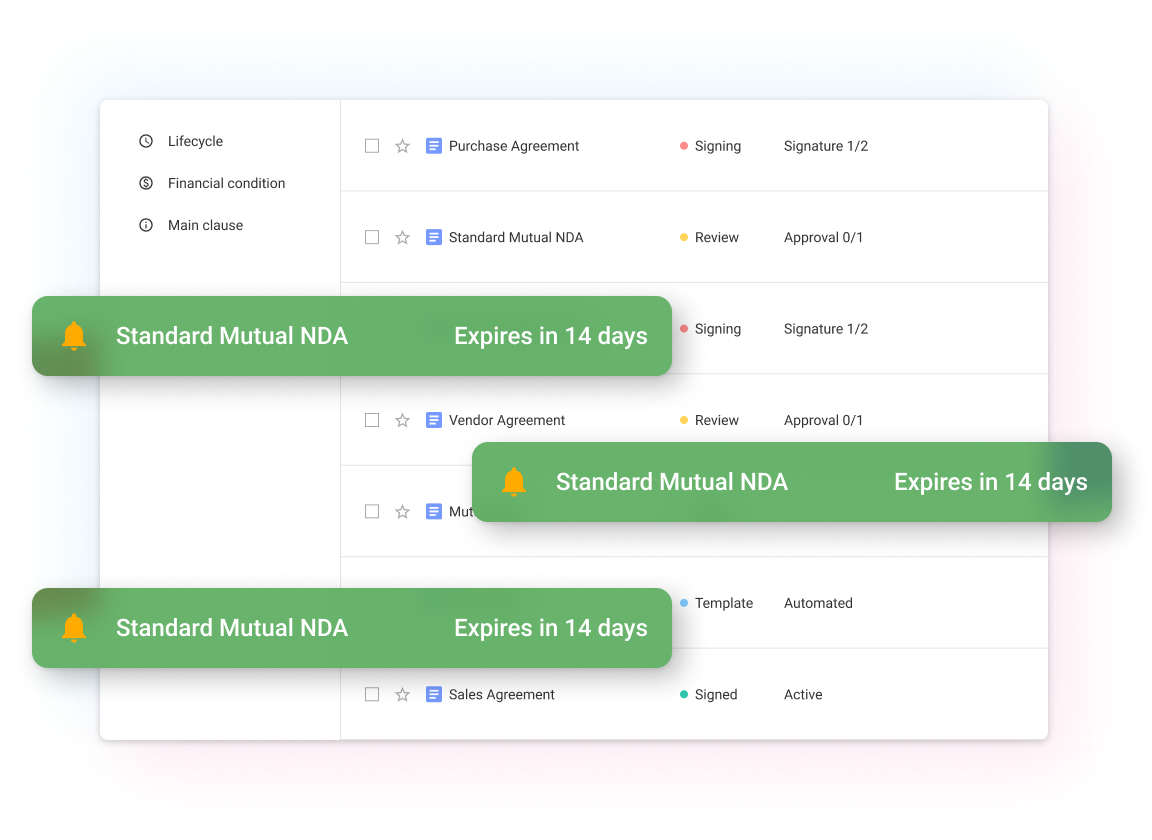 Automated deadline alerts
Automated notifications help you keep track of all your upcoming deadlines.
Contract deadline reports
Have a clear overview of all your contract deadlines with customizable deadline reports.
Auto-renewals
Save time by setting up auto-renewals to automatically renew contracts.
Ease of use
Add and track deadlines with just a few clicks in a user-friendly interface.
Captera


G2


Software Advice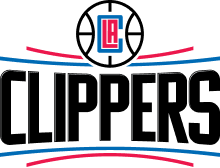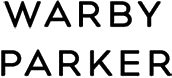 How it works
Precisely manage all your contract deadlines
Keep track of all your contract deadlines through alerts and reports so you can start renegotiations, renewals and terminations on time. Customize your preferences according to your needs.
Easily add many deadline types to your contracts
Set up any type of deadlines you need to efficiently manage your contracts. Concord enables you to add many deadline types such as lifecycle, payments, or projects.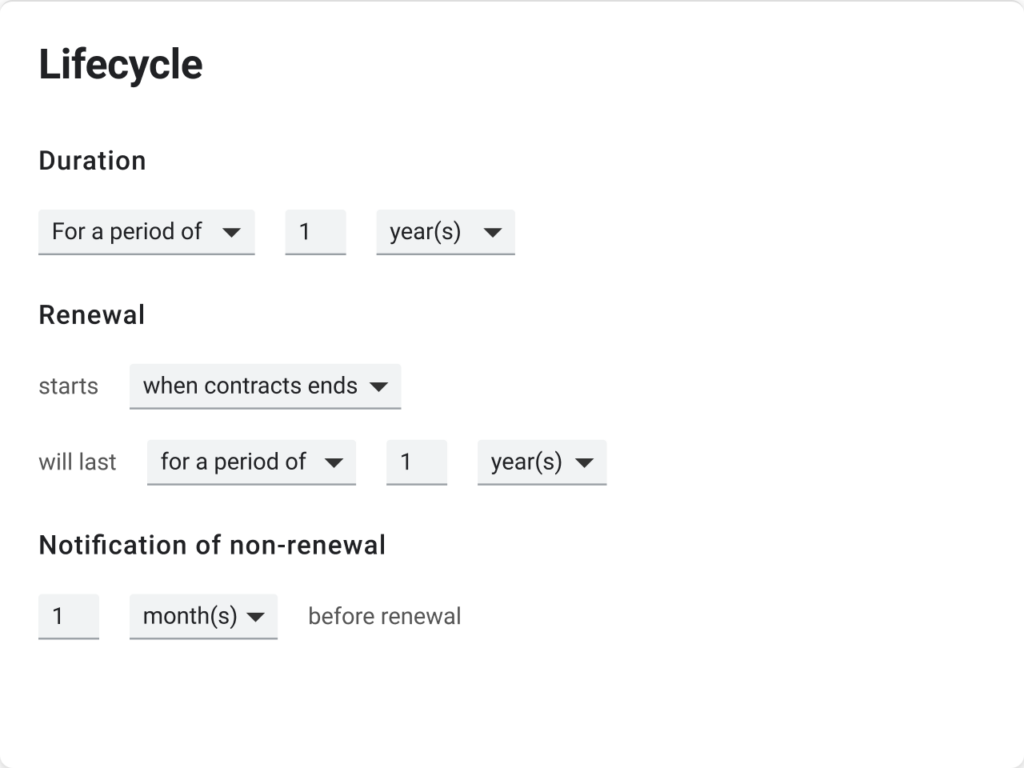 Deadline alerts
Manage all your upcoming lifecycle deadlines with automated weekly e-mail alerts. Everyone with access to a contract receives alerts to help keep your team on the same page.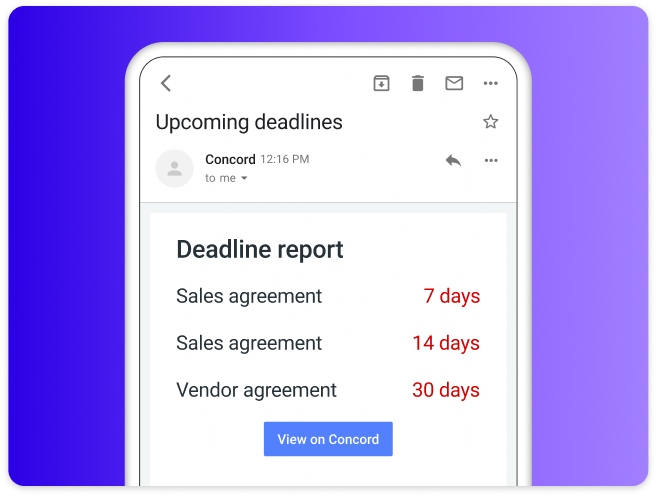 Easily-accessible deadline reports
Access your deadline report from the main dashboard to quickly see all upcoming deadlines. Build custom reports to dive deeper into your data.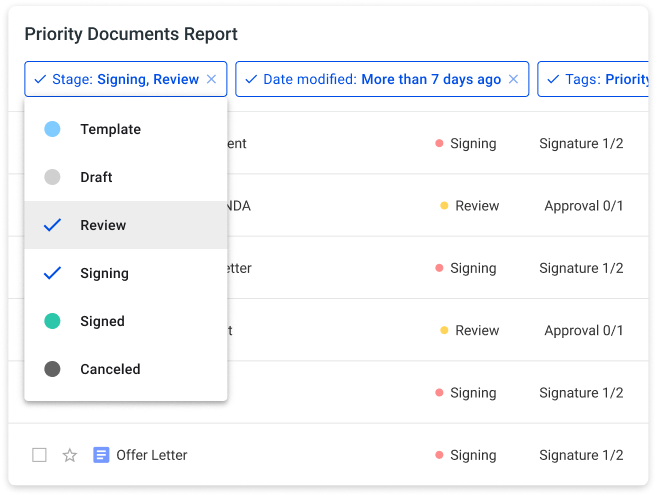 More ways to manage your deadlines
Build custom reports
View your deadlines together with other data you need, such as vendor, tags, or custom fields.
Export reports
All your reports can be easily exported to .xslx or .csv files for in-depth analyses.
Change notification intervals
Tailor deadline notifications to your needs. Set up alert intervals relevant to your business cycle.
More questions?
Frequently asked questions
How to add deadlines to contracts?
Deadlines can be added in the lifecycle section of the summary sheet in contract templates, drafts, and signed contracts.
Who gets the deadline alerts?
Everyone who is assigned to a given contract receives deadline alerts, even those who are only viewers of a contract.
What types of deadlines can I add to contracts?
You can add many types of deadlines to your contracts. The standard are lifecycle deadlines, but you can also set up additional custom deadlines and alerts, for example for insurance, payments, or projects.
Can I modify the deadlines?
Yes, you can modify your deadlines and deadline alerts at any time you need. You can also decide how many days in advance you would like to start receiving your alerts about upcoming deadlines.
How and when do I receive the deadline alerts?
You receive an e-mail with a list of all your upcoming contract deadlines once a week. You can also easily see all your deadlines in the deadline report accessible from the main dashboard.
Can I add duration to general and financial clauses?
Yes, you can add duration to general and financial clauses in contract templates, drafts, and signed contracts.
"The results we've seen from Concord are more time and more happiness in my Legal team."
, Group General Counsel

"I would recommend Concord for the main reason that it is so simple to use."
, Information System Manager

"Having a solution that helps you organize all of your contracts and know when they're expiring, when they're renewing, is a best practice I would hope that every business could have."
, General Counsel