Contract Management Software: The Complete Guide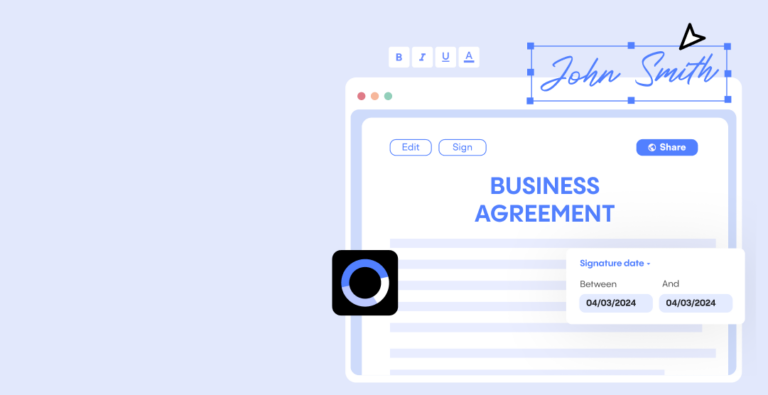 Contract lifecycle management (CLM) software is a game changer for legal, procurement, and sales teams. This comprehensive guide will walk you through core features like drafting and approvals, as well as advanced functionalities like analytics and automated alerts. We'll explore how teams can benefit from using CLM platforms, and see what factors are important to consider when choosing a solution. Read on to discover how to make an informed decision for your organization.
Why is contract management software important?
Contract management software is important because businesses need it to manage contracts at scale. While it might be possible to handle a small volume of contracts manually, that task quickly becomes impossible as your business grows, and you're dealing with hundreds or even thousands of contracts in parallel.
Each of those agreements can easily get lost or forgotten about. That means people may miss deadlines, and lose opportunities to renew or cancel contracts. At the same time, people may miss chances to renegotiate and capture additional value from agreements.
CLM software also saves time in contract workflows, by enabling stakeholders to negotiate in real time, right inside a contract doc. Business users can automate review and approval processes, then sign and countersign with just a click, so they can finalize contracts faster.
Then, after signing, all contracts get stored on the same encrypted server, which means teams will also save a lot of time they used to spend trying to track down agreements filed away in old email chains – or even on paper, in physical filing cabinets.
For all these reasons and more, contract software is mission-critical in a growing business organization.
The costs of not using contract lifecycle management software
A lack of contract management costs businesses an average of 9 percent of their total revenue every year. And that's just the beginning. Without close contract supervision, most companies sacrifice a full 40 percent of each contract's actual value.
Manual contracting processes also require huge amounts of costly labor. The cost of manually creating and managing just one contract can run from $6,900 to $49,000, depending on work hours. And without CLM software, as much as 40 percent of an employee's time is spent on low-value contract tasks. This adds up to $2.7 million in lost productivity every year.
But what exactly is CLM software? What does it do? Let's dive in and find out.
Contract management software overview
In this section, we'll get a high-level overview of digital contract management software, and dive into some of the details of how it works, and how it can help your team.
What is contract management software?
Contract management software is a tool designed to automate the processes of creating, negotiating, signing and managing digital contracts. When used as part of a strategic approach to CLM, this software helps your business keep all your contracts in one place, and standardize common workflows like drafting, negotiating, approving and signing. It also makes contracts easy to search, and enables you to set automated deadline reminders.
What does CLM software do?
CLM software helps with:
Drafting
Collaboration
Approvals
Negotiations
E-signatures
Storage
Reporting
Across all these areas, software for contract management standardizes and automates many common contract tasks. For example, it enables you to draft contracts using a live document editor, or import them as Word or PDF files. You can drop in fillable fields, and negotiate with other parties in real time, right inside the contract doc – which greatly streamlines the drafting process.
A CLM platform can also automate your approval workflows, routing contracts to each approver as soon as the previous one signs off. You can even set conditional approvals, so contracts get routed to specific stakeholders if, for example, a given value is above or below a certain amount. Then, with built-in electronic signing functionality, parties can apply authenticated e-signatures to the finalized contract with just a few clicks.
In addition, contract lifecycle management software includes a contract cloud storage functionality, which keeps all your agreements safe behind bank-level encryption. Tagging and full-text search functionality make agreements easy to find in seconds, even in a huge database. You can even pull reports using contract analytics, which can help you track cost trends and pinpoint new value opportunities.
And if you're already using other cloud-based software like Salesforce and QuickBooks, a CLM platform comes with out-of-the-box integrations. You can bring in contracts from Google Drive, Dropbox or Box, or use Zapier to connect with more than 5,000 other apps. In all these ways, software for contract management can greatly streamline a wide array of workflows.
How do contract management tools improve on legacy workflows?
Contract management tools improve on legacy workflows by automating many repetitive low-value tasks, which your team may be performing manually right now. For example, instead of drafting contracts in Word and negotiating them across many email threads, a CLM tool can enable your whole team to negotiate in real time, all in one document – then automatically route the contract to each signer in the correct order.
When it comes to storage, contract management tools represent a major improvement on legacy workflows. Instead of having to dig through filing cabinets or email threads in search of attachments, your team will be able to run a full-text search on your secure contract database, and pull up contracts in seconds. And every bit of data in those agreements will become a source of business intelligence, when your CLM tools generate reports that drive actionable insights.
9 core features of contract lifecycle management software
Now let's get a clearer picture of contract management software's core features. We'll break this functionality down into the following key areas:
Drafting
Collaboration
Approval
Negotiation
E-signing
Automation
Cloud storage
Reporting and analytics
Integrations
1. Drafting
Contract lifecycle management tools can help you create contracts from scratch, or import them in Word or PDF format. If you draft a contract as an online doc, you can edit text and formatting, and drag-and-drop fields anywhere in the document. You can even use documents as templates, enabling teams to quickly create new agreements. And you can leverage a pre-approved clause library to save a great deal of time, and prevent team members from copy-pasting legally invalid language by mistake.
2. Collaboration
Once you've drafted a contract, your contract management platform can enable you to quickly share that doc with other internal team members. Collaborators will be invited to the very same doc you're working in. They'll be able to track changes and add comments in real time, so you can see what they've redlined, and edit on the spot. All version history gets tracked inside the doc, so you can always check what's been changed.
3. Approval
Your CLM system can help you create approval workflows with as many steps as you like, routing each draft to the specific approvers you choose. You can even set conditional approvals, customizing approval contracts to route contracts to certain stakeholders if, for example, a value or discount is above a certain threshold. This will enable you to standardize your document review process, and get contracts approved faster.
4. Negotiation
After a contract has been approved, you can negotiate with external customers and vendors, right inside the same document. As with internal collaboration, you'll be able to see customers' and vendors' comments in real time, and can redline changes for their approval while they're watching. In some CLM tools, comments can be posted as internal or external, so you can control which parts of the discussion customers are able to see.
5. E-signing
Your contract software may enable you to collect unlimited legally binding e-signatures inside each doc. A good platform will authenticate every signature, in full compliance with US and EU regulations like the ESIGN Act and eIDAS, and store each audit trail securely so you can reference it later. You can also set up custom signing chains, ensuring a document gets routed to each signer in the correct sequence.
6. Automation
Contract lifecycle management software can automate many tasks you've been handling manually. For example, the platform can automatically send contract drafts to internal approvers one at a time, working its way down a list in any order you specify. It can automate the negotiation process by sending contracts to vendors in your chosen order.  And when it's time to sign, your CLM system can send signature requests in the sequence you choose, automatically.
7. Cloud storage
Contract management solutions can help you say goodbye to folders, filing cabinets and email attachments. A good contract management platform will store all your documents behind bank-level encryption, keeping them secure. And yet, since your documents will be stored in the cloud, they'll still be accessible to any authenticated user, from any approved device. And with tagging and full-text search, as well as optical character recognition (OCR) search functionality, your team members can find the contracts they need in seconds.
8. Reporting and analytics
With contract management software, every piece of information in each contract becomes an analytical data point. You can generate customized reports on any combination of contract fields, filtering by date, document type, and more. You can set automatic deadline reports, so you'll never miss a chance to renew, cancel or renegotiate an agreement. And a contract management reporting dashboard will give you high-level visual insights into contract performance.
9. Integrations
Contract management solutions may include out-of-the-box integrations with other platforms you're already using. For example, your platform may enable you to bring in documents from other digital filing cabinets, and to populate contract fields with data from your customer relationship management (CRM) software. You may also be able to set up integrations with additional apps, or even write your own custom functionality if the software offers an open API.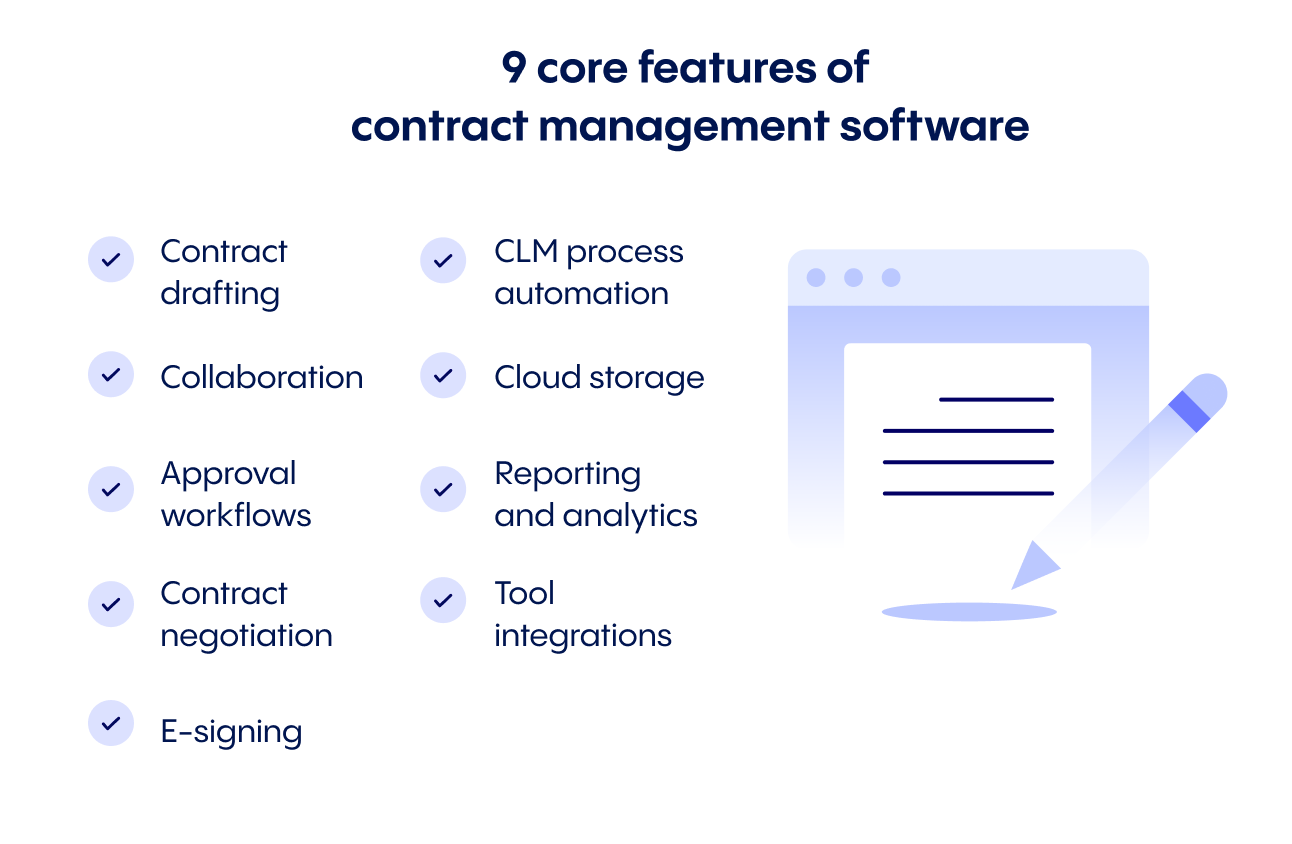 Who uses contract management software?
Many different teams use contract management software, including legal, procurement and sales. Let's take a closer look at each of these, as well as some specialized use cases.
Legal teams
Legal teams are often at the forefront of contract management, since they have to ensure that every agreement aligns with local regulations and protects the company's interests.
With contract lifecycle management tools, legal professionals can:
Create and share pre-written templates and clauses to maintain consistency and reduce the risk of human error.
Store and categorize many agreement documents, templates and contract clauses in a centralized location.
Ensure contract compliance by keeping agreements up-to-date with the latest regulatory requirements and company policies.
Efficiently collaborate with other departments during the contract drafting and revision stages.
Set automatic reminders for contract renewals, terminations, expirations, and compliance checks.
Procurement teams
Procurement is all about sourcing goods and services at the best possible price and terms. For procurement teams, contract software helps in:
Streamlining the supplier onboarding process by keeping contract terms and language standardized with templates and a clause library, making all onboarding experiences consistent.
Automating the RFP (request for proposal) and bidding processes.
Monitoring vendor performance against contract terms.
Setting notifications for contract renewals, ensuring continuous service without disruptions.
Analyzing contracts to identify opportunities for cost savings, or to renegotiate terms.
Sales teams
Sales teams play central roles in revenue generation, so it's critical that they're able to finalize contracts efficiently. Sales contract management software helps sales professionals in:
Quickly generating contracts from on-deal data collected in other software.
Tracking the progress of each deal, from negotiation to signing.
Streamlining approvals and negotiations with real-time redlining and commenting.
Closing deals faster with legally binding electronic signatures.
Analyzing contract data to gain insights on customer behavior, preferences, and potential upselling or cross-selling opportunities.
Other specialized contract management tool use cases
In addition to the teams listed above, many other departments can also find contract software beneficial. These include:
HR departments, who use contract lifecycle management software to manage employment contracts, NDAs, and other staff-related paperwork.
IT departments, who leverage CLM solutions to manage software licenses, service agreements, and vendor contracts.
Real estate teams, who use CLM solutions to keep track of lease agreements, purchase contracts, and property management deals.
Finance departments, who rely on CLM tools to monitor lending agreements, portfolio management contracts, and other fiscal documents.
Healthcare professionals, who work with contract lifecyce management tools when managing patient agreements, physician contracts, and contract compliance documents.
Contract lifecycle management software use cases in specific industries
Contract lifecycle management tools are becoming increasingly crucial – and widely used – in the technology, healthcare, biotech and education fields. Let's take a closer look at CLM system use cases in each of these industries.
Tech
Tech companies use CLM software in many instances, including the following:
Licensing agreements: From software licenses to intellectual property rights, tech companies use CLM tools to draft, manage, and track licensing contracts.
Vendor management: contract management tools help tech companies negotiate terms, manage orders, and ensure timely deliveries for software and hardware.
SaaS subscriptions: For tech companies offering software as a service (SaaS), CLM software helps manage subscriptions, renewals, and user licenses.
Partnerships and collaborations: When tech companies enter into collaborative projects, CLM tools ensure terms are clear, and both parties adhere to them.
Data privacy and protection: CLM solutions help tech companies store internal and external data securely, keeping them compliant with regulations like GDPR.
Healthcare and biotech
Contract lifecycle management software plays a pivotal role in healthcare and biotech, across all these areas:
Clinical trials: When firms engage in clinical trials, contract software helps create clear and consistent terms for responsibilities and data usage.
Supplier contracts: contract management platforms help track agreements with medical equipment suppliers and pharmaceutical companies, ensuring accurate fulfillment.
Research collaborations: Biotech firms use CLM systems to negotiate intellectual property (IP) rights, sharing of findings, and funding allocations.
Patient agreements: Hospitals and other healthcare providers use CLM tools to streamline signing of patient consent forms, and manage treatment agreements.
Regulatory compliance: CLM systems help keep contracts compliant with regulations for drug approvals, medical procedures, and patient data management.
Education
From K-12 schools to universities, educational organizations depend on contract management solutions across all the following applications:
Vendor agreements: Schools and universities use CLM tools to accelerate and organize contracts with suppliers, for everything from books and lab equipment to food services and transportation.
Employment contracts: Contract management tools help schools negotiate, sign and manage contracts for faculty, staff, and temporary hires.
Student agreements: Institutions rely on CLM software to streamline signing processes for tuition and loan agreements, dorm occupancy, and special programs.
Research grants and collaborations: contract management solutions help universities navigate contracting processes for research funding, partnerships with other institutions, and collaborations with private companies.
Licensing and accreditation: contract lifecycle management tools help admins manage contracts with accrediting agencies, ensuring that courses, materials, and institutions themselves remain properly licensed.
7 benefits of contract management tools
A contract management system is far more than just a place to sign and store your contracts. Users frequently report that CLM delivers all the benefits below, too.
1. Saved time
Standardized templates can help get contracts drafted faster, with consistent language and clauses. Approvals and signatures can be finalized in minutes instead of days. And team members will be able to search and find the contracts they need in just seconds. This all adds up to a significant increase in efficiency organization-wide.
2. Task automation
Contract automation can help team members generate many contracts from pre-approved templates. Tasks like approval routing, negotiation tracking, and e-signature collection can also be automated. Automating the whole contract lifecycle can reduce the need for repetitive low-value labor, and free up team members to focus on more critical tasks, while contracting workflows progress automatically.
3. Reduced human error
Contract management tools can dramatically reduce the likelihood of mistakes. Standardized contract templates and clause libraries can ensure consistent legal language throughout all departments. Team members can automatically populate proper clauses from other systems into contracts, minimizing mismatches or omissions, and keeping contract language in line with legal regulations. And version control makes it easy to revert when a mistake gets made.
4. Risk mitigation
A contract lifecycle management system can allow you to set deadline notifications, so you don't miss opportunities to renew, cancel or renegotiate agreements. Encryption will keep your data secure in case of a breach. Full-text search, and tagging will reduce the chances of misplacing or losing vital documents. And audit trails will keep track of all changes, helping maintain transparency and accountability.
5. Cost reduction
By automating repetitive contract tasks, your contract lifecycle management software will greatly reduce the labor hours your organization spends drafting, negotiating and finalizing each agreement. Reducing human error may also help prevent fines and other legal penalties. By standardizing contract processes, you'll reduce the need for extensive training and specialized personnel. And with deadline notifications, you can avoid paying penalties or unintentionally renewing contracts.
6. Improved compliance
Contract management tools can help make sure all your agreements comply with industry regulations and jurisdictional requirements. The platform will enable you to roll out updates across all templates when laws change. This will ensure that everyone uses contracts that are up-to-date and compliant, instead of using obsolete versions stored on their computers. Plus you can pull reports on contracts to check for compliance issues, and prevent violations before they occur.
7. Stronger relationships
A CLM platform can help you maintain transparency in contract negotiations, building trust with your partners and vendors. You'll also be able to demonstrate your diligence and reliability by setting deadline reminders and following up to ensure requirements are met. And by pulling reports and analyzing the performance of your contracts, you can discover opportunities to deliver even more value, in a more timely manner.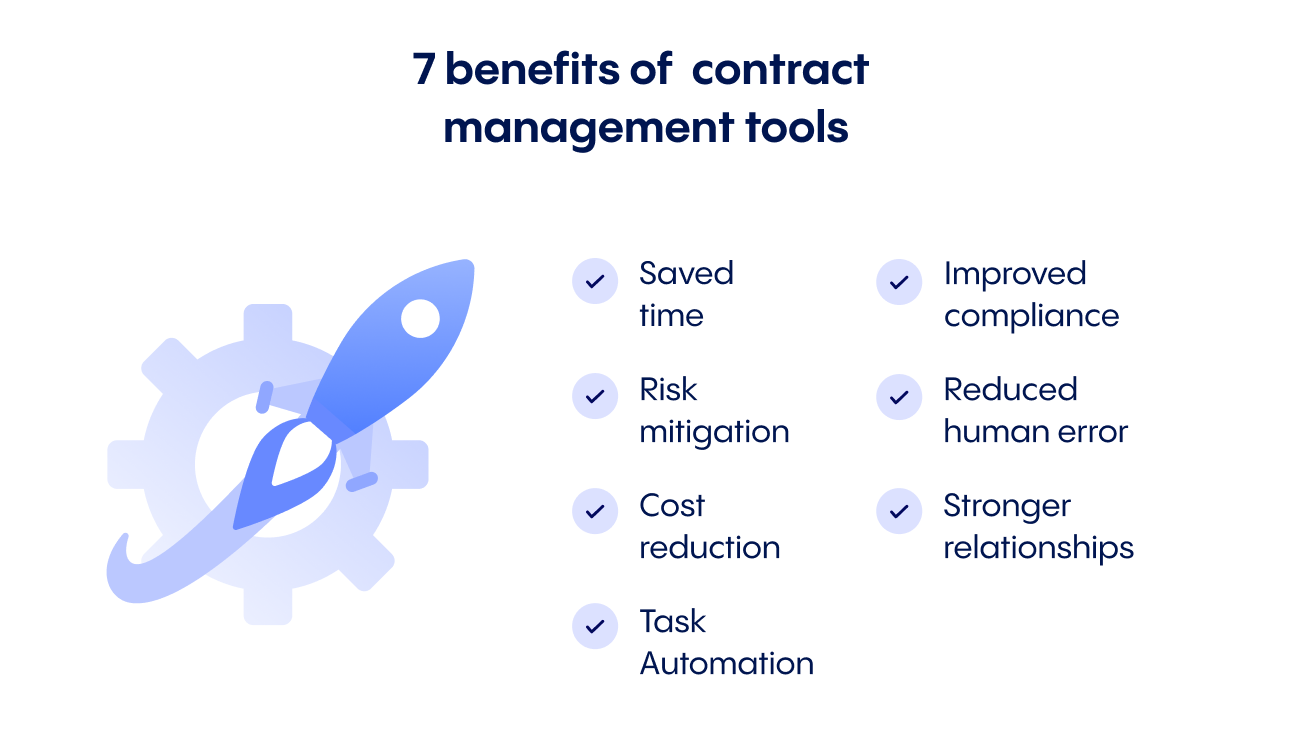 Choosing the right CLM software for your organization – 6 key factors
How can you choose the ideal CLM platform for your organization? When making your decision, you'll want to consider all the factors below.
1. Size of your organization
If you're a small organization that only handles a few contracts per month, you may not necessarily need a full-fledged contract management platform. The smart move is to invest in a tool that can grow with you. Your software should offer the features you need at a cost you can easily afford, but should also offer the flexibility to upgrade by adding more features and users as you scale.
2. Budget
Many contract software companies charge extra for training, set-up, integrations, and other add-ons. Be sure to describe your specific use case to a sales representative, and ask pointed questions about surprise fees. You may want to invest in a CLM platform that offers tiered pricing, so you can save money by adding just a few users for now.
3. Features
At minimum, make sure your CLM platform includes built-in electronic signatures, as well as deadline notifications and full-text search functionality. Depending on your use case, you may also want to look for a platform that offers out-of-the-box integrations with other software you use. Advanced analytics and reporting capabilities are also big value-adds.
4. Ease of use
Your contract management tool will be most effective if it's widely adopted – so go for a system that's as effortless as possible to onboard. Team members should be able to use all the system's core functionality after some basic training. If possible, choose a tool whose interface feels familiar and intuitive to people on your team.
5. Customer support
Look for CLM platforms that offer highly rated customer support, including training as well as regular check-ins. Support personnel should be easy to reach, and should respond to tickets quickly. Check if support is available during your organization's operating hours, especially if the software's vendor is in a different time zone.
6. Scalability and flexibility
Your contract lifecycle management tools should grow with your business – so choose a platform that makes it easy to add users. Ideally, your software shouldn't charge extra for large volumes of contracts or e-signatures. And finally, make sure the system offers integrations with other platforms, which will come in very handy as your workflows grow more complex.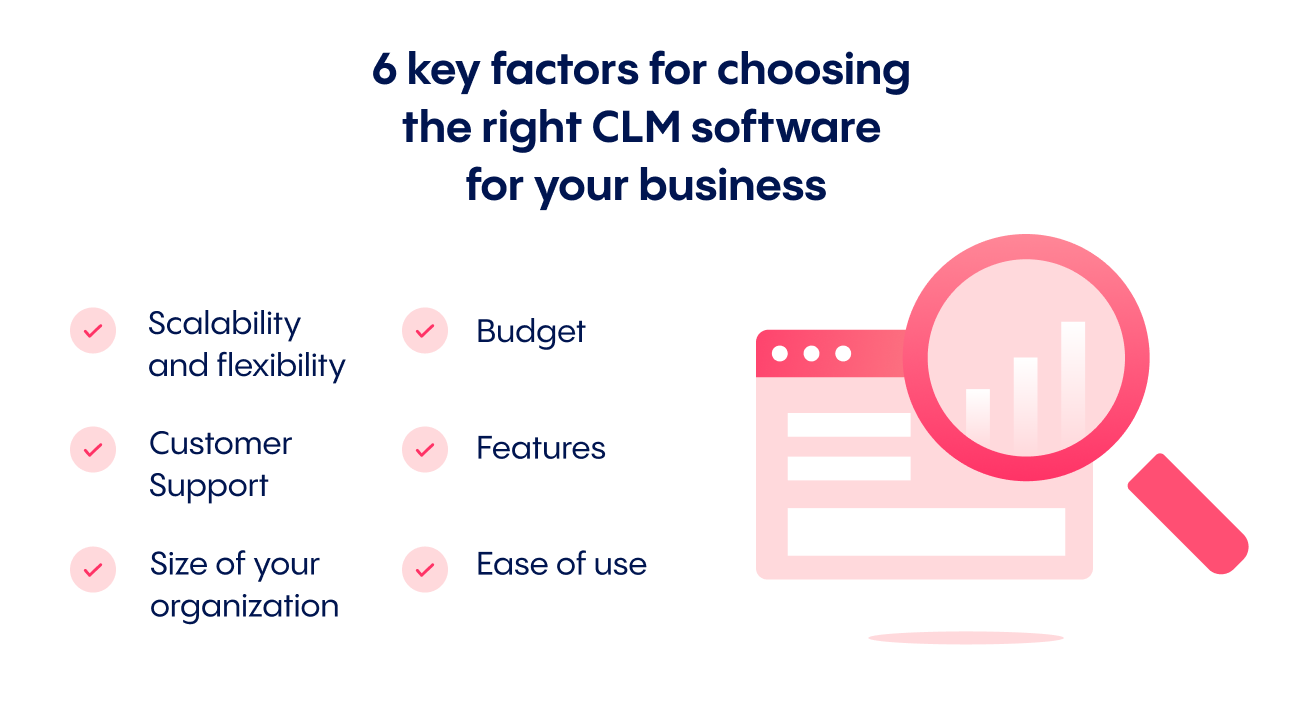 Conclusion: Your choice of contract software matters
Contract lifecycle management software makes it much easier to manage large volumes of agreements, even with a lean legal team.  The platform you select should serve as an end-to-end solution for contract management, and should be designed to handle contracts at scale.
Your CLM platform should include functionality for importing contracts, as well as drafting them as live docs. It should also provide real-time redlining and commenting, which will streamline internal collaboration as well as external negotiations. Your tool should enable you to create automated approval and e-signing workflows. And it should feature bank-level security, powerful full-text search capabilities, and advanced reporting and analytics.
If you implement digital contract management in a way that's adapted for your unique use case, you'll soon begin to save time with more efficient workflows. Plus, with smoother and more transparent contract management processes, you'll cultivate stronger relationships with your partners, vendors, and clients.
Concord delivers all these features and more, with flexible functionality that's designed to streamline CLM in tech, biotech, healthcare, education, and many other industries. Start your free trial today, and discover how smart contract automation and award-winning customer support can make contract management effortless for your team.
Streamline your contract processes today.
Concord CLM makes agreements effortless.