Electronic Signature: The Complete Guide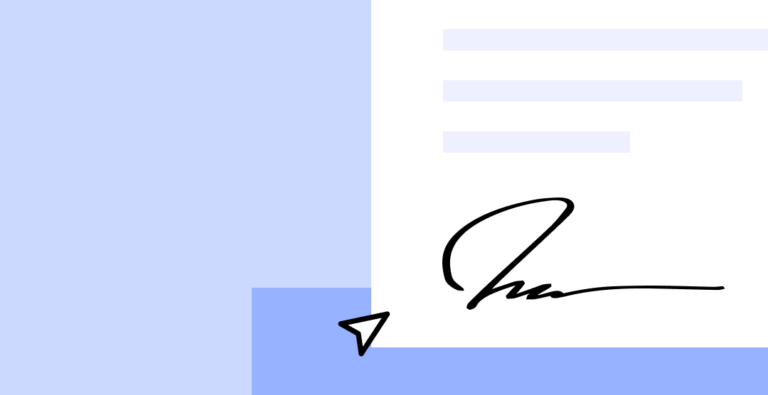 If you've signed any type of contract recently, chances are you've used an electronic signature. Digital contracts and e-signatures are increasingly taking the place of paper contracts and "wet" handwritten signatures. And it's easy to understand why. E-signing is faster than traditional signing, and it can be done remotely. Paperless processes are easier on the environment, too.
Still, it's not always clear how an electronic signature works, exactly. In this guide, we're going to take a closer look at the different types of e-signatures. We'll learn where they're legally binding, and when they're not. We'll walk you step-by-step through the process of creating your own e-signature from scratch.
By the end of this guide, you'll be an expert on all the main types of electronic signatures. You'll know how to tell a legally binding e-signature from a non-binding one. And you'll know how to create an electronic signature that's legally equivalent to a handwritten one. Let's get started!
What is an electronic signature?
An electronic signature is a digital mark made on a document to signify consent or approval. Also known as an e-signature, it's the modern equivalent of the traditional "wet" handwritten signature you'd write at the bottom of a paper contract.
Unlike "wet" signatures, however, e-signatures can be created from your laptop or even your smartphone, no matter where you are. They're not just for work-related documents either; you can use e-signatures for personal agreements like leases and medical consent forms.
In the United States, the Electronic Signatures in Global and National Commerce (eSign) Act and the Uniform Electronic Transactions Act (UETA) give e-signatures the same legal power as wet signatures. The European Union also recognizes electronic signatures under the eIDAS regulation, as do many other jurisdictions around the world.
Are e-signatures legally binding?
Yes, e-signatures are legally binding, as long as you keep records proving that all parties intended to sign, and that they consented to do business electronically. For maximum legal assurance, you'll need to collect proof that each signature was consensual, and that proof will need to be digitally encoded into all electronic signatures in the document.
Let's take a closer look at the requirements for an e-signature to be legally binding:
Intent to sign: Just like with a wet signature, you need to be able to prove that everyone intended to sign the document in question. Sometimes this is as simple as clicking "I Agree" when submitting the contract through a website.
Consent to do business electronically: You need to have proof that all parties agreed to engage in an electronic transaction. Some courts might consider the context alone to be sufficient proof, but an electronic signature clause provides extra protection by making this agreement explicit. For customer transactions, you'll also need to provide a UETA Consumer Consent Disclosure.
Association between signature and record: The e-signature has to be electronically linked to the document being signed. Some digital signing tools achieve this by means of an audit trail, which includes data proving that the signature was authenticated.
Record retention: Finally, the signed document must be stored in a way that allows it to be accurately reproduced for future reference. This means it should be saved in a secure digital format, complete with an audit trail.
The eSign Act, the UETA, and similar laws in other jurisdictions consider e-signatures to be legally equivalent to pen-and-ink signatures, as long as the above conditions are met. Still, you'll want to consult with a legal professional before signing or collecting a signature on any electronic document, to make sure it's legally binding.
What documents can you sign electronically?
You can sign many different types of documents electronically, including all the following:
Sales contracts
Non-disclosure agreements (NDAs)
Lease agreements
Employment contracts
Vendor agreements
Medical forms
Tax documents
Legal filings
Still, not all documents should be e-signed. The eSign Act and the UETA actually prohibit e-signatures on all the types of documents listed below.
Documents that can't be electronically signed:
Wills and testaments: These usually require a higher level of verification, as well as a witness present during the signing, which means e-signatures won't work.
Divorce decrees: The legality of e-signatures in divorce papers varies by jurisdiction, but many courts require the parties to be physically present.
Birth and death certificates: These foundational documents often require an original  wet signature, usually due to long-standing traditions and legal statutes.
Adoption papers: Given the life-altering nature of these documents, many jurisdictions insist on wet signatures to confirm the intent and identity of all parties involved.
If you're considering e-signing a type of agreement not listed above, it's best to consult with a legal professional, and ask whether your signature will actually be valid or not. It's also worth considering which type of e-signature you'll use to sign, as explained in the section below.
E-signature examples and formats
E-signatures come in a variety of formats – but not all e-signatures are created equal. Depending on how you create your electronic signature, you'll have to spend a different amount of time and effort, and you'll end up with a somewhat different result. Let's take a closer look at four common e-signature formats, and examine the pros and cons of each.
Typewritten e-signature
Typing your name on a signature line in an electronic document is a simple yet effective way to sign. Many e-signature solutions use this method.
Pros: Quick; easy; legally binding under most jurisdictions
Cons: Doesn't look like your signature; can be easy to fake
Scanned image
Signing a piece of paper, scanning it or taking a photo, and attaching it to an electronic document, gives you an e-signature that closely resembles your handwritten one.
Pros: Familiar way to sign; looks like your signature
Cons: Time-consuming; signature can be copy-pasted and faked
Clickwrap signature
Simply clicking an "I Agree" button on a website can apply an electronic signature, which may be legally equivalent to a written one.
Pros: Simple; fast; straightforward
Cons: Doesn't look like an actual signature; can be tricky to verify
Digitized signature pad
Signing a digital screen or pad with a finger or stylus is becoming increasingly popular. Biometrics can add a further layer of authentication.
Pros: Intuitive; secure; looks like a handwritten signature
Cons: Process can be cumbersome; authentication depends on software; need to buy a physical device
Although all the above e-signature formats can be legally binding, their legal validity ultimately depends on whether it's possible to prove intent and consent to sign. That's why it's smart to use an e-signing platform that authenticates every signature, and links it to a specific person.
Electronic signature use cases
Electronic signatures can be a game-changer across many different departments and industries. Within each of those industries, they're used in a diverse array of workflows and job functions. Let's dive deeper into how various sectors can reap the benefits of e-signatures.
Sales
For sales teams, especially those dealing with international customers, e-signatures can remove geographical barriers. That means there's no need to wait for a signed paper contract to travel between physical locations, even within the same city. This speeds up the deal-closing process, helping you secure revenue more quickly.
Legal
In the legal sector, electronic signatures can streamline the approval of contracts and other legal documents. E-signing not only saves time, but can also provide proof of who signed what and when, providing a level of third-party authentication beyond handwritten signatures.
Human resources
HR departments can significantly streamline the onboarding process with e-signatures. New hires can complete all necessary paperwork online before their first day, or even before they're formally hired. This makes the entire onboarding experience smoother for everyone involved.
Financial services
In financial services, e-signatures can simplify transactions like loan applications, account openings, and policy issuance. As a result, financial institutions can process paperwork more efficiently, enhancing the customer experience and improving conversion rates.
Healthcare
E-signatures are compliant with the 1996 Health Insurance Portability and Accountability Act (HIPAA), which means they can also be used for signing electronic health records, ensuring they are securely authorized by appropriate medical personnel. HIPAA-compliant electronic signatures can be used for a wide range of administrative tasks.
IT
In the realm of information technology, e-signatures can secure software licenses and facilitate faster approval workflows. They can speed up project timelines, while also helping maintain a vigilant security posture.
Government
Government agencies can leverage e-signatures to expedite public services, from processing licenses to approving permits. This can cut down on bureaucratic delays, improving the experience of filing paperwork at government agencies.
7 benefits of electronic signatures
Electronic signatures offer more than just a convenient way to sign documents; they bring a host of other advantages, too. Here's a rundown of some key benefits of e-signatures.
1. Efficiency
Instead of waiting weeks for physical documents to be delivered, signed, and returned, e-signatures can be processed within minutes. This can dramatically accelerate turnaround times on deals, and free up valuable work hours for more important tasks.
2. Security
E-signatures come with a strong audit trail that logs every action taken on the document. This provides a secure and transparent record, helping you verify the signer's identity and the document's integrity.
3. Cost savings
With electronic signatures, everything is stored digitally, saving you both money and physical space. This helps eliminate costs related to printing, mailing, and storing paper documents, which can easily run into thousands of dollars per month if you're handling large numbers of agreements.
4. Legal compliance
Many jurisdictions, including the United States and the European Union, recognize e-signatures as legally binding, as discussed above. This streamlines international business and ensures that your signed documents hold up in court.
5. Flexibility
Whether you're working from home, the office, or halfway across the world, e-signatures give you the versatility to sign documents from anywhere, on any device. In fact, the shift toward remote work has made e-signatures standard in many business processes that once relied on pen-and-ink signatures.
6. Improved customer experience
E-signatures simplify the signing process for your clients, making it easier for them to do business with you. This leads to increased customer satisfaction and long-term loyalty.
7. Reduced environmental impact
Going paperless is not only good for your bottom line but also for the planet. E-signatures reduce the need for paper, ink, and transportation, contributing to a smaller carbon footprint.
How to do an online signature
You can create an online signature in a variety of ways. Here, we'll show you how to create an electronic signature using a variety of popular methods, along with their pros and cons.
Scanning a handwritten signature
This method is old-school but still in use. It consists of signing your name on a piece of paper, and then either scanning it or taking a picture with your phone. You can then insert the resulting image into a digital document.
How to do it:
Sign a piece of paper with black or blue ink.
Scan or snap a photo of your signature.
Crop the image to display only the signature.
Insert the cropped image into your document.
Pros:
Resembles your actual signature
Good for people accustomed to paper-based signing
Cons:
Less secure
No identity verification
Multiple steps involved
Using Microsoft Word
Microsoft Word offers built-in e-signing functionality. This is a good option if Word is already your go-to for document creation. However, signing documents in Word does have some limitations, due to the restrictive nature of the software's functionality.
How to do it:
Place your cursor where you want the signature.
Navigate to "Insert → Text → Signature list → Microsoft Office Signature Line."
Complete the dialog box and insert your signature image.
Pros:
Convenient for regular Word users
Cons:
Complicated and not intuitive
More complex workflow for collecting multiple signatures
Digital certification isn't free
Free options lack security measures
Free online signature tools
Online signature platforms make the process fast and straightforward, often without needing to install any software. At the same time, tools designed simply for e-signing alone may fall short when it comes to creating and organizing new contracts.
How to do it:
Upload your document to the tool's website.
Use the signature feature to draw or type your signature.
Place the signature where needed.
Download and share your signed document.
Pros:
Quick and often free
No need for software installation
Cons:
No identity verification
The signature is not editable once placed
Using Concord's e-signature functionality
Concord offers a secure and easy-to-use e-signature solution that complies with international laws like UETA and the eSign act. This platform can also help you draft, edit, track, and organize contracts, all in one place – making it ideal for small and medium businesses that want to manage contracts at scale using a small team.
How to do it:
Open a document in Concord and click on the signature field.
Draw or type your signature.
Click "Sign" to finalize your signature
Pros:
Unlimited e-signatures
Bank-level security
Includes authentication features
Compliant with key e-signature laws
Cons:
You'll need to create a Concord account
When choosing an e-signature solution, you'll want to make sure your platform of choice provides the full range of functionality you're looking for – whether that's just e-signing alone, or a more complete suite of contract lifecycle management (CLM) software features, such as approval workflows and deadline notifications. Choose the method that best suits your needs, and you'll be signing documents electronically in no time!
Types of e-signatures
E-signatures come in several different types, each with its own level of security, ease of use, and legal recognition. Here are the three main types:
Simple electronic signatures (SES)
Advanced electronic signatures (AES)
Qualified electronic signatures (QES)
Let's explore each of these three types of electronic signatures in more detail.
Simple electronic signatures (SES)
Security level: Low
Ease of use: High
Legal recognition: Moderate
This category includes typewritten and scanned signatures, as well as clickwrap agreements. They're easy to create and are usually sufficient for basic contracts and agreements. However, they offer limited security and may not be suitable for high-stakes transactions.
Advanced electronic signatures (AES)
Security level: Moderate
Ease of use: Moderate
Legal recognition: High
Advanced e-signatures are digitally linked to the signer and the document, making it easy to detect any changes after signing. These signatures usually require some form of authentication, such as a password or a digital certificate.
Qualified electronic signatures (QES)
Security Level: High
Ease of Use: Low
Legal Recognition: Very high
The most secure form, qualified e-signatures, require a digital certificate from a third-party trust service provider (TSP), who authenticates every individual signature by checking the signer's ID at the time of signing . These signatures are often used for legal or highly sensitive transactions and are widely recognized as being legally binding – but they're also the most complex and expensive of the three types to implement.
Choosing the right kind of e-signature for a specific use case means balancing cost, efficiency, and ease of use. While simple e-signatures may work well for basic agreements, you'll want to opt for advanced e-signatures or qualified e-signatures on more critical contracts, since they include verification of the signer's identity.
E-signature tools
A variety of different tools are available to help you create your own e-signature and apply it to digital documents. Here are some of the most popular electronic signature tools.
Concord
Features:
Audit trails
Template creation
Cost-effective
Concord is known for its affordability, and its effortless ease of use, yet it still packs features like audit trails and template creation, making it a budget-friendly yet effective choice. It also includes approval workflow automation and deadline tracking, which are handy for small and midsize businesses looking to manage contracts at scale with a lean legal team.
DocuSign
Features:
Multiple signature types supported
High-level encryption
Mobile app available
DocuSign offers a range of signature options from simple to qualified, making it a flexible solution for diverse needs. It also helps keep documents secure, with robust encryption. However, its capabilities beyond document signing are somewhat limited – for example, you can't use DocuSign to draft new contracts, or to set up automated approval workflows.
Adobe Acrobat Sign
Features:
Integration with Adobe products
Automated workflows
Compliance tracking
If you're already using Adobe products, Acrobat Sign can seamlessly integrate with many other apps in their ecosystem. It offers automated workflows, and is particularly strong in tracking compliance.
Dropbox Sign
Features:
Easy-to-use interface
Free basic plan
API support
Dropbox Sign (formerly HelloSign) stands out for its user-friendly interface. It offers a free basic plan, which is a good starting point for small businesses or individual use. Beyond signing, though, its functionality is pretty limited, so you'll want to look elsewhere if you're aiming to organize or track a company-wide collection of documents.
Conclusion
Electronic signatures offer speed, security, and convenience on a wide variety of agreements. And as long as you can prove intent and consent to sign, e-signatures are legally equivalent to pen-and-ink signatures in most jurisdictions, on many types of documents.
What's more, e-signatures are useful across departments like sales, legal, HR, and many others – and across many different sectors, including healthcare, legal, and education. They can offer a host of benefits in both personal and professional agreements.
In all these areas and more, e-signatures help finalize contracts faster, while improving environmental friendliness. Now that you know how to create them for yourself, you'll soon be able to experience these benefits firsthand.
Start e-signing with Concord today. Unlimited, effortless e-signatures.